Birds or extinct birds are some of the most amazing creatures found on the planet Earth. Inhabiting every corner of the world, birds are majestic species that soothe everyone's soul and there is a never-ending list of the fantastic and most beautiful bird species on the planet Earth. But the greed of human beings has rendered this majestic creature fall in the category of being extinct. Habitat destruction due to deforestation, hunting for meat, eggs, feathers, etc. These are some of the reasons why this majestic species has become extinct. So, here is a list of the top 10 extinct birds in the world and the possible reason for their extinction.
Extinct Birds
1. Dodo
This unique flightless bird has become extinct because of its hunting for meat. Dodo bird was a common inhabitant of the island of Mauritius found in the Indian Ocean. This plump, flightless bird was so tasty and so tame that it was hunted widely by the Dutch sailors arriving on the shores of Mauritius and it was pushed into the category of being extinct. Moreover, the natural habitat of the dodo bird species was completely destroyed after people started settling on Mauritius Island. Also, the dodo is very closely related to pigeons and doves.
Also Read: 10 Largest Birds Of The World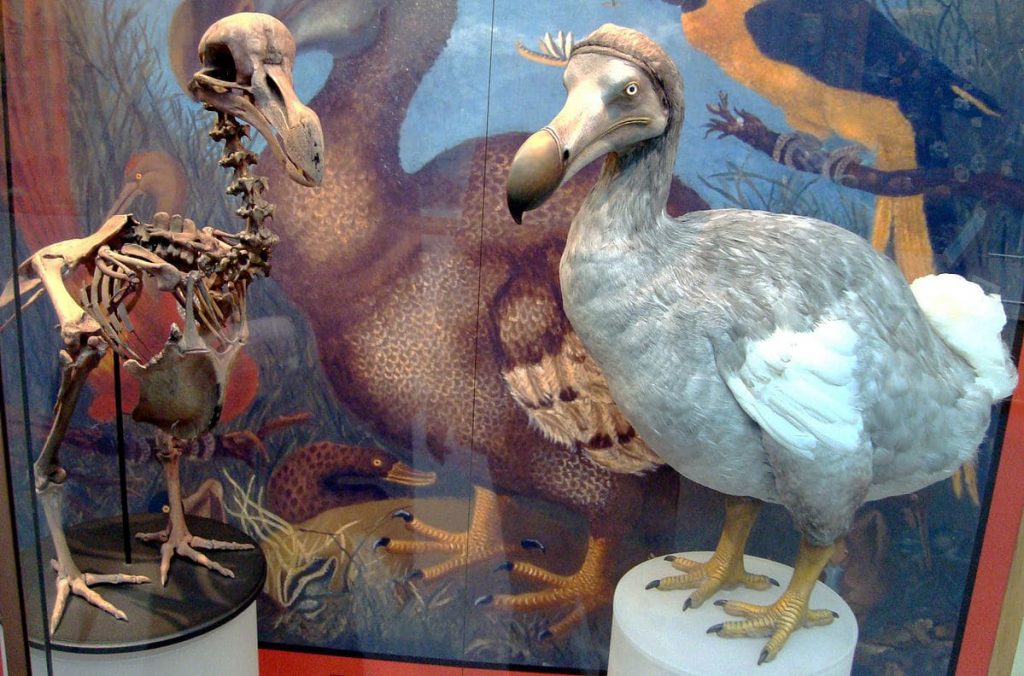 Image Source: Wikimedia
2. Tasmanian Emu
The Tasmanian Emu is one of the subspecies of the flightless bird emu and is distinguished from other species because of its whitish and fearless throat. The population of this species has declined continuously and it has become extinct because they are mostly hunted down and killed as pests. Also, grassland fires is also one of the reasons contributing to wiping out the few of the species surviving in captivity.
Also Read: 10 Birds With Red Beaks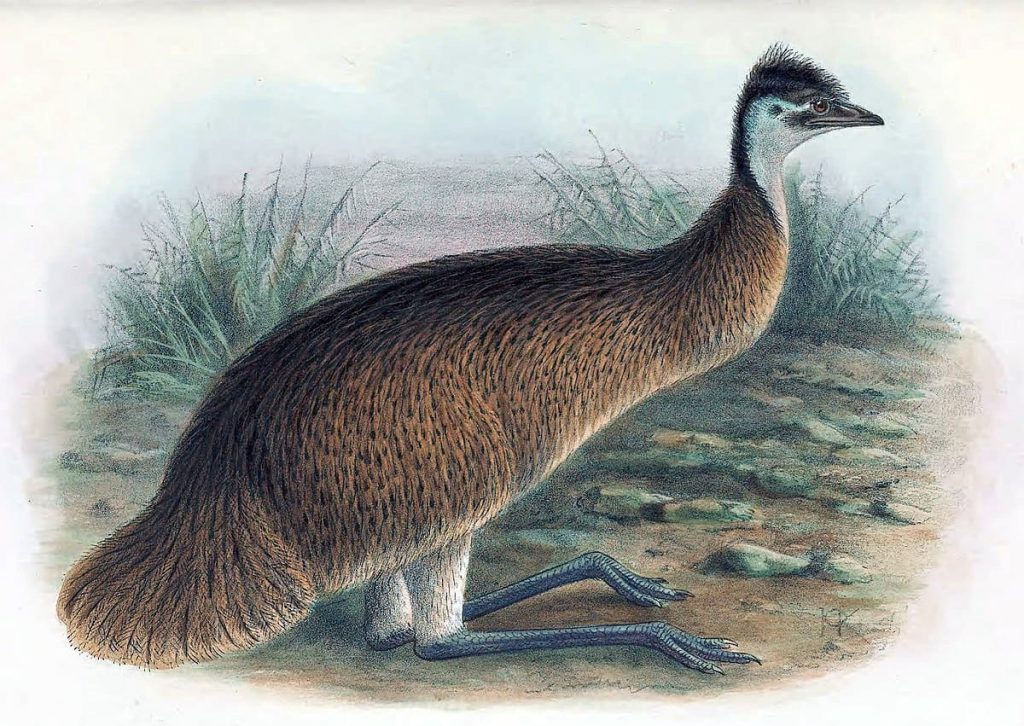 Image Source: Wikimedia
3. Carolina Parakeet
This colorful Bird was a majestic green bird species and the only parrot species found in North America. Often migrating in large flocks to Ohio, Iowa, and other areas of the Eastern United States, the Carolina parakeet was posed to various threats. The biggest threat was deforestation which destroyed their natural habitat. However, Carolina parakeet was a very noisy bird species that was also attacked by the farmers who considered them as pests. However, it was a gregarious bird species famous for its colorful feathers that were also used for many decorative purposes.
Also Read: Top 10 Yellow And Black Birds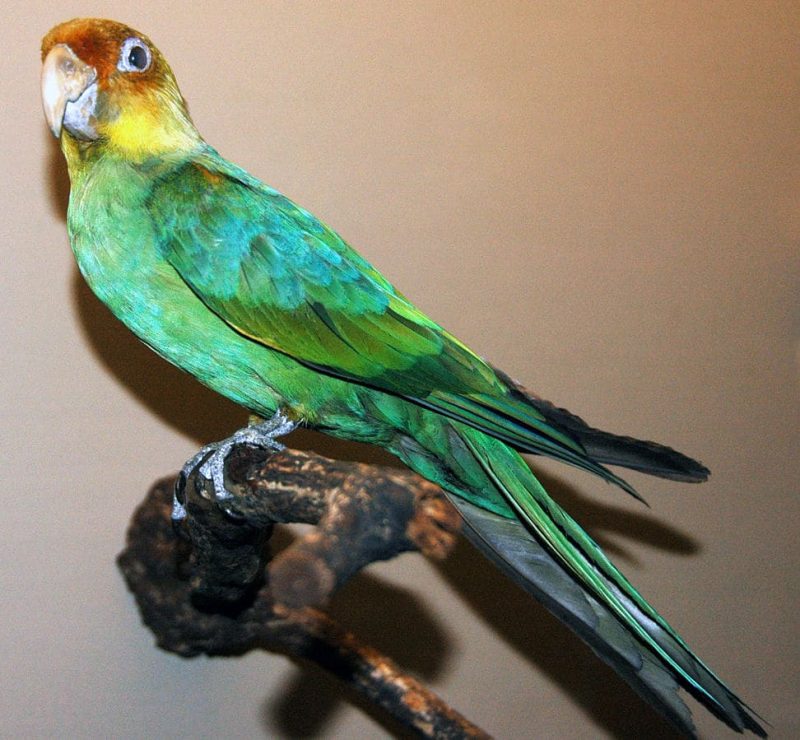 Image Source: Wikimedia
4. Bachman's Warbler
Popularly known as the smallest of any other known warbler, the Bachman's Warbler was a gregarious bird species identified by its distinct appearance, grey colored wings and tail, yellow belly, and bright olive color backside and head. This majestic bird species used to build its nest in small edges of bamboo crane brakes in wetlands and it was easily destroyed by Swamps reclamation and destruction of forestland. However, this species has not officially been announced as extinct but none have been spotted since the 1960s.
Also Read: Top 5 Black Birds With Blue Head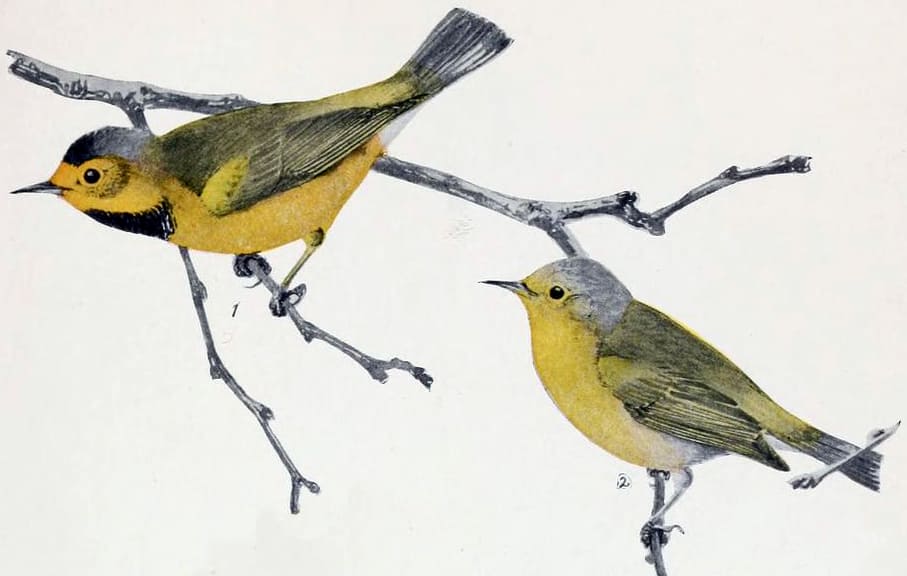 Image Source: Wikimedia
5. Ivory-Billed Woodpecker
The ivory-billed Woodpecker was a huge bird and the third-largest bird species in the world mainly found in the forest regions of the South Eastern United States. Also, it was one of the largest woodpeckers in Florida most popularly known for its shiny Bluecoat, white markings on the neck and wings, and a triangular marking on the head. However, the population of this species started declining continuously because of habitat destruction and no sightings had been recorded by the 20th century. But, it is still vague whether the ivory-billed Woodpecker continues to exist or has been completely wiped out.
Also Read: 10 Beautiful Black And White Birds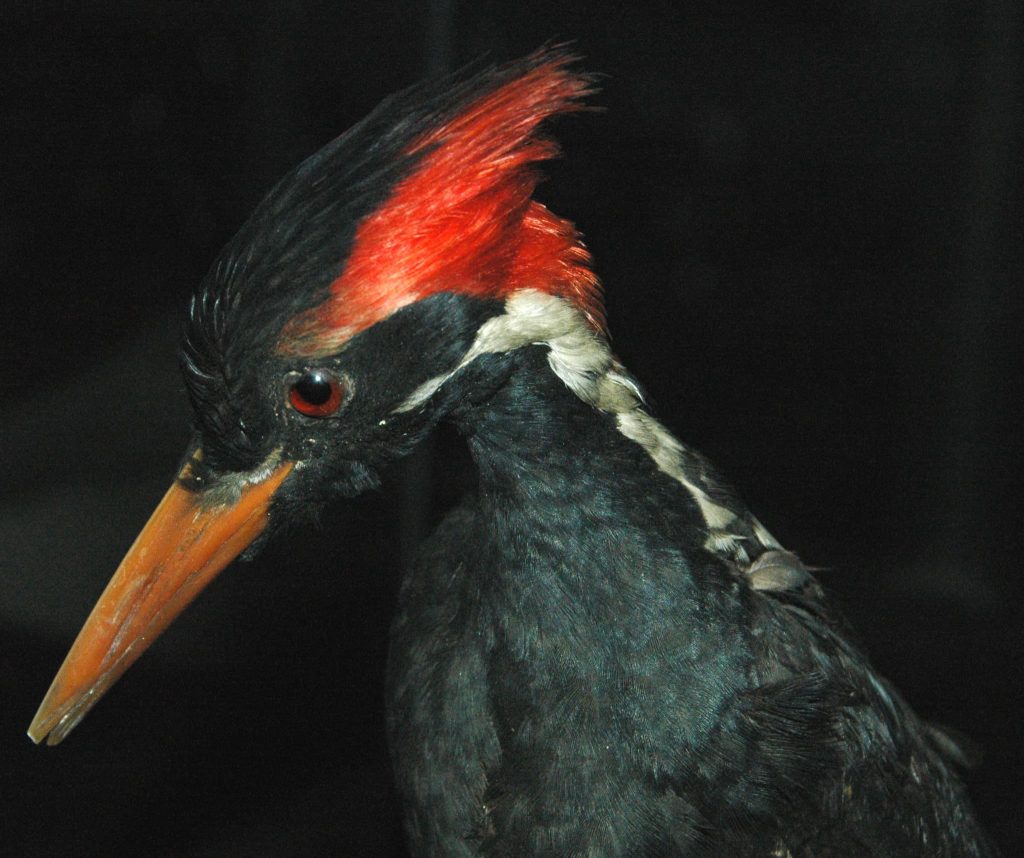 Image Source: James St. John
6. Arabian Ostrich
As the name suggests this species of ostriches was mainly native to the desert areas of Arabia. However, the Arabian ostrich is somehow different from the other species of the ostrich as it was relatively smaller in size and females have lighter colored bodies. Also, Arabian ostriches were a symbol of wealth as Arabian nobles popularly hunted this Bird for pleasure and also for meat, eggs, feathers, etc. However, its continuous hunting has made this species completely extinct with the last recorded sightings of the Arabian ostrich in 1928.
Also Read: 10 Largest Birds of Prey On Planet Earth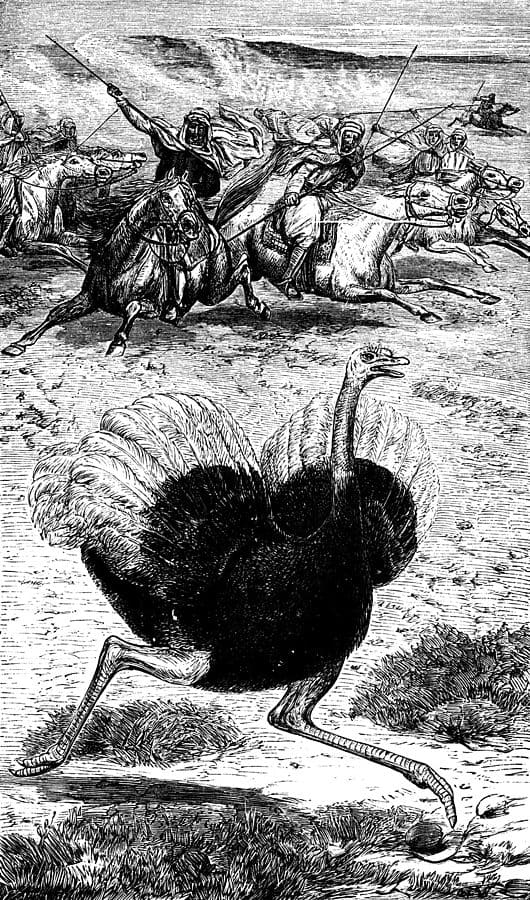 Image Source: Wikimedia
7. Mysterious starling
Mysterious Starling was a species of starling that has now become extinct. It was found on the island of Mauke, Cook Islands. It was a majestic bird species having a dull dusky black body, with lighter brown feather edges. The mysterious starling has become extinct due to overproduction by the brown rats. Also known as Mauke Starling, it was first described from a single specimen that was shot "hopping about on a tree" in 1825.
Also Read: Top 10 Water Birds in the World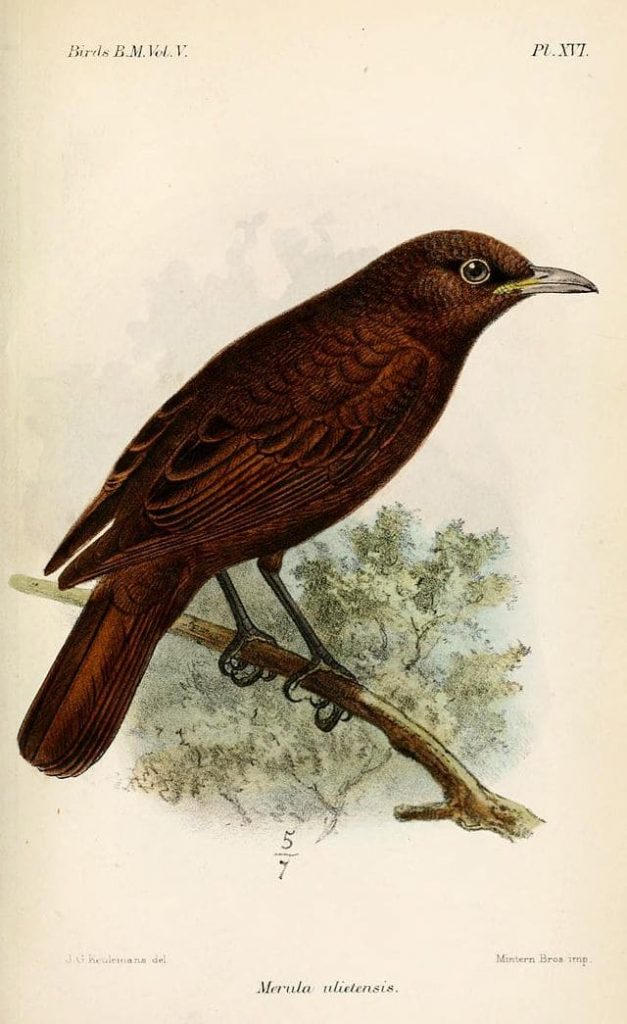 Image Source: Wikiwand
8. Passenger pigeon
The passenger pigeon was an abundantly found bird species mainly inhabiting the lush forests of North America. The passenger pigeon was a wonderful social bird species that loves to live in large flocks. But it was hunted down as a food source in the 19th century and also industrialization and deforestation was major cause of their habitat destruction that pushed them into the extinct species category. And the last species of passenger pigeon which was named Martha was found dead in the Cincinnati zoo in 1914.
Also Read: Top 7 Black Birds With Orange Wings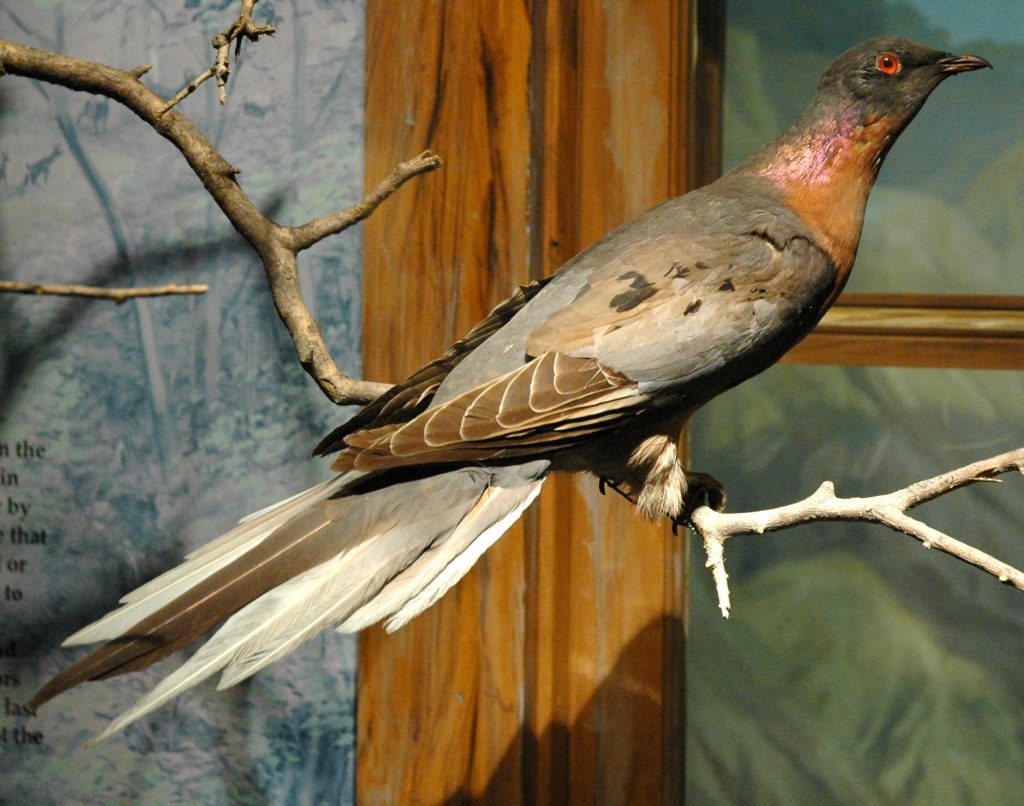 Image Source: James St. John
9. Great Auk
One of the extinct birds, Great Auk is a flightless species of bird that has become extinct in the mid 19th century. It was the original Penguin species, that was widely spread across the North Atlantic Ocean. It was a large black and white sea bird that is often found in large flocks ranging from the northeastern United States and Canada to Greenland and Iceland. It was a unique bird species Famous for skill diving that used its wings to fly underwater in search of fish and to escape from predators.
Also Read: Top 10 Birds with Red on Head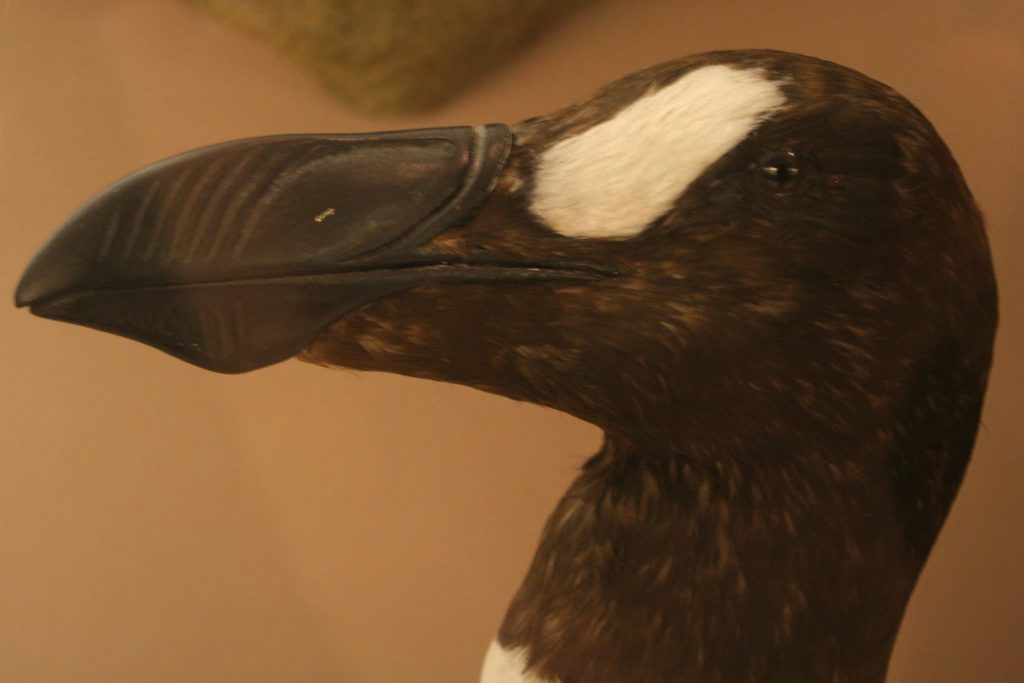 Image Source: Via Tsuji
10. Laughing owl
The laughing owl was a popular species known for its malicious way of hooting. The laughing owl was mainly identified by its reddish-brown plumage with the white face and deep Orange eyes. It was mainly native to New Zealand and the reason for its extinction is still a mystery. Also, the laughing owl was popularly known for its crazy maniacal calls that echo through the forest, especially on a dark and rainy night. But, the species has become extinct and the last sighting was believed to be found in Canterbury in 1914.
Also Read: 10 Types of Birds That Are Blue In Color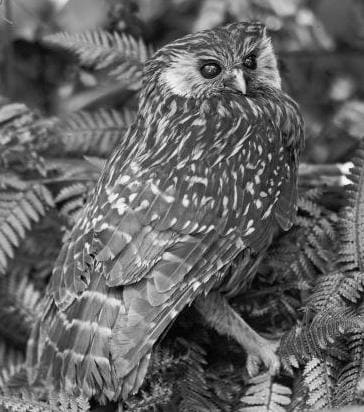 Image Source: Wikimedia
These are some of the extinct birds in the world. Kindly share and do post your comments.