The Pierce Stocking Scenic Drive is a must-see location when visiting Sleeping Bear Dunes National Lakeshore. This route features 7.4-mile drive loops that go through the Beach-Maple forest and sand dunes, providing you pieces of history of the area and beautiful sceneries.
There is a total of twelve stops along the Pierce Stocking Scenic Drive, and all of them are amazing locations to pull over, enjoy the natural beauties, and learn some things about how these Michigan dunes were formed. In case you want to take a longer trip and sightsee during your vacation time, we highly recommend this scenic drive as it is one of the prettiest you can see in the country. In this article, we will cover all of the twelve stops you should make when visiting, so without further delay let us get into it.
Essential Things to Have In Mind About Pierce Stocking Scenic Drive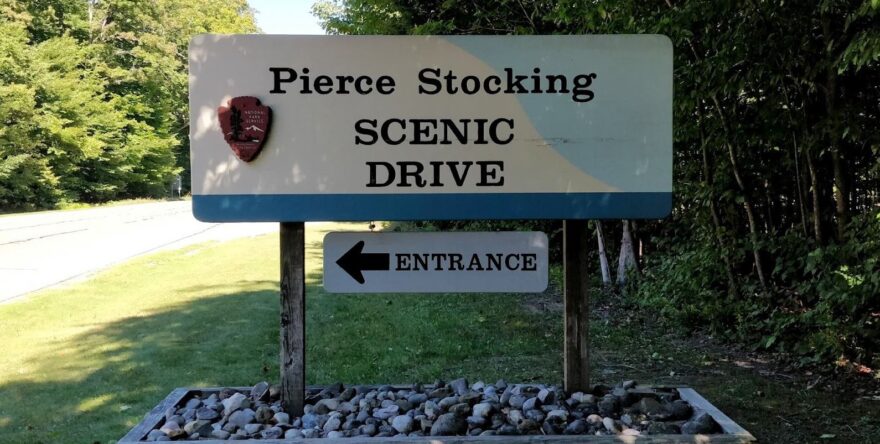 Before we start with the list, it is important to note some essential things regarding Pierce Stocking Scenic Drive. One of the first things to note is that it is a part of the Sleeping Bear Dunes National Lakeshore, which is a part of the national parks system; thus, you will need to buy a pass to enter.
It means that you will have to pay an entry fee at the start of Pierce Stocking Scenic Drive if you have not yet bought a pass for Sleeping Bears Dunes National Lakeshore, or some other national park. If you want to buy a pass, you can do it at the staffed kiosk at the beginning of the scenic drive. The price is around 25 USD for seven-day access.
Another essential thing to know before visiting is that the speed limit for this scenic drive is 20 miles per hour. The roads can be curvy, so make sure that you respect this. On the other hand, there are so many lovely things to see, so this speed limit is a good thing because you will be able to soak all the beauties that come with the road. With all of that out of our way, let us start the list.
1. First Stop – Covered Bridge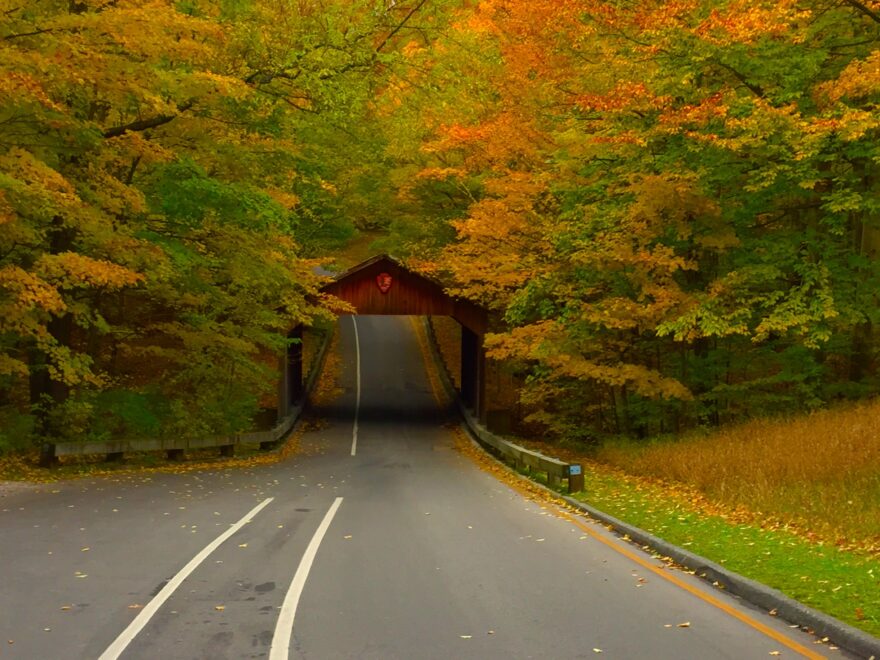 This location might be something that you probably saw at some point on Instagram since it is a highly popular spot that looks lovely and inviting even on bad weather days. Although this type of bridge is uncommon for Michigan, it is a pretty addition to Pierce Stocking Scenic Drive.
The original wood covering was designed to protect the bridge from the weather since it was cheaper to install the roof than to repair all the damages it could cause. There are several parking spots along the side of the road just past the bridge, so in case you want to make a quick stop and take a couple of photos, this is the place to do it.
2. Second Stop – Glen Lake Overlook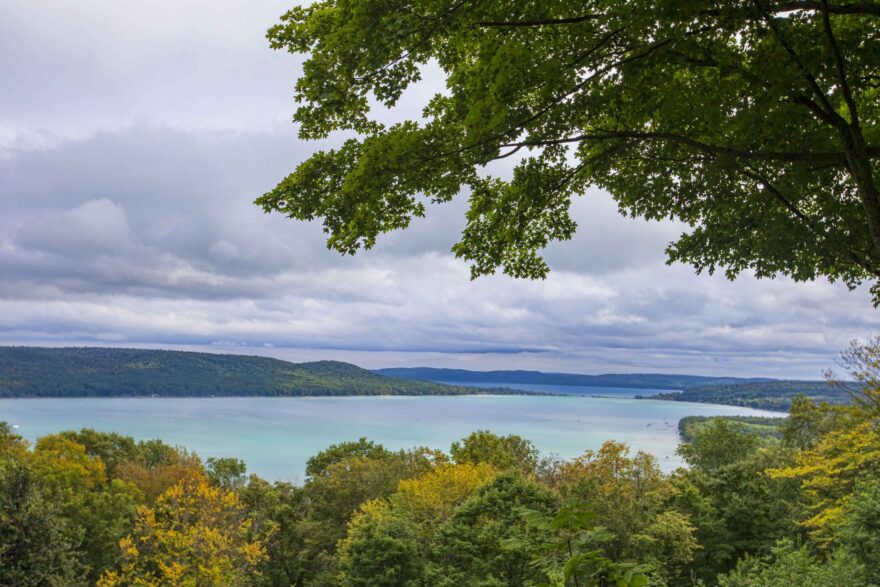 Glen Lake Overlook offers a beautiful scenery that visitors can observe and admire during this stop. From this position, you can see Glen Lake's blue waters that, from a distance, look like two separate lakes split by M-22. Little Glen Lake is roughly 12 feet deep, while Big Glen Lake goes up to 130 feet of depth.
If you decide to make this stop, go ahead and park near Picnic Mountain, which is a nice area to get some rest and refuel while also enjoying this beautiful overlook before heading to the dunes. You can also keep an eye on Aligator Hill on the other side of Little Glen.
3. Third Stop – Dune Overlook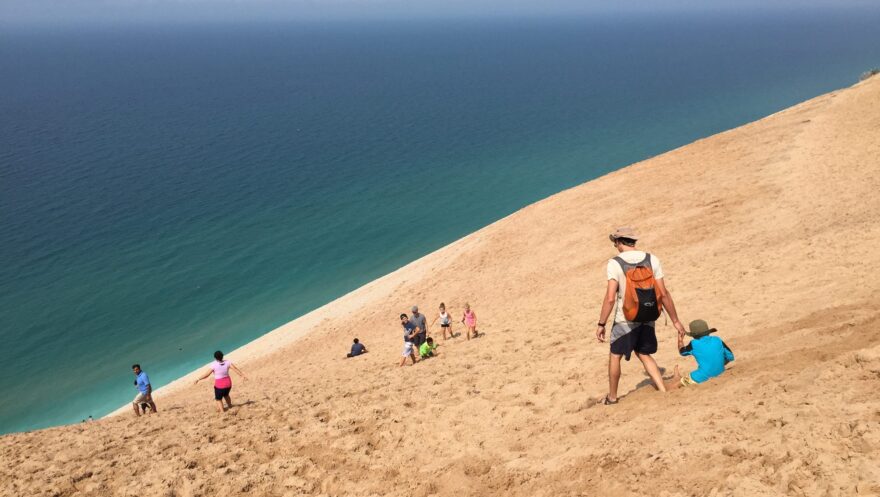 The third stop on this trip is where the scenery starts becoming more beautiful and interesting. It is a location where you get to see the amazing features of Sleeping Bears Dune National Lakeshore, and it is a true sight to behold!
There is a big parking area where you can stop, and afterward, walk a bit to the 200-feet platform where you will be able to stand almost at the top of the dunes. You can see Lake Michigan, the Manitou Islands, Pyramid Point, Sleeping Bear Bay, and other beautiful sights visible from the platform.
4. Fourth Stop – Cottonwood Trail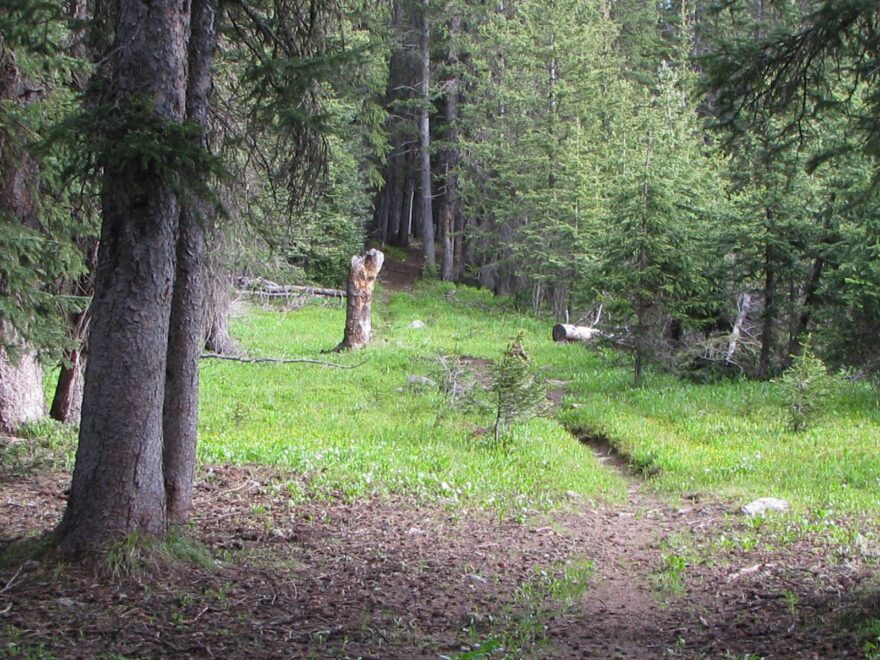 At this stop, you will get a chance to experience dunes on a whole other level. Here, you will find yourself surrounded by elevated cottonwoods. The trees in these woods were planted around 1900, and back then, they were used to stabilize the dunes.
It is a 1.5-mile trail that features a lot of difficult terrains, but as a reward, it provides a close look at the beauty and wonders of this dune. If you are a bird watcher, there are some treats for you as well, since you can take a short walk on the beach and see some rare species such as piping plovers, snowy egrets, and great crested flycatchers, etc.
5. Fifth Stop – Dune Ecology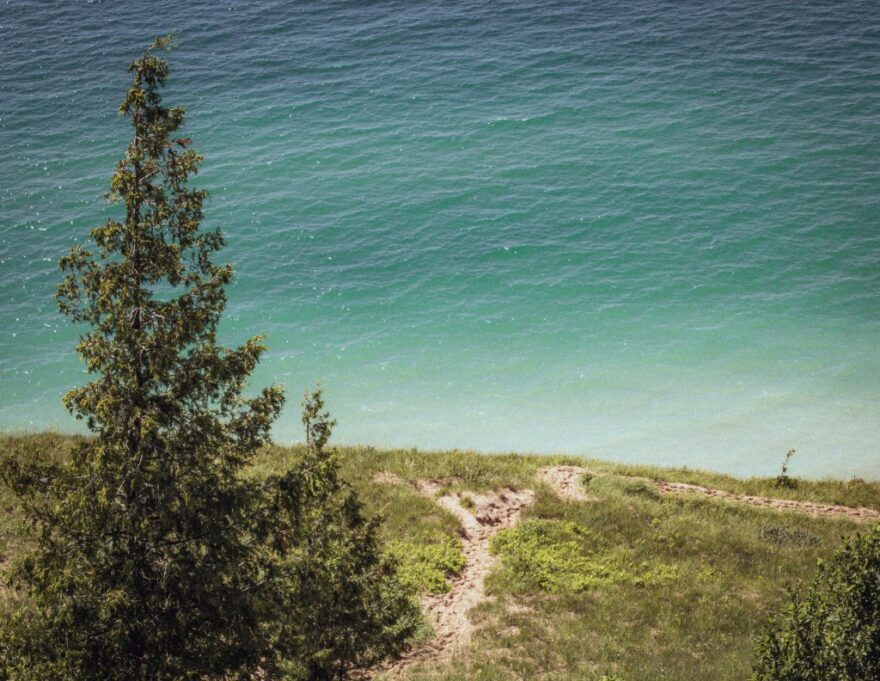 Dune Ecology is another important stop to make when driving on Pierce Stocking Scenic Drive. It is essential if you want to find out how these massive dunes on the shores of Lake Michigan were formed. This stop will teach you about this environment's history and educate you on its ecosystem.
6. Sixth Stop – Leaving the Sand Dunes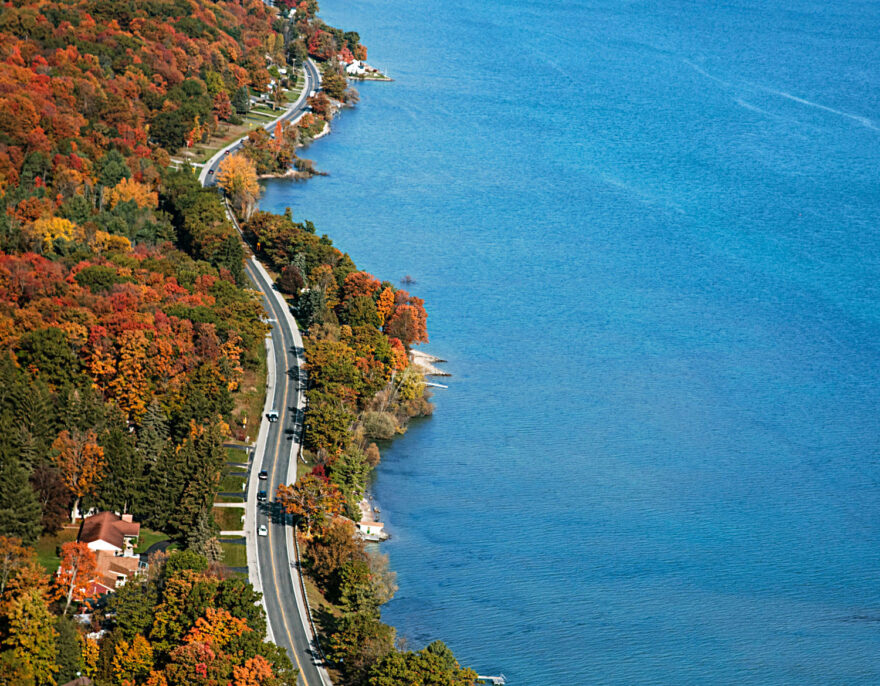 As you proceed to drive on this scenic route, you will notice a smooth transition from dunes into the beech-maple forest. This route is best to experience during the fall months, as it is one of the prettiest scenic drives in Michigan due to its beautiful autumn colors.
Note that the dunes are built by the continuous strong winds from Lake Michigan, and as the wind moves upcountry, its power declines, and it stops being powerful enough to continue creating these dune formations.
7. Seventh Stop – Beech Maple Forest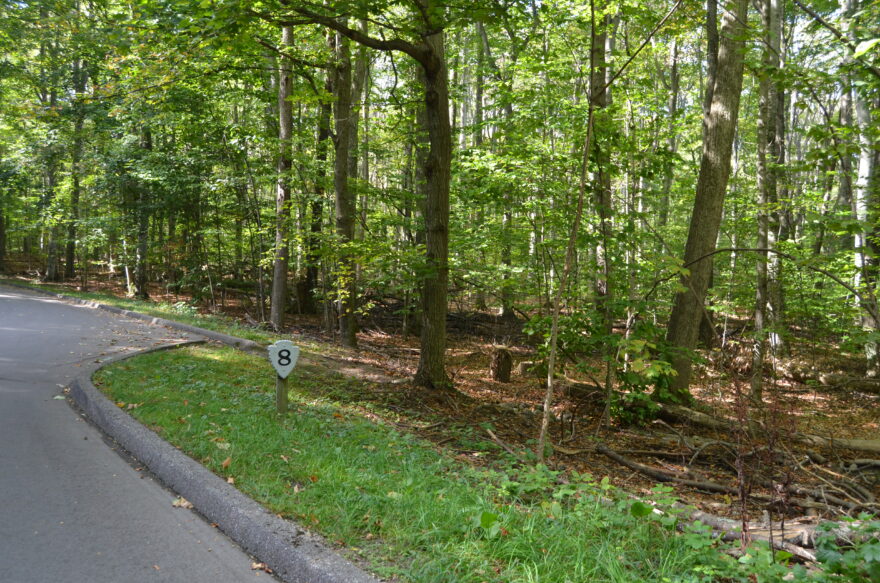 This beautiful and shady forest full of maple and beech trees is also accompanied by some black cherry, hemlock, and basswood trees. It presents a nice transition from the sunny road into a more shaded area, which is a pleasant change after a long drive.
The vegetation in this area grows thanks to the trees' shade, and you can see all sorts of wildlife here, including squirrels, deers, and chipmunks. The scenery in this forest is absolutely breathtaking and a great place to stop and take some photos.
8. Eighth Stop – Changes Over Time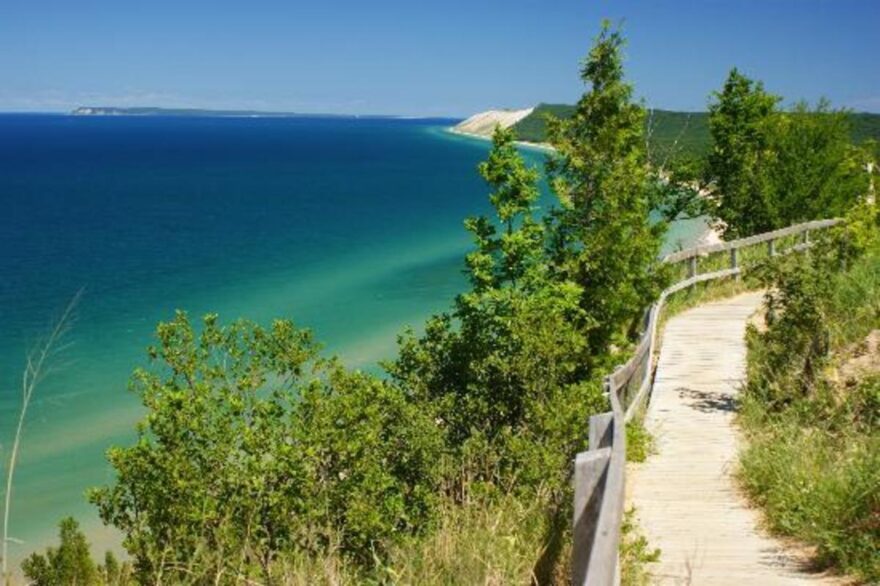 This stop is a must-see as it has a deep and rich history. The last glaciers in this area melted roughly 11.800 years ago, and this spot will offer you a chance to reflect on what happened over the course of many years to this landscape and to enjoy the beautiful scenery.
9. Ninth Stop – Lake Michigan Overlook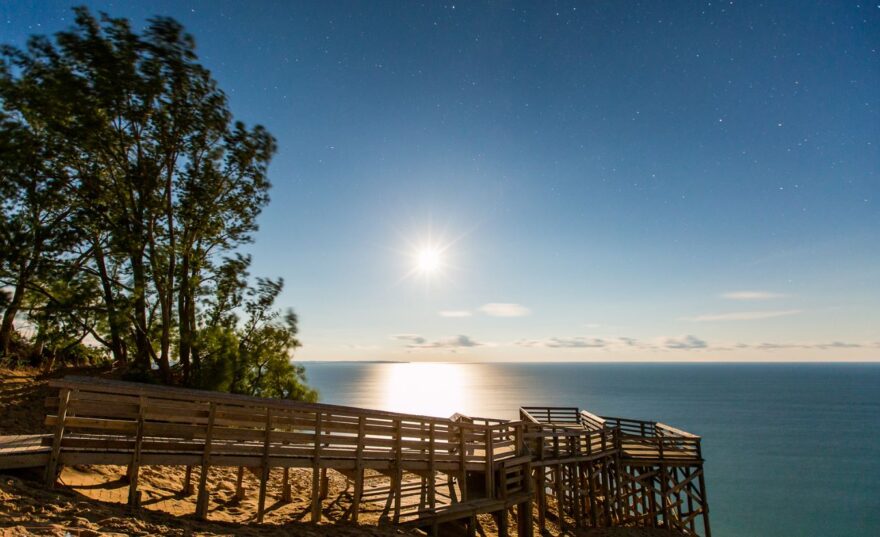 This top is the one that everyone eagerly awaits throughout the whole journey. Here, you get a chance to see a panoramic view of the spot where the sands of Sleeping Bear Dunes meet the waters of Lake Michigan, and it is a true sight to behold.
The overlook platform stands 450 feet above Lake Michigan, and you will be able to see all the way to Point Betsie in Frankfort. One thing you should be aware of and watch out for is that descending the Lake Michigan bluff causes erosion and is very dangerous. There is a steep grade that makes footing difficult, and rock might fall off.
10. Tenth Stop – Sleeping Bear Dune Overlook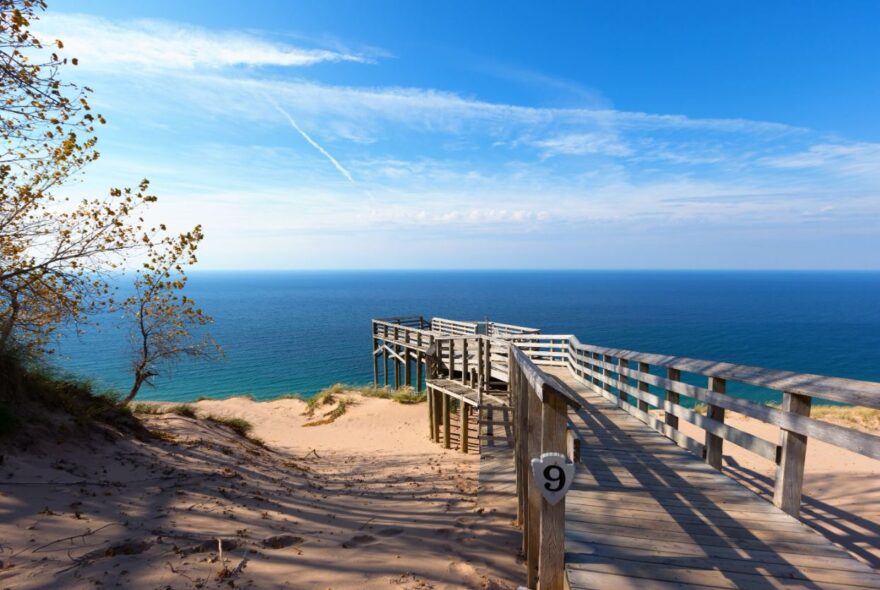 Sleeping Bear Dune formed around 2.000 years ago, and this spot will allow you to see what remained of it over the years. At one point, this dune stood 230 feet tall, and according to NPS, by 1961, it was only 132 feet high. By the 80s, it was down to 103 feet due to natural erosion.
The west side of the dune slowly loses its support, and as that happens, it cascades down the hill. The wind is also another major contributor to erosion since it removes the sand and destroys the dune's plant cover. The experts predict that this will continue until the Bear is completely gone, so when you get a chance, go and visit it.
11. Eleventh Stop – North Bar Lake Overlook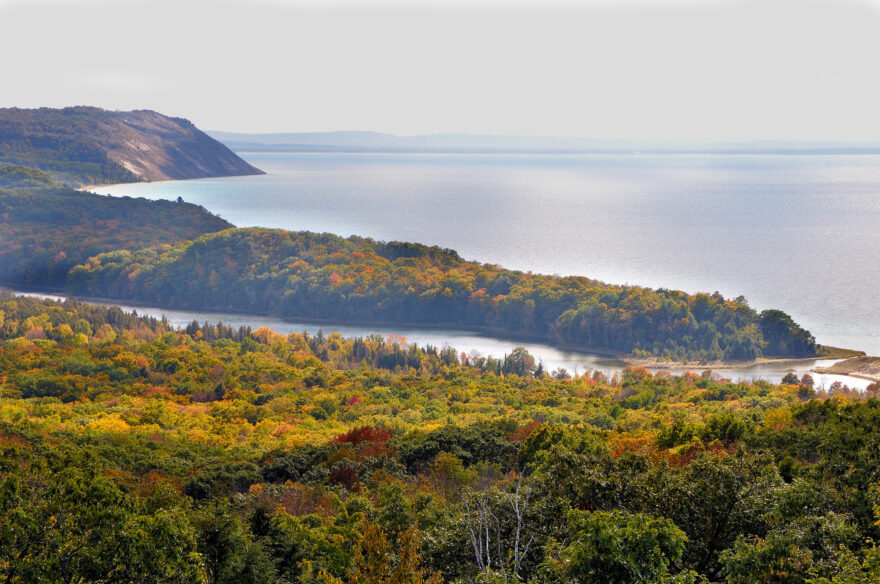 This lake was formed when waters behind the dune formed a pond that eventually became North Bar Lake. It is one of the essential stops on Pierce Stocking Scenic Drive due to its beauty. Sometimes you will be able to see that the sand bar builds up and create a border between North Bar Lake and Lake Michigan.
You will get a chance to enjoy a gorgeous panoramic view of both Lake Michigan and North Bar Lake, and in addition, you get a nice view of Empire Bluff as well. Make sure to bring your camera since North Bar Lake Overlook is a location where you will certainly want to take a lot of photos.
12. Twelweth Stop – Pine Plantation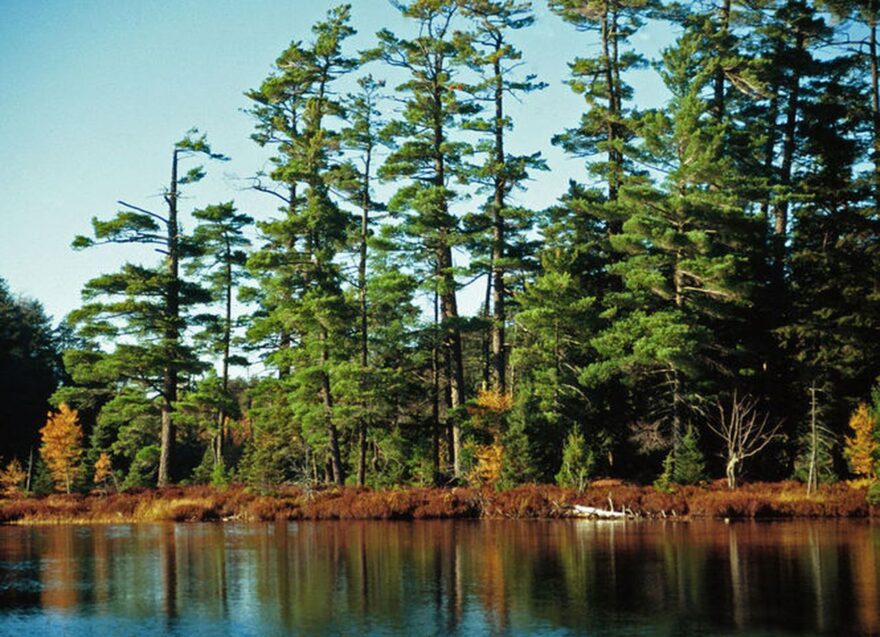 Last but not least is a stop at Pine Plantation. At this drive stop, you will get to see plenty of pine trees growing all over the park. All pine trees along the roadside are of the same height and age, meaning that they were planted together before they became a part of the National Lakeshore.
These trees are very important for the whole area since they play an essential role in erosion prevention, windbreak, lumber production, and wildlife habitat. The pines can withstand harsh weather and environmental conditions, including harsh and cold winters and hot summers.
Final Words
It will take you roughly two hours to visit all twelve stops we just listed, but trust us; it will be worth it due to the amazing beauties you will get a chance to see. Each stop holds a number of values to them, whether it is natural beauty or historical meaning, so whenever you get a chance, take this drive and do it slowly as there are so many things to soak in and enjoy.