In case you love nature, beautiful sceneries, and relaxing time, then a scenic drive El Paso might be something that you need to visit at least once in life. Scenic Drive is the actual name of a road in El Paso, adequately named for its beautiful views of the city and mountains surrounding it.
Given the fact that El Paso is located right on the border of Juarez, it is logical that there will be a road that will give you an excellent vantage point. There are plenty of spaces to stop and enjoy the lovely scenery and take a rest while you are at it. You can visit and see a lot, so we have put together an article to guide you through it, give you some tips for the road and describe what it is that you have to see. So let us start.
Scenic Drive El Paso
Scenic Drive turned 100 in 2023, but sadly, due to the COVID-19 pandemic, we had no chance to give it an appropriate birthday party. Nevertheless, the road remains spectacular and provides you with pretty scenery and overlooks to this day.
True to its name, Scenic Drive offers you a place to take in views from above of both Juarez and El Paso. El Paso itself is a beautiful city where the mountains serve as a nice backdrop. It is a hilly city, and the scenic drive will take you up high so you can see a spectacular view of the city below and even see Ciudad Juarez beyond the highway.
You can check it out in several ways; for example, you can drive through winding roads with beautiful houses along the way and make periodic stops to park and take in the sights. There is also an option to walk a portion of the road.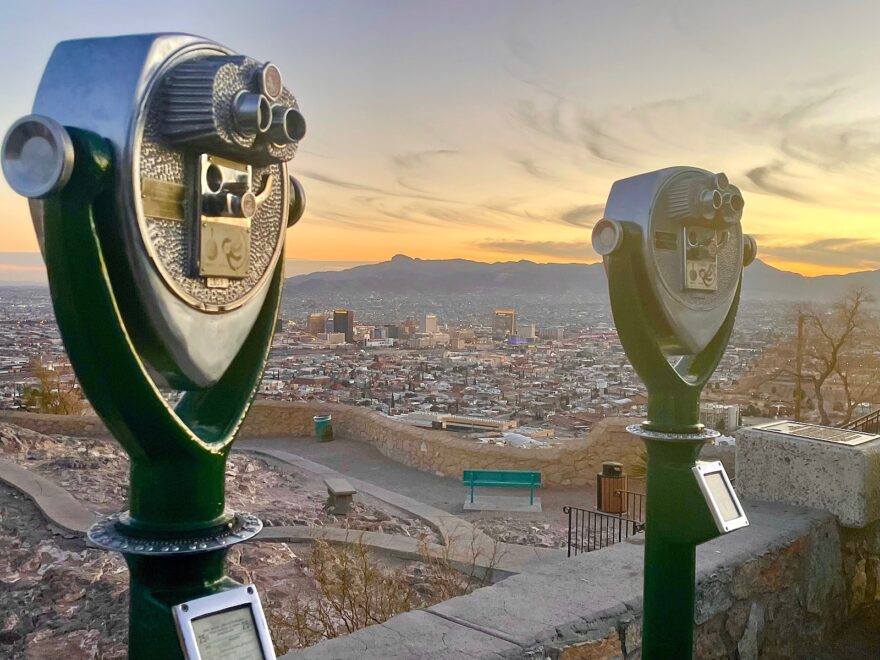 If you get a chance, try to check this road both during the day and night as it provides a different experience. But regardless of the time of the day, it is a pretty romantic location and makes for a great date.
At the top of the scenic drive, you will get a clear view of neighboring Mexico and the border. It is very impressive at night when both El Paso and Juarez light up. It is important to mention that Scenic Drive is closed on Sundays for motorized traffic and solely open for pedestrians, which is a pretty cool city move that the local government has agreed on.
This does change not only the overall accessibility of the road but also increases the overall health and happiness of all those who come and walk it. If you decide to take a stroll on this road on Sundays, we highly recommend doing it early for sunrise or late for sundown since there might be too hot during the day.
If you decide to go by car on any other day of the week, you can park your vehicle and use binoculars to get a better view of the overlook. There are two separate entrances to go uphill the mountain in hiking trails. It is a lovely drive, and you should definitely give it a chance when visiting El Paso.
Rim Road
This is another road that can get you a beautiful view of the city, and it is accessible by car. The good news is that the Rim Road neighborhood nowadays has a beautiful sidewalk, so visitors can also take relaxing strolls along with El Paso's prettiest venues.
You can follow Rim Road all the way around the mountain and take a driving tour of Manhattan Heights, which is a neighborhood with a rich history.
It is very easy to access Rim Road, and all you need to do is, when you are downtown, take a right from Stanton Street North. Along this road, you will have a breathtaking view of all of El Paso and Juarez, and as we mentioned, you will drive through Manhattan Heights, one of the oldest and prettiest neighborhoods.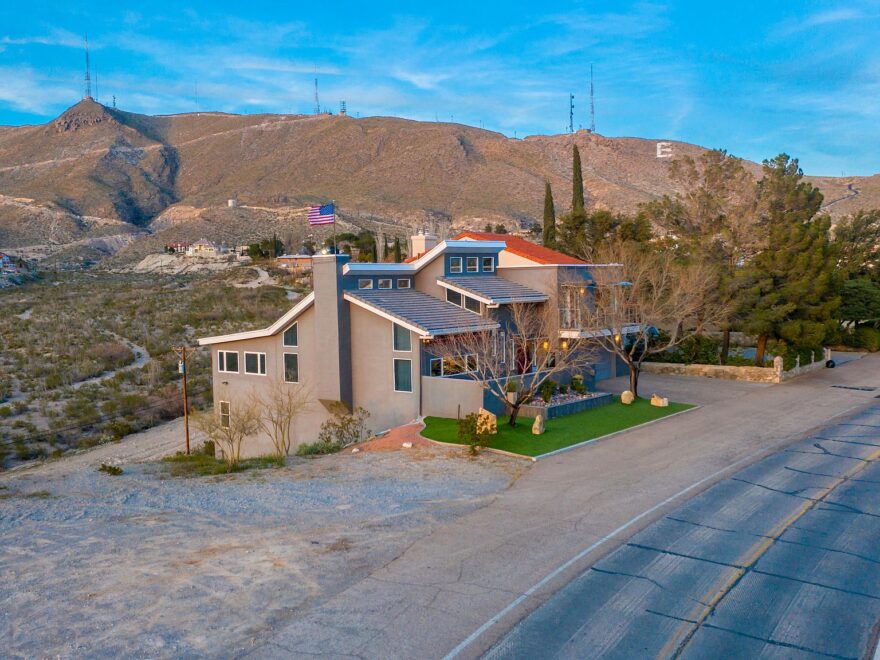 On a nice day, you can see two countries, two cities, and the University (UTEP) and visualize both the modern and historical on this road. You will be surprised by just how much green there is in the desert when driving this route.
There are no standing in lines, no guided tours, no gift shops, just the cost for the fuel and the will to see some fantastic sceneries here. The Rim Road is a great pick when you need a short and simple getaway from your everyday life, and it is definitely worth taking it.
Trans-Mountain Highway
The Franklin Mountains are named after Benjamin Franklin Coons, who purchased what is known today as El Paso back in 1849. Before he bought it, Native Americans had been crossing these mountains and the Rio Grande for a long time. In fact, the human presence on these lands dates all the way back 12.000 years.
With all that said, it is a beautiful place to visit, especially by car, so that you can soak in all these lovely sights in the best possible way. Along the 11-mile Trans-Mountain Highway, you will get a chance to see some of the oldest rocks in the state of Texas. What is so impressive about this is that you can see some 600 million years old Precambrian rocks in close proximity to two hustling and bustling cities.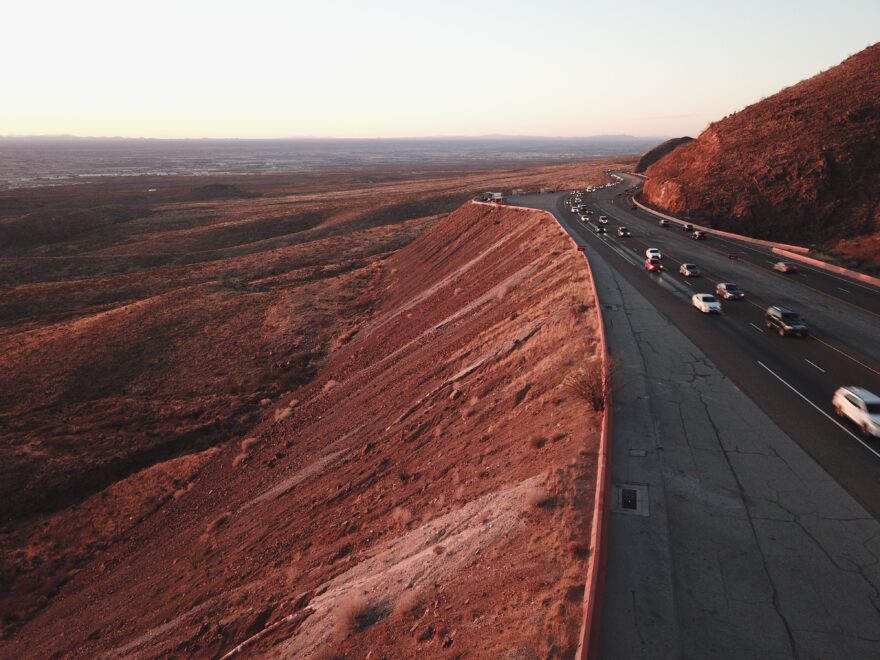 The Franklin Mountains are rich in both human and natural history, making the Trans-Mountain Highway a must-take drive. On top of this drive, there are plenty of locations in Franklin Mountains State Park you can visit, picnic, and hike.
This drive is about 50 miles long, but this particular scenic drive refers to an 11-mile route that passes through the Franklin Mountains State Park. If you are in an adventuristic mood, feel free to stop by the road and continue your exploration on foot. It is a beautiful ride and a nice opportunity for anyone that wants to soak in some natural sceneries and get away from civilization.
Final Words
This concludes our list of the top three scenic drives you can take in El Paso. Before you decide to take any of them, remember to gas up your car since some of these drives are a long way from any gas station and last very long, so you do not want to get yourself in a situation wandering an empty mountain road in search for gas.
We hope that you found our article informative and that it will inspire you to strap on, throw some tunes in your player, fill the tank, and go on the road. These three scenic drives are absolutely breathtaking and worth visiting, so whenever you find yourself in El Paso, take some of these scenic routes, and we guarantee your enjoyment.