Scavenger birds are those that feed on dead organisms and animals whether killed by other predators or from a natural cause. The dead carcass of 'carrion' as the food of scavengers is referred to, will rot in the open and spread disease if not consumed by these animals. It may appear repelling, but scavengers are an extremely important part of nature. So much so that the declining population of scavenger birds around the world is a major cause of concern for environmentalists. Read on to find out about 10 scavenger birds from around the world.
Scavenger Birds
1. Black Vulture
This bird is found in most parts of the Americas, from the New England region in the north to Central Chile in the South. Scientifically named Coragyps atratus, this is a big bird, having a length of around 65 cm and a wingspan of 1.5 metres. Many American vultures including this one, urinate on their own feet to cool them down. Its plumage is glossy black, and the neck is featherless with wrinkled skin.
The black vulture is often seen as a protector and a good omen in many cultures. These vultures are attracted to mercaptan, a gas released by rotting flesh that coincidentally is also present in petroleum. These birds have helped in identifying many oil and gas spills as they flock over that region.
Also Read: 16 Types of hawks in the World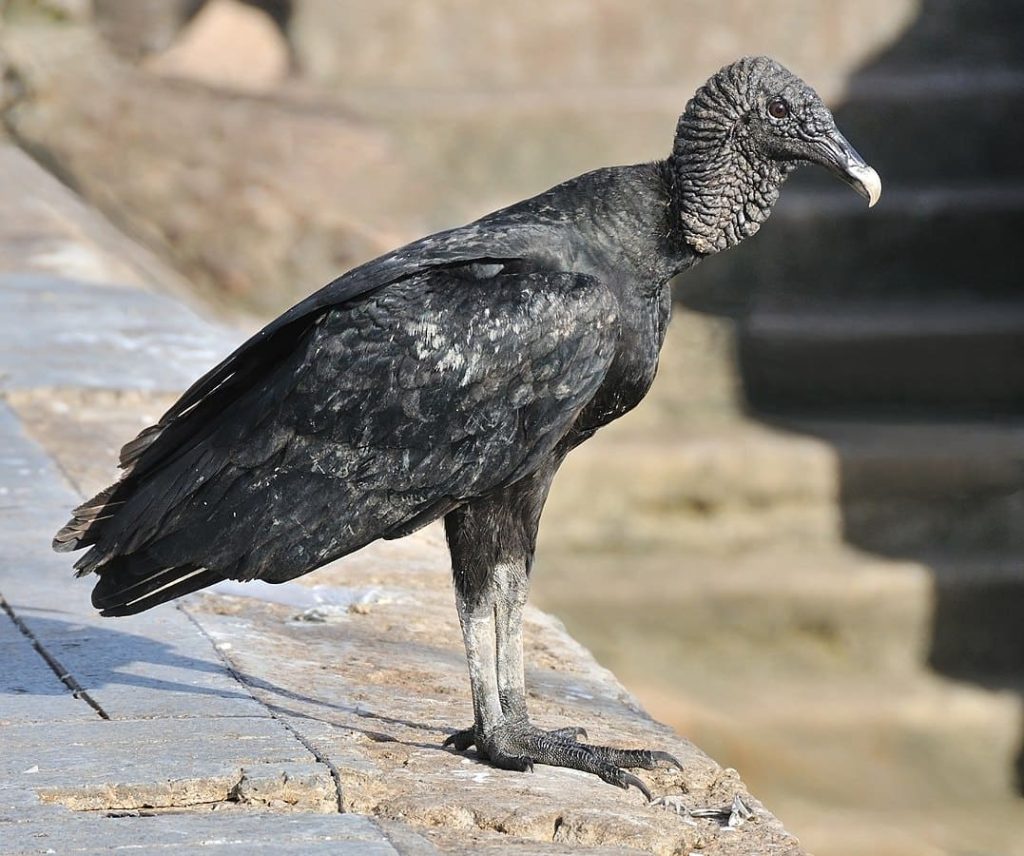 Image Source: Wikipedia
2. Egyptian Vulture
This bird is found in regions spanning from Spain to Egypt, of course, and till India. It is called the Pharoah's chicken because the pharaohs used to wear the head of a vulture as symbols of royalty. It was held sacred and worshipped by ancient Egyptians because of the role they play in nature. This is a lesson for us to recognise how important scavenger animals are in nature. Egyptian Vultures have white plumage and yellow beaks. Their head also has white hair in the shape of a hackle.
Also Read: 10 Types Of Hawks In Minnesota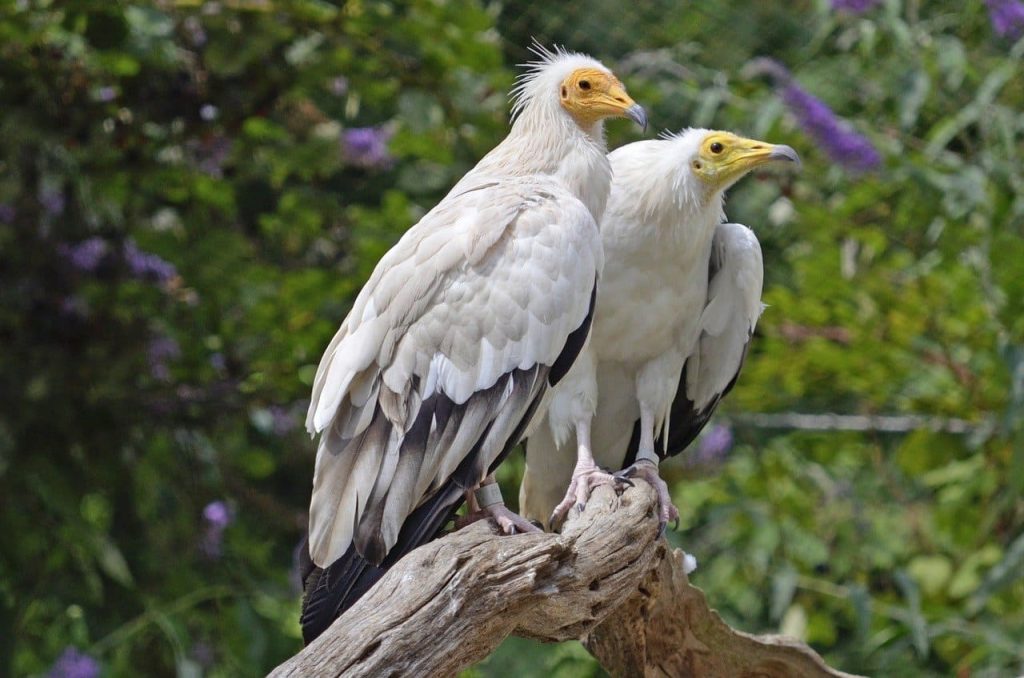 3. Hooded Vulture
As the name suggests, the main feature of this bird is 'hood'. Its neck and head are featherless and have a thick coat below which appears like it's wearing a hoody. They are found in Sub Saharan Africa and feed on animals that die there which mostly means smaller animals like dogs and hyenas. They are generally unafraid of humans. In fact, studies show that they like to live in human habitations. This species is in critically endangered species because of a sharp decline in population in the last several decades. The main reasons are habitat loss as well as the intentional killing by humans for trade and electrocution.
Also Read: 10 Different Animals That Start With V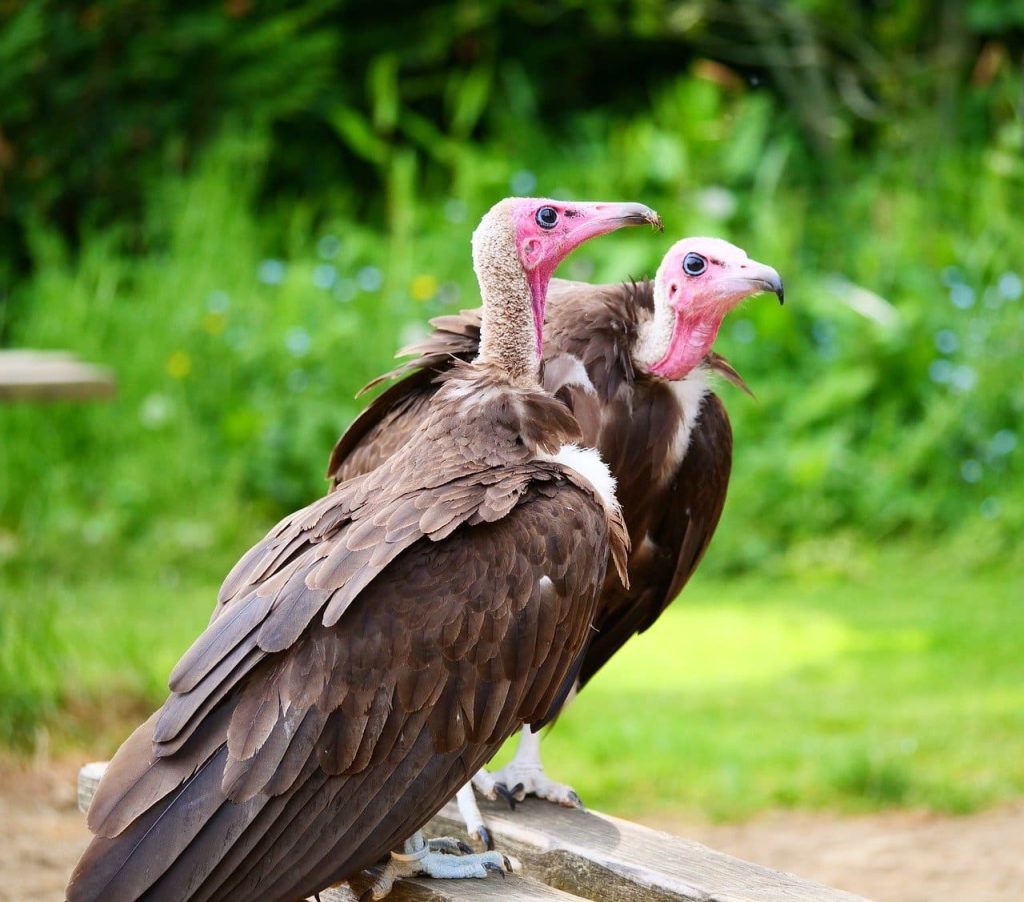 4. Griffon Vulture
These birds are quite big, having a wingspan of about 2.5 metres and almost a metre in length. Griffon Vultures have yellow beaks, white head feathers and light brown body feathers that appear in contrast to dark wing feathers. This elegant bird can be found from regions of Southern Europe to Northern India. They fly in flocks and often reside in colonies too. As opposed to the Hooded Vulture, the griffon vultures like to maintain distance from human settlements and they often nest in high cliffs, inaccessible by means other than flying.
Also Read: 8 Types of Hawks in Wisconsin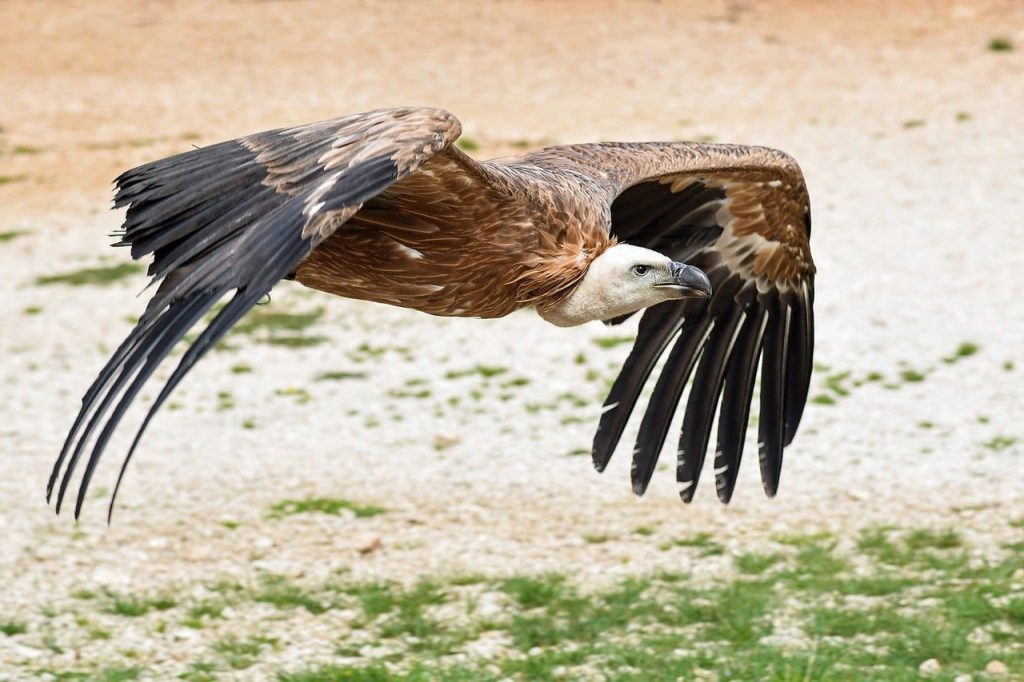 5. Turkey Vulture
Unlike what you may have guessed, these vultures aren't from turkey but native to the Americas. Perhaps named so, because they look similar to Turkeys, the birds. They are also called John crow and buzzard and are found in many regions of the Americas and the Caribbean. As opposed to what movies and cartoons portray, these birds do not feast on live animals except on rare occasions, nor do they attack them. They are a harmless species and mainly feed on dead animals and human garbage. It has a strong sense of smell because of its extremely developed olfactory organs. It has a reddish featherless head and dark feathers.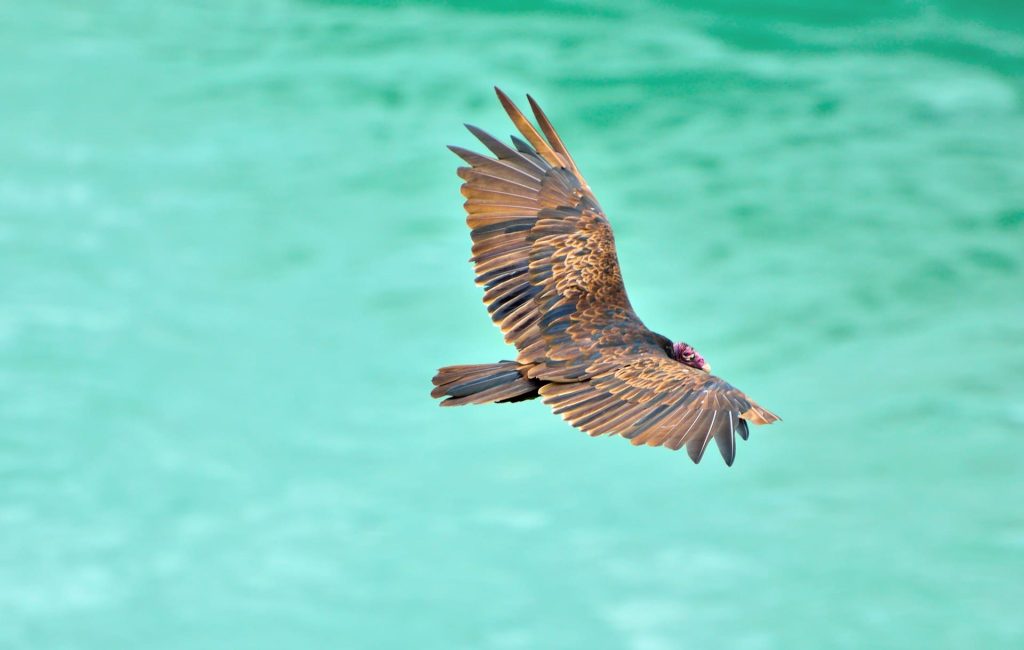 6. Marabou storks
This bird species is found in regions south of the Saharan desert. It lives on carrion and other smaller animals and basically everything. They are also called nature's garbage collectors because they are often found near landfill sites where they eat anything they find edible, including smaller chicks of other birds. They are distinctly identifiable from the long, red coloured sack that hangs from their necks. It helps them in producing croaking sounds for courtship rituals.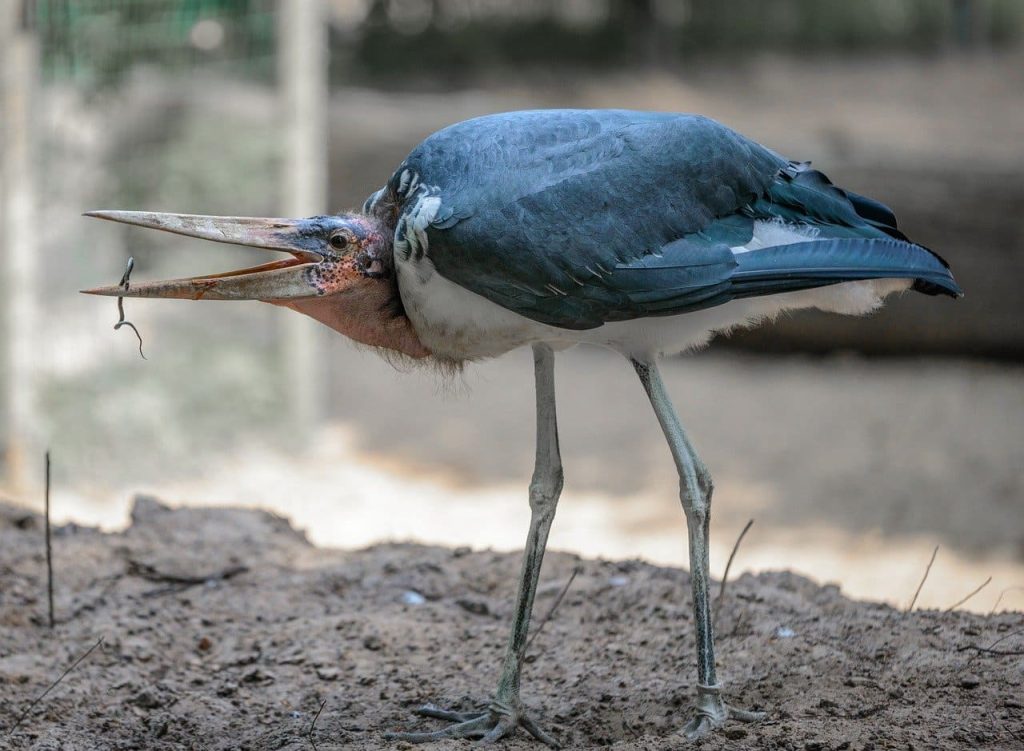 7. Crested Caracara
This beautiful bird from the falcon family has an average wingspan of 1.15 metres (about 50 inches) and a length of 60 cm (23 inches). It has a dark coloured crest which almost looks like it recently got a haircut. They have yellow beaks and legs and white necks and white tip of wing feathers which is in contrast with the dark coloured feathers on the body. It has peculiarly long legs and they are often found walking on the ground looking for a feast. It is opportunistic and eats small animals and often steals food from other animals too.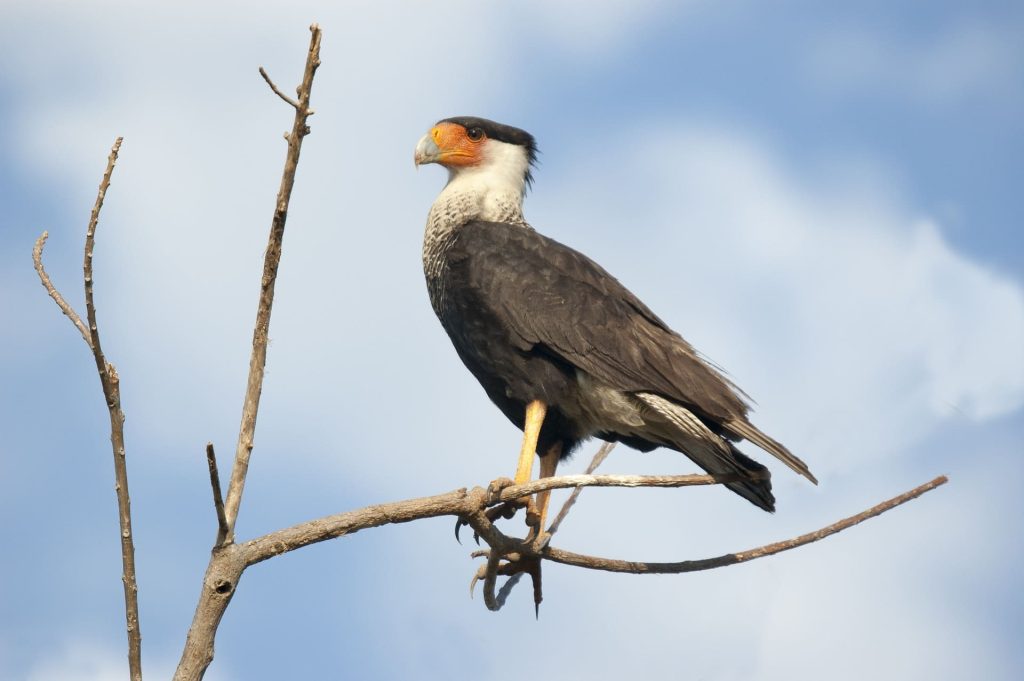 8. Bald Eagle
Contrary to the name, the Bald Eagle is not actually bald but has plumage all over its body. The graceful animal has a distinct white head and dark body with yellow beaks and legs. The iris of the bird is also bright yellow in color. This beauty of the Bald Eagle is one of the reasons that it is the national Bird of the USA. It is an opportunistic bird and feeds on fish caught from water bodies mainly. However, it also follows other predators to scavenge whatever is left behind.
Also Read: 8 Types Of Hawks In New Jersey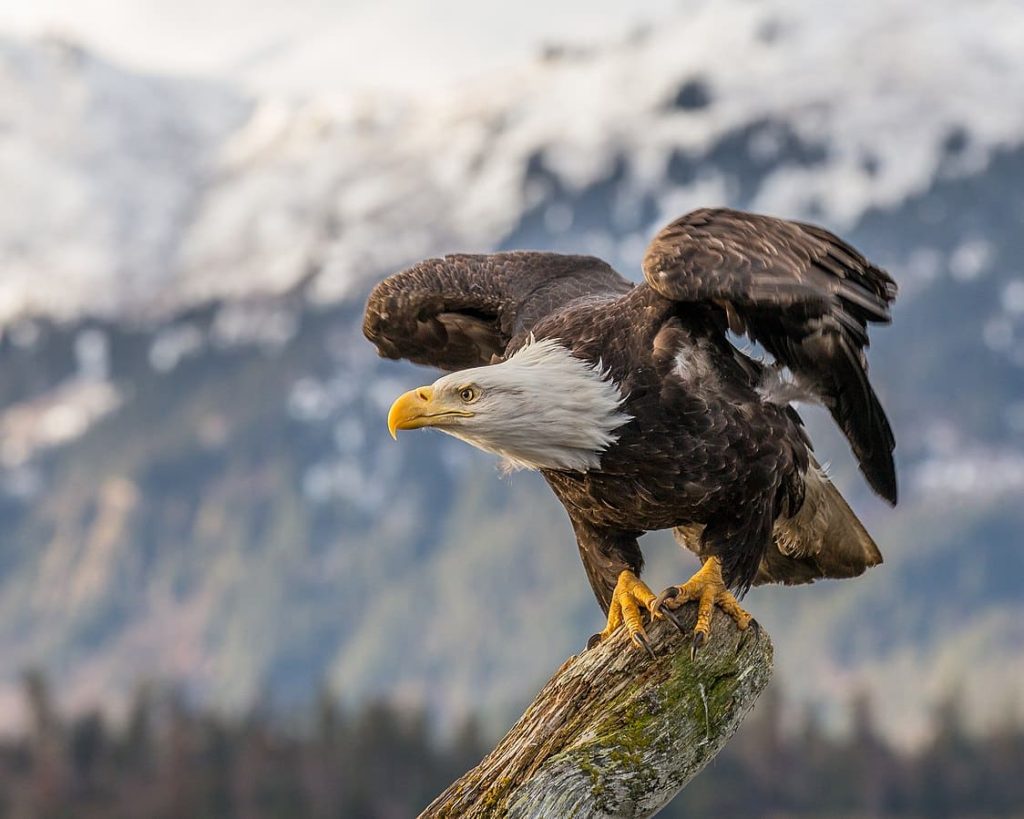 Image Source: Wikimedia
9. African Fish Eagle
The African Fish Eagle has remarkable similarities with the Bald Eagle. They both are however continents apart. African fish eagle is found across vast regions of Sub-Saharan Africa and regions lying southwards. It is commonly found near the water bodies where they can catch the main component of their diet, fish. Like their American counterparts, they build big nests some even having a width of 2 meters.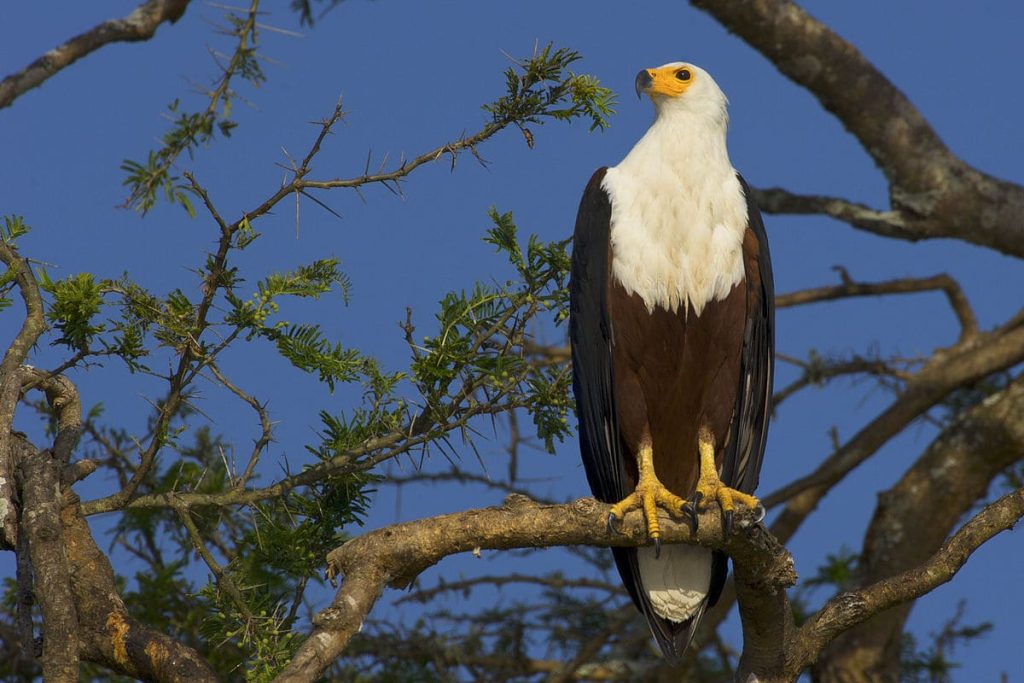 Image Source: Wikimedia
10. Crow
The most common scavenging bird, crows are found in almost all regions of the world. Although they look similar there are many kinds of crows that live in different parts of the world. They are generally entirely black or grey however some species have some distinct features. They are considered one of the smartest animals and are often found eating dead carcasses along with hyenas and coyotes although also hunt small animals.
Crowds flock in huge numbers around dead animals, garbage, and landfills. Due to their ubiquitous nature, creepy appearance, and feeding habits, crows are part of many cultures around the world and are often associated with death. It is because of this reason that a flock of crows is called a 'murder'.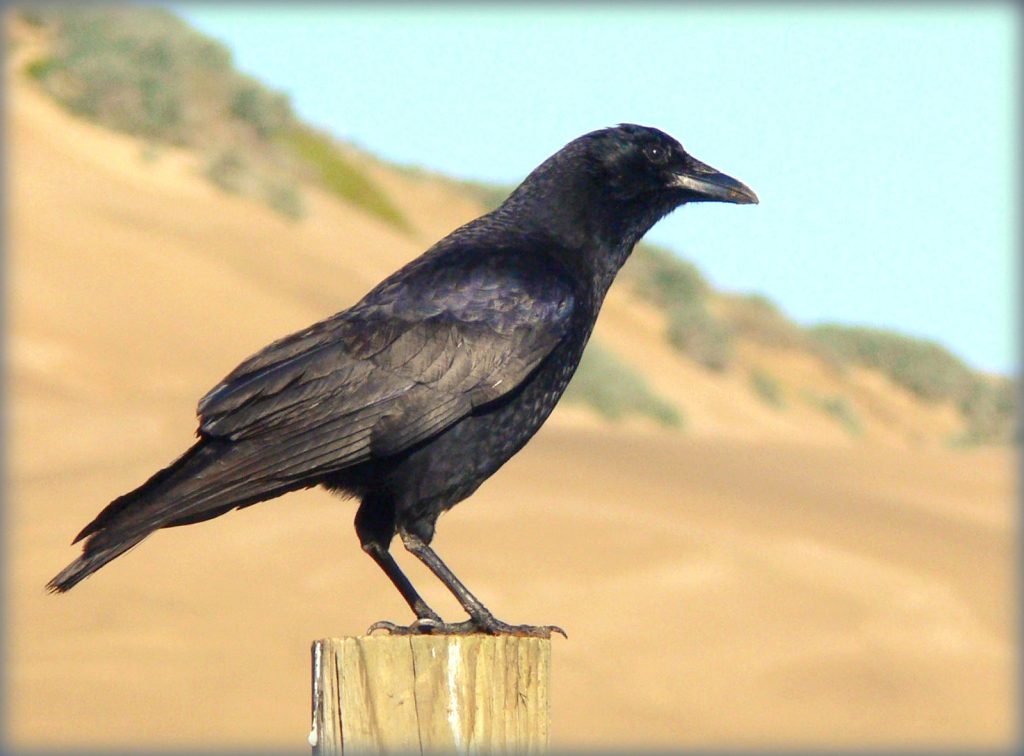 These are the scavenger birds in the world. Kindly share and do post your comments.