There are some creatures on this planet that will make you question that is they even real or just a toy? They are an art of nature. A masterpiece that will stun you with its beauty. This article is all about colourful and popular birds. Well, they are so many birds with different patterns, designs, and colors that it becomes difficult to decide what to choose and what not. We have made a list of ten such birds that are beautiful beyond imagination. So, without further ado, let's know in detail about these colourful birds,
Colourful birds
1. Fiery-throated Hummingbird
This shiny multicolored hummingbird is the smallest bird in the bird. In Spanish, this bird is also known as the Colibrí Garganta de Fuego. It has a blue tail and a straight and elongated black colored beak. Their body is of shiny green color and they have white spots behind their eye. Their lifespan is around 10 years. They prefer to live alone or with their mate. They are native to Costa Rica and Western Panama. If we talk about their conservation status, they are one of the least concerned species.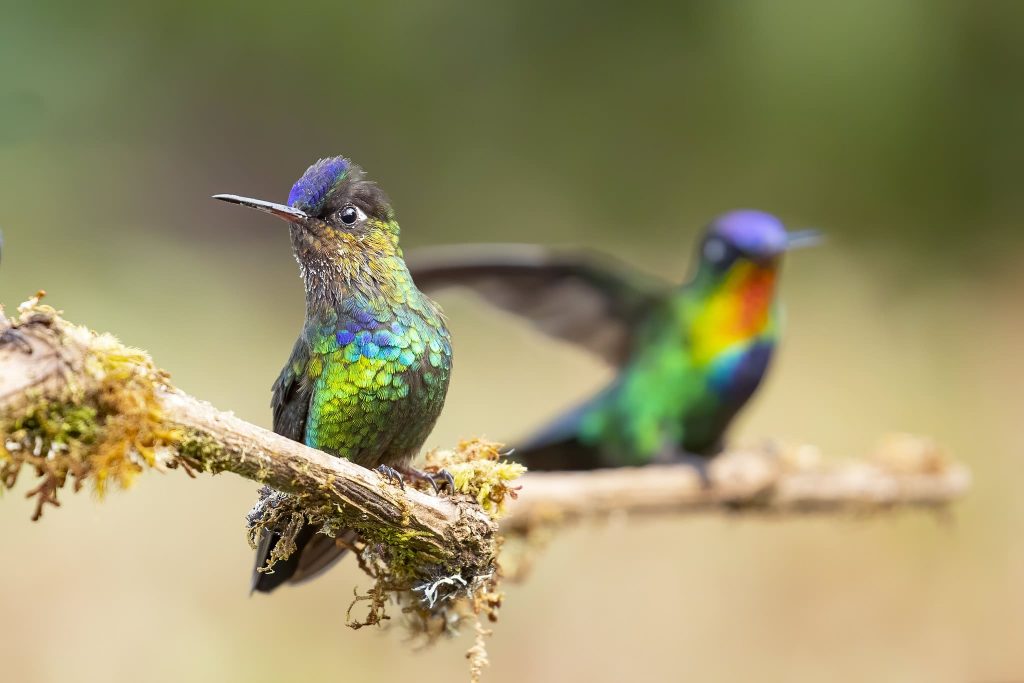 Image Source: Mick Thompson
2. Chilean Flamingo
Chilean Flamingos have a very unique appearance. They have pink and red feathers. Their spindly legs are so strong and efficient that they can stand on one leg for straight four hours. When a baby flamingo is born, it is grey in color. It acquires the pink color later in its life with its diet.
They are native to Brazil, Chile, Ecuador, and Argentina. The Chilean Flamingo is one of the largest among the other flamingo species. They love to live in places where the climate is warm. Their population is decreasing due to habitat loss. Flamingos are one of the most graceful animals in the world.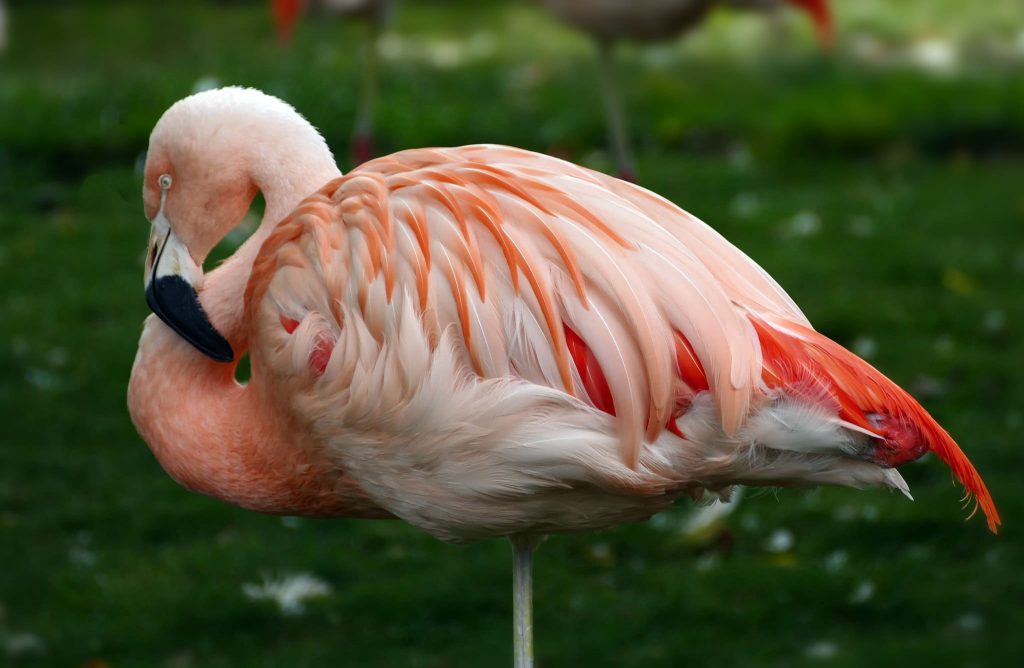 Image Source: Bernard Spragg. NZ
3. Northern Cardinal
These birds are beautiful beyond imagination. They have beautiful feathers and are available in vibrant colors. They show their affection by feeding their mate, beak-to-beak. They are native to North America and can be recognized very easily. Interestingly, they are granivorous animals that feed on seeds. They have a specially designed beak that aids them in cracking nuts and seeds. Moreover, they are the mascots of many sports teams. Their lifespan is around three years.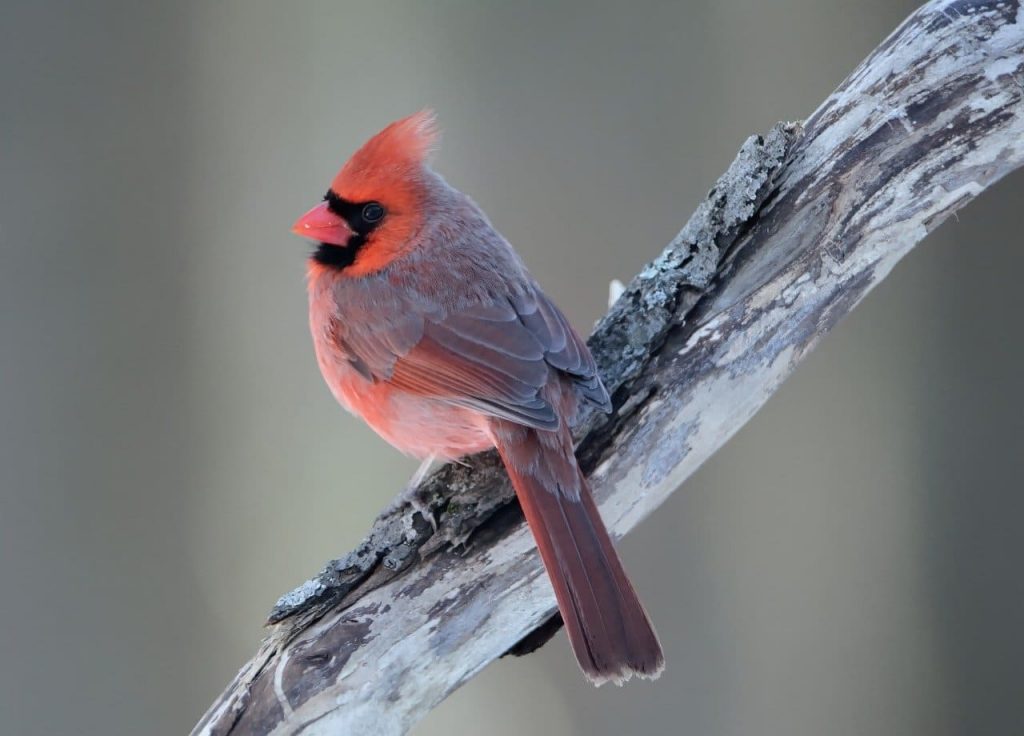 4. Gouldian Finch
These are multicolored birds with patches of different colors on their body. Some of them are red-headed or black-headed; while some are yellow-headed. Purely, a wonder of nature. Also known as rainbow birds or lady Gouldian Finch is one of the most attractive birds of Australia. They feed on grass and seeds and live up to the age of four to five years in the wild.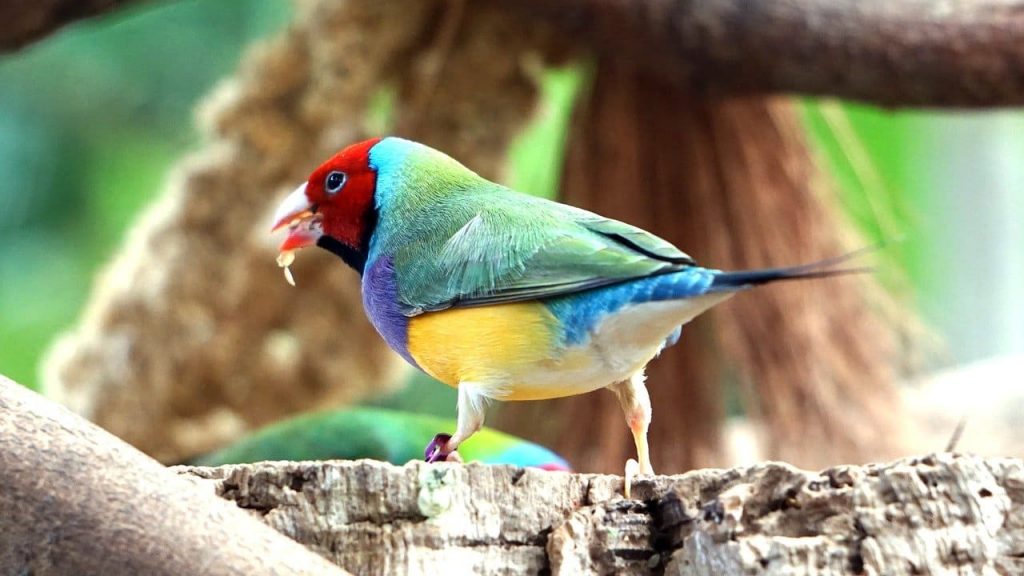 5. Common Kingfisher
A bird with a long beak, blue back and head, and orange lower belly. There are around eighty-seven species of Kingfisher across the globe. But, the original is the one that breeds in Europe. Its size is almost similar to that of a sparrow and has a very small tail. Though they prefer to live alone but find a partner when it's the mating season. They live in burrows and their nesting takes place around the river banks. They love to feed on insects, fishes, prawns et cetera.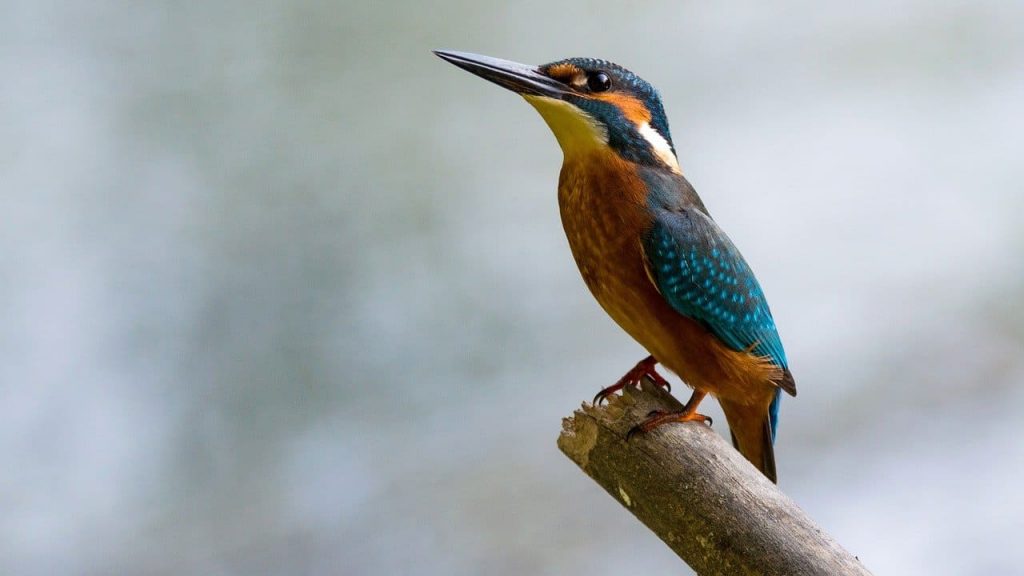 6. Rainbow lorikeet
It has a rainbow-colored body and that is where its name comes from. They are native to New Guinea and Australia. There are a total of fifty-three species of lorikeets. They can fly up to 40 miles in one go and hover in groups of around 12-20 birds. Unlike other types of parrots, lorikeets are attention-seeking. They are very energetic and active. Known for their sweet and affectionate nature, they can be very easy to keep as pets. They will reciprocate your love. Interestingly, they have a pretty long life span which varies from around 25-30 years.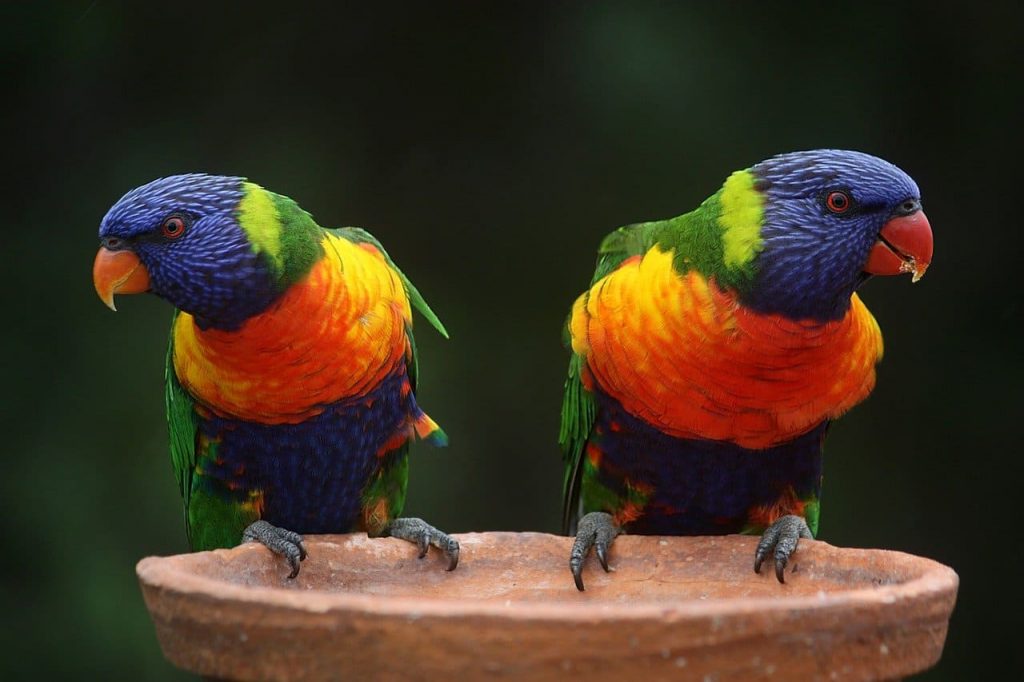 7. Eastern Bluebird
It has an ink blue back and orange and white lower belly. It hovers in orchards, farmlands, and woodlands. Its courtship displays are very unique and interesting. The male type of bird that is blue in color comes with arranges and all the materials required for building the nest and displays its wings near it to attract the female Bluebird. It's the female who builds the nest and lays eggs in it.
They feed on berries, insects, and wild fruits. Their lifespan varies between eight to nine years. Till now, the oldest Bluebird was 10 years and six months old. It is also listed as one of the most beautiful birds in Pennsylvania.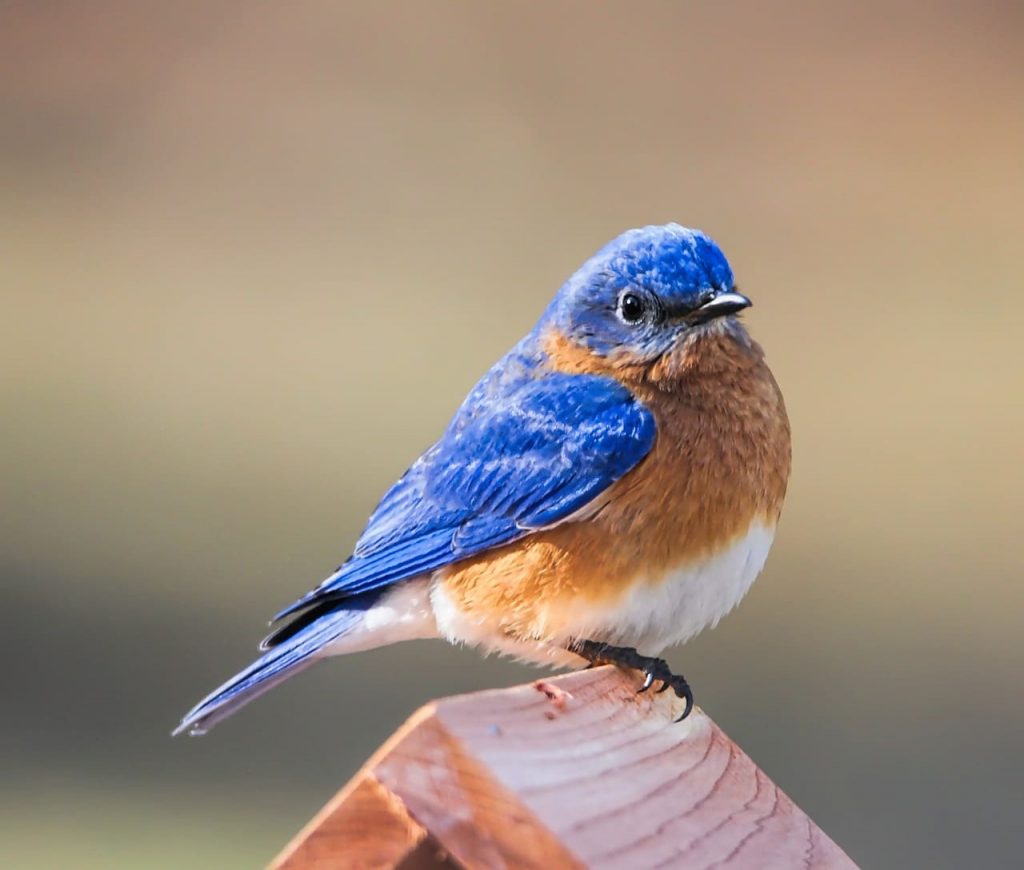 8. Golden-hooded manager
A bird-like no other. So colorful and unique. It has a shiny bright turquoise rump and belly and its feathers are edged with jet black color. Their average weight is around 19-20g while their height is around 13cm long. It mostly lives in dense forests. And they are native to western Ecuador and southern Mexico. Interestingly, tanagers can even brood in a group of three during the breeding season. They build their nests using cobwebs, dead leaves, or banana leaves. As per their conservation status, they are one of the least concerned species.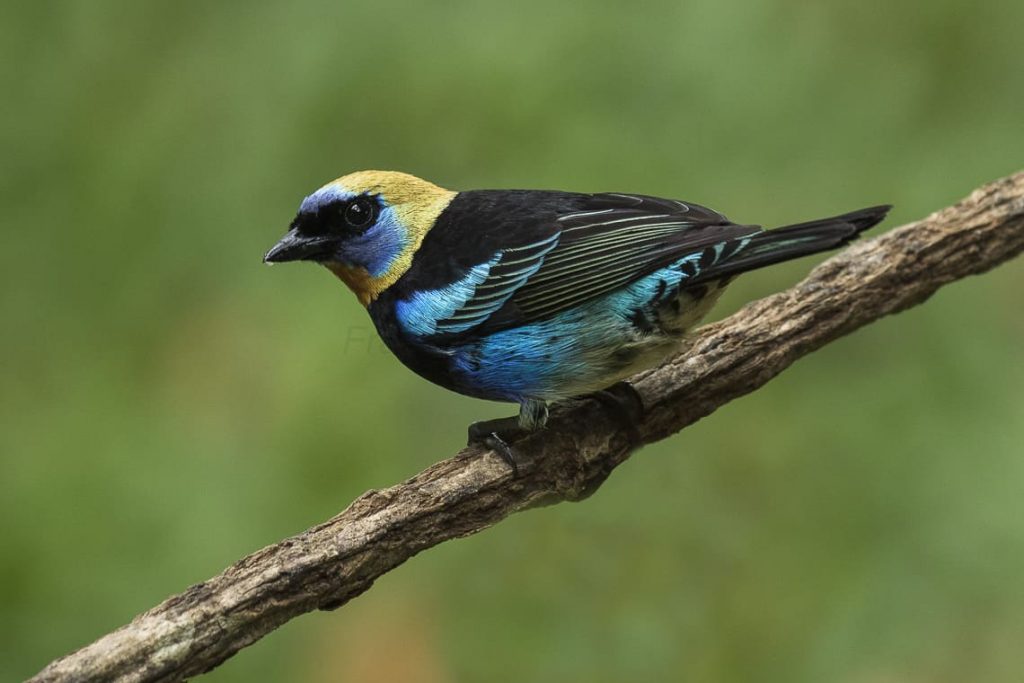 Image Source: Wikimedia
9. European bee-eater
Watching one of the colourful birds is truly a treat to the eyes. It is also known as Golden or Eurasian bee-eaters. This multicolored bird is a migratory bird that moves to warm regions during the winter season. Some of them spend their winters along the Kaveri river in Karnataka and Tamil Nadu.
It is claimed that some of these birds breed in certain parts of Kashmir in India. Though they hover over human settlements to locate the beehives, in general, they are very shy. They don't come in contact with humans so often. Their melodious sound can fill your heart with joy.
Also Read: 10 Different Animals That Start With K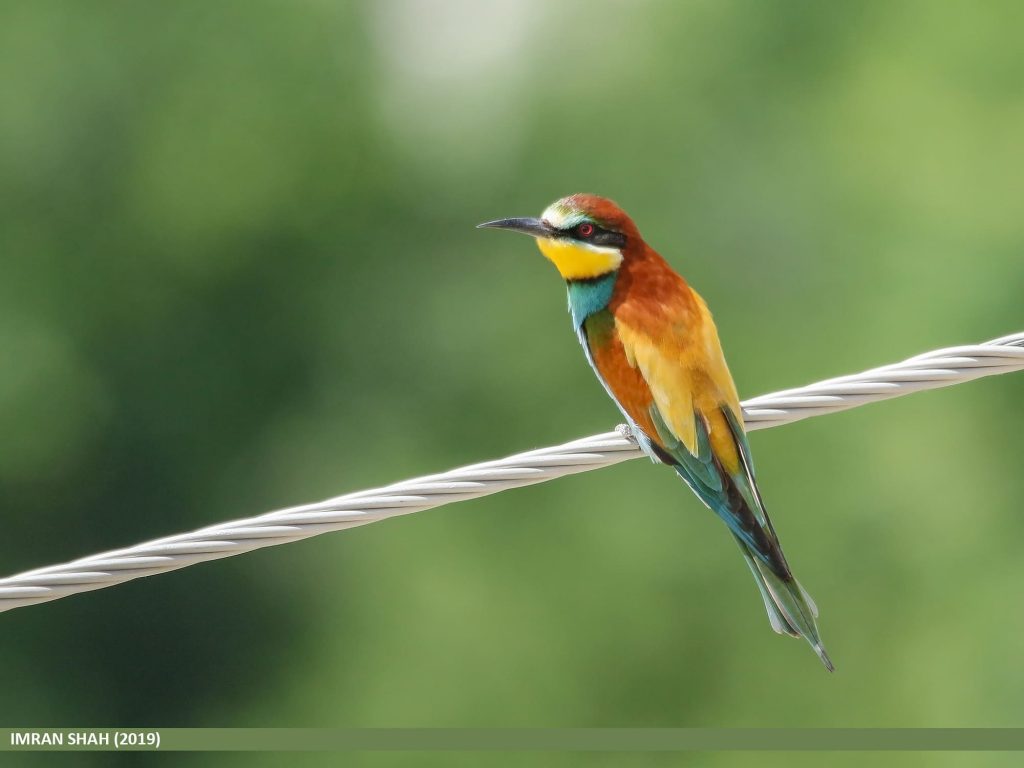 Image Source: Imran Shah
10. Violet-backed starling
They have a white underbelly and their head, back and feathers are of shiny violet colour. Their straight beak is also black in colour. It is about 18cm in length. Interestingly, they are a monogamous species as once they find a mate, they stay with them till they die.
They build their nest in tree holes or holes near the river banks and for that, they use leaves, dung, and other plant material. Fortunately, this beauty is not among the threatened species. Photographers wait eagerly to see a glimpse of their vibrant bodies.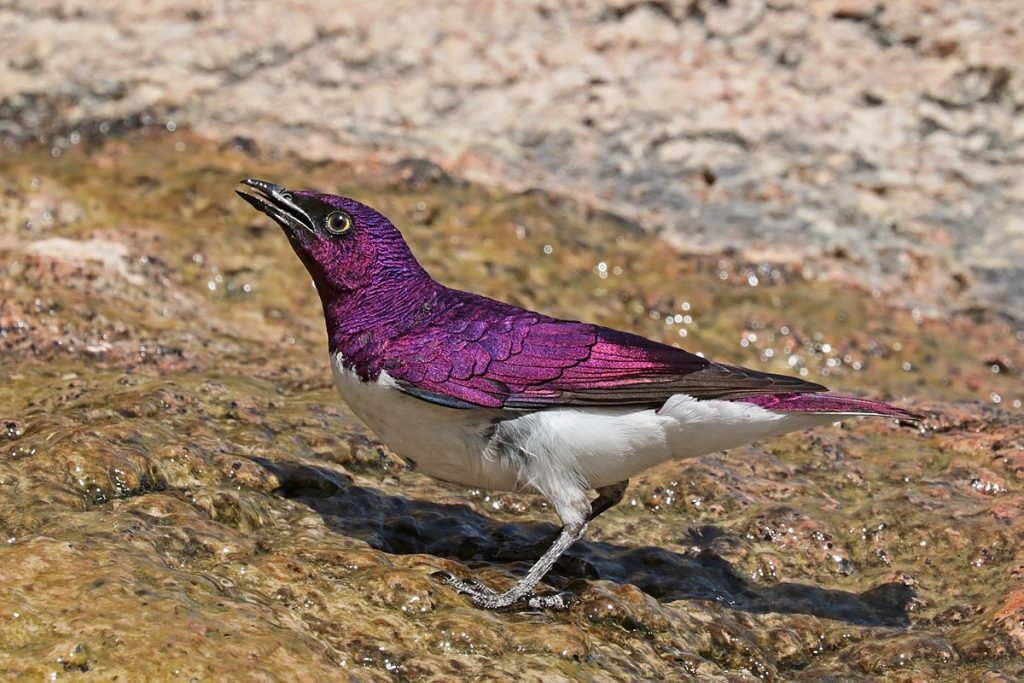 Image Source: Wikimedia
These are the top 10 beautiful colourful birds in the world. Kindly share and do post your comments.