Have you ever heard of desert birds? Yes, birds live in deserts too. They adapt to the desert climate and feed on plants that grow in deserts and other insects. The body of these birds is strong enough to bear the desert heat. In today's article, we are going to talk about the above-mentioned birds. Their qualities will definitely surprise you. So, let's get on to this. Here is the list of the most amazing desert birds in the world,
Desert Birds In The World
1. Gambel Quail
These desert birds are mostly found in Texas, Sonora, New Mexico, Utah, Arizona et cetera. They were named after the naturalist William Gambel. To prevent themselves from their enemies, they stay together and also fly in groups. They are plant eaters and look very similar to California Quails. These are ground-bound birds and they have very short and strong legs. The population size of Gambel Quail is around 5.3 million.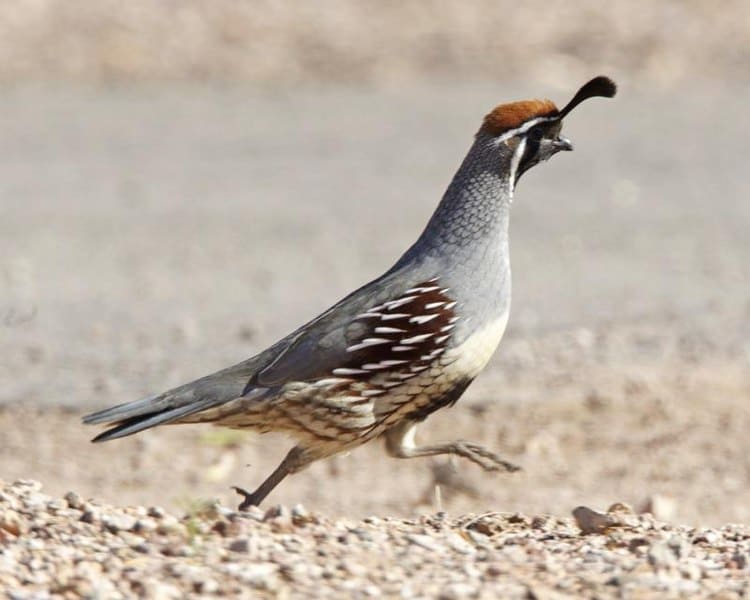 Image Source: Wikimedia
2. Desert Falcon
Falcons are well known for their hunting skills. They are very efficient in chasing and killing their prey. Interestingly, they have a great speed as they can fly at a maximum speed of 242 miles per hour. In ancient times, this bird was used by people to hunt other animals and small birds. Falconry was an activity that Kings and Queens used to enjoy. Moreover, Falcons are monogamous birds; they stay with their partners during mating season and otherwise they hunt alone. Another interesting fact about them is their vision, which is eight times better than that of humans.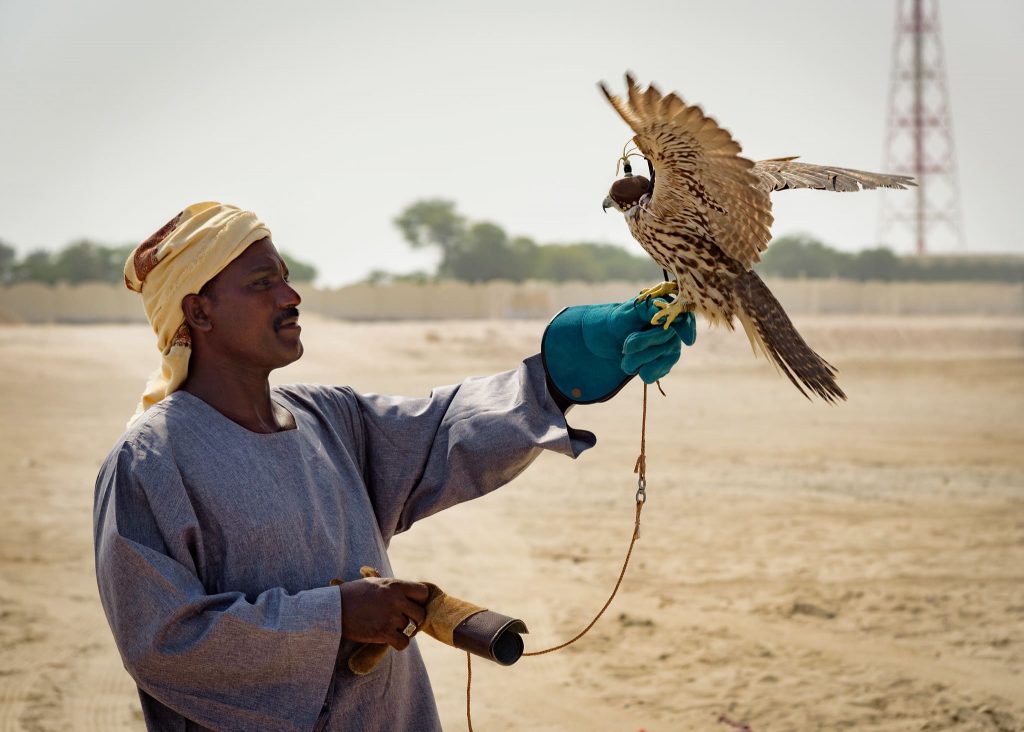 Image Source: Torsten reimer
3. Desert Lark
This bird has a big head and a long lark that is around 16-17cm long. You will mostly find this bird in desert or semi-desert areas. It is native to Mauritania, Morocco, and Africa. They are not very social in nature and prefer to be alone. They feed on insects, grass, and seeds and build their nest on the ground using stones, pebbles, and dried leaves. Their lifespan varies between two to five years. According to IUCN, they are one of the least concerned species as per their conservation status.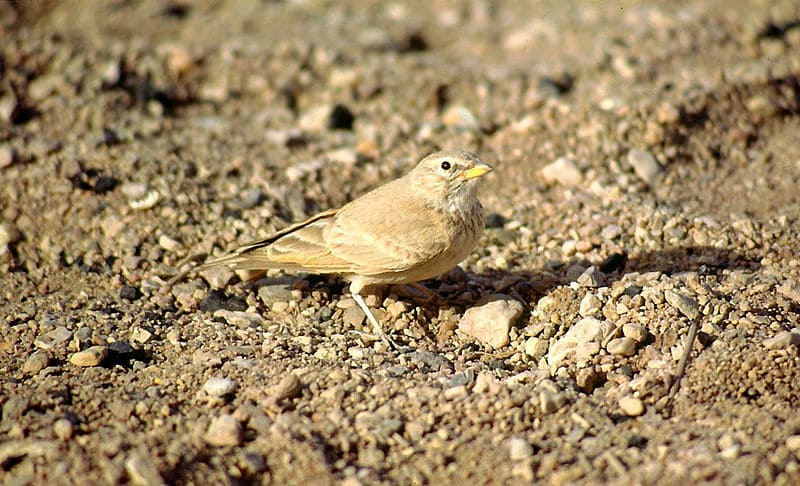 Image Source: Wikimedia
4. Sand Grouse
It is a beautiful bird with a unique design on its body. These ground-dwelling birds are full of feathers that cover their body. It has a slender beak that is used by them to grouse through the sand and that is where their name comes from. They feed on berries, seeds, green stems, and other plants. They are one of the least concerned species. They are native to the Middle East, Central Asia, India, and Southern Africa. This bird is considered one of the most beautiful birds in the world.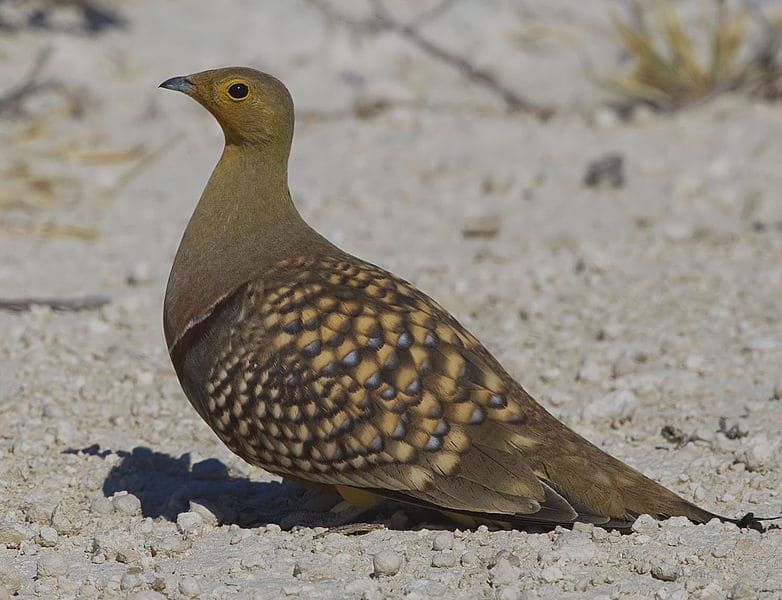 Image Source: Wikimedia
5. Greater roadrunner
Do you know why this bird is known as a greater roadrunner? Because it can run faster than a human and even a rattlesnake. Their crest is blueish-black in color and as they run, their tail leans on the ground. They have glands near their eyes through which they secrete a concentrated liquid. An interesting fact about them is that they feed on venomous lizards and poisonous snakes. As per the records, the oldest roadrunner was around 7 years old.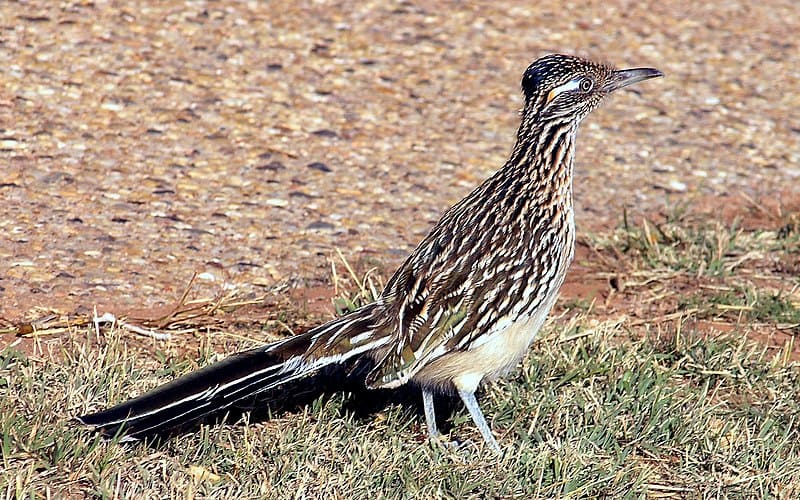 Image source: Wikimedia
6. Gila Woodpecker
It is truly a delight to watch this bird. It is beautiful beyond words. It is native to the deserts of Mexico and the United States. Its wings have a pattern like that of Zebra; joined with black dots on white wings. The rest of the body is of a tan color. The muscles in their neck and head are so strong that they won't be hurt even if they bang their head in a tree or building. They feed on nuts, fruits, and corn. Interestingly, they build their nest in a cactus.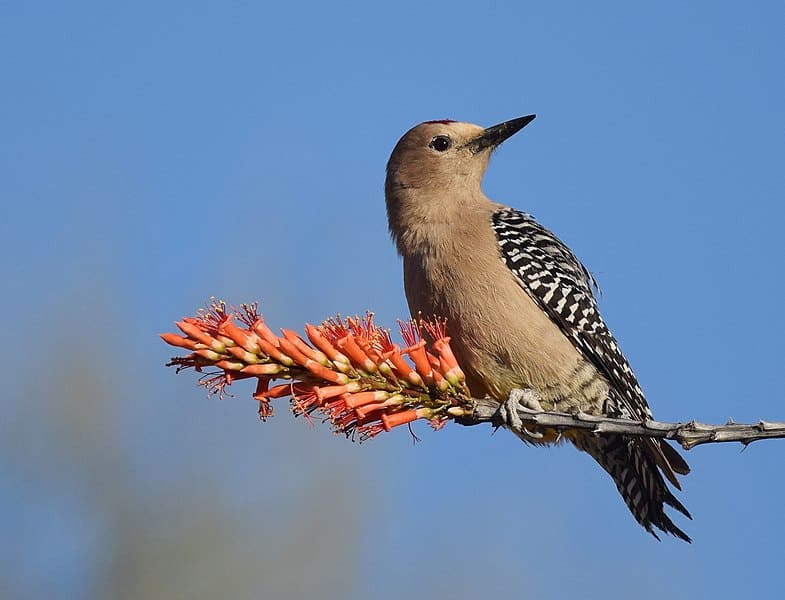 Image source: Wikimedia
7. Golden Eagle
It is one of the largest birds in North America. Its birds are very long. It is dark brown in color and there are some golden patches on its body. The golden eagle is capable of killing big creatures like cranes, domestic livestock et cetera but they mostly feed on rabbits, hares, and squirrels. It is also the emblem of various countries like Germany, Austria, Mexico, Kazakhstan, and Albania. Their nestling time varies from 41-85 days. They have a long lifespan. Till now, the oldest recorded golden eagle was around thirty-one years and eight months old.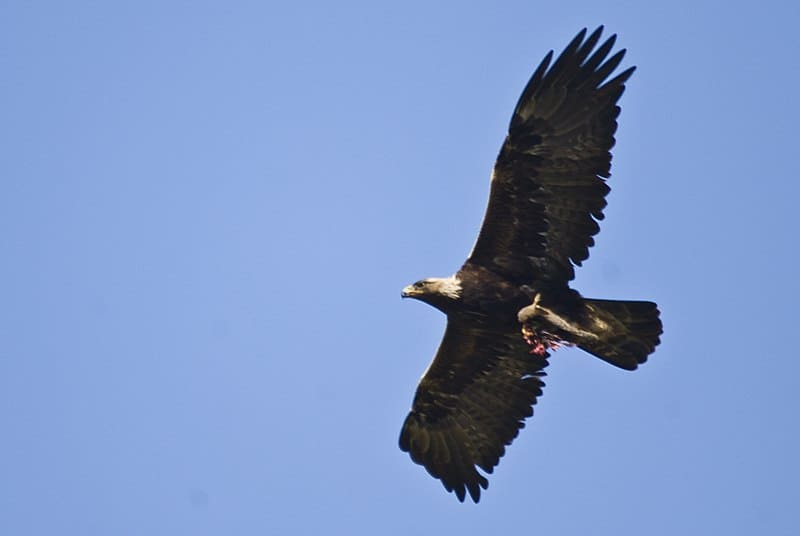 Image source: Wikimedia
8. Ostrich
Ostriches are very well known for their long legs. Their legs are a powerful weapon. They are strong enough to kill a human being. Interestingly, their body consists of three stomachs. They can run at a speed of 70 km/ph and they can cover five meters distance in one stride. The wings of one of the African birds are around 2 meters wide and they use them to attract their mate. Their eyes are the biggest among all the other land animals ad hence listed as one of of the largest birds in th world. They can live without drinking water for many days. But do you know what Ostriches love taking baths? They do it wherever they find water. The population of Ostriches has declined in the past few years.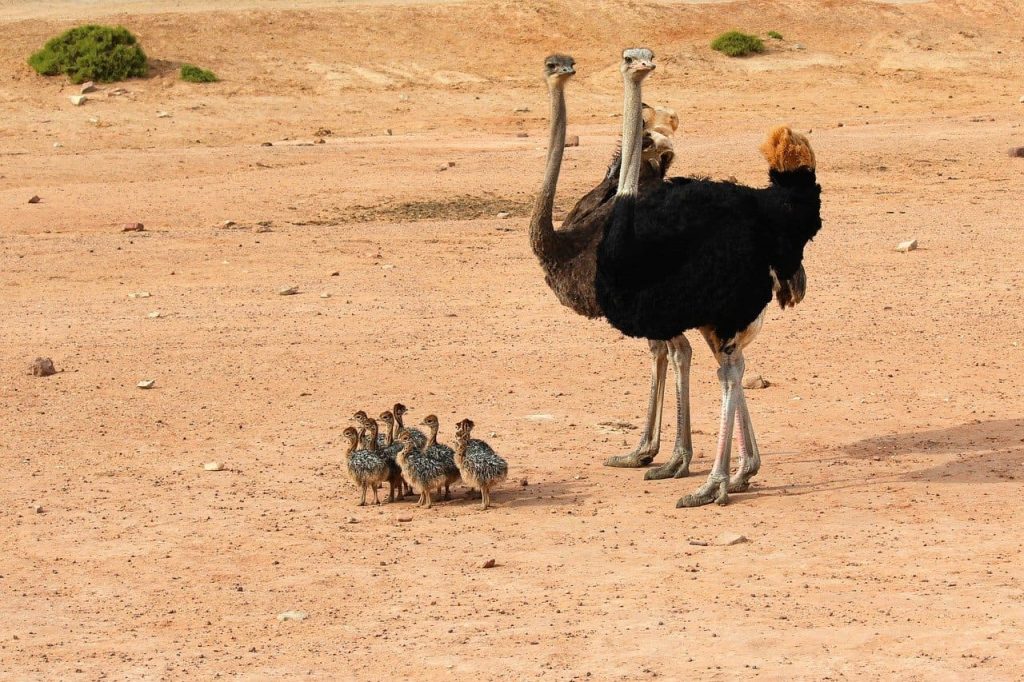 9. Cactus Wren
It has a heavy and long bill. The eyebrows of this bird are bright white in color and it has a brown body. Their sides are of cinnamon color. These fearless creatures live in between the vegetation. They rarely drink water as most of their hydration requirement is fulfilled by the food they consume. Their nests are in the shape of a football. This fearless bird can hop on a cactus just to let other birds know about their presence.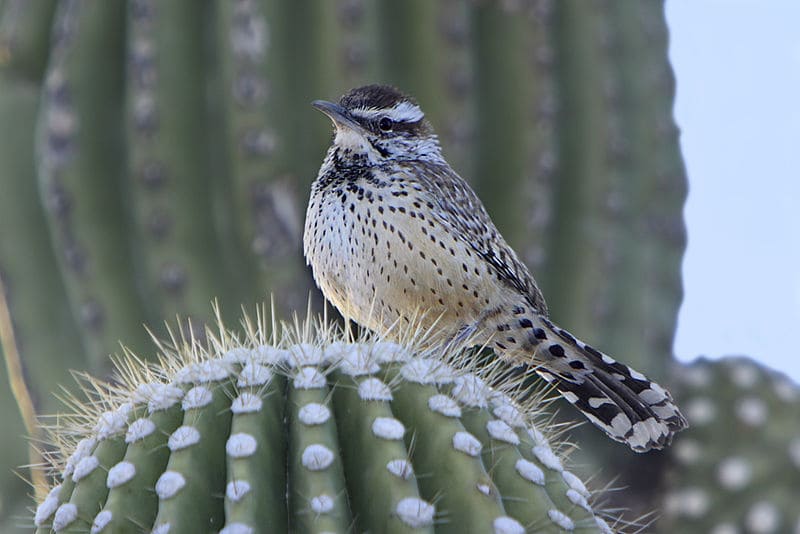 Image Source: Wikipedia
10. Verdin
It is a tiny grey bird with has a bright yellow head. They feed on fruits and even nectar. Their nests have a spherical shape and they make several nests in a year. Verdins are very active in the morning and get lazy and still as the heat increases. They make their nest for the purpose of breeding and roosting and interestingly, it is the male Verdin who builds the outer shell of the nest. These nests keep them warm in extreme cold weather and in summers it prevents them from excessive heat. Till now, the oldest recorded Verdin was around 5 years old.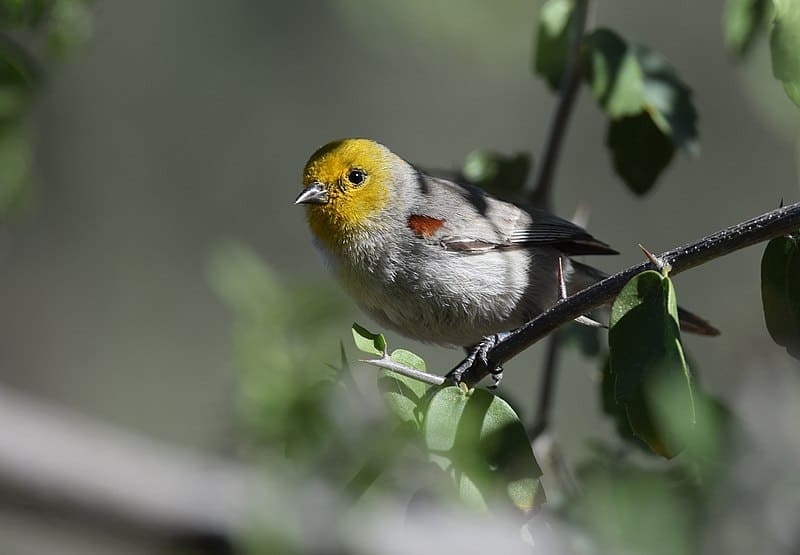 Image Source: Wikimedia
These are the most amazing desert birds in the world. Kindly share and do post your comments.