Hawks are medium to large size birds who are recognised by their strong, pointed beak and sharp claws. In the case of most varieties of hawks, females are bigger in size than males. They are highly intelligent creatures with the ability to focus even from afar, a trait that adds to their reputation of being expert hunters. These birds are truly a wonder of nature- after locking in on prey, they plan the method to catch it in a calculated manner, acting swiftly, without giving the prey much time to escape or retaliate. Mentions of Hawks can be found in Native American folklore and culture. Hawks are seen as symbols of power, strength and courage. Some tribes such as the Chippewa and the Hopi Tribes, to name a few, have hawk clans with the names 'Gekek' and 'Kyelngyam' respectively. The Hawk is an important clan crest on the Northwest Coast and can often be found carved on totem poles. We will discuss hawks in Wisconsin.
Though there are about 200 varieties of hawks spread across the world, in this article we are going to look at the Hawks of Wisconsin. Wisconsin's location in the mid-western United States, its 1320 km coastline on Lake Michigan and Lake Superior, coupled with the state's humid weather, make it a favourable place for residence for these predatory birds. These hawks can be seen in the 43 parks and 23 forests across the State. The state of Wisconsin has a 'Wisconsin All-Bird Conservation Plan' in place to protect 116 priority bird species, including Hawks. This plan also recommends guidelines on habitat protection, management, and restoration, in order to positively impact the conservation efforts surrounding these bird species, in the state. Read about 8 types of hawks in Wisconsin,
Hawks in Wisconsin
1. The Sharp-Shinned Hawk
The Sharp-shinned Hawks are known to be the smallest species of hawks found in the USA. These birds normally weigh between 80 to 220 grams, and their wingspan ranges from 43 to 56 cm. Male Sharp-shinned Hawks are atleast a third smaller in proportion, compared to their female counterparts. These hawks are mostly seen during the summer months in the coniferous forests and wetlands of Wisconsin. Adult Sharp-shinned Hawks are recognised by their blue-grey colour with reddish-orange horizontal stripes on their chest feathers. It is also one of the most popular types of hawks in New Jersey.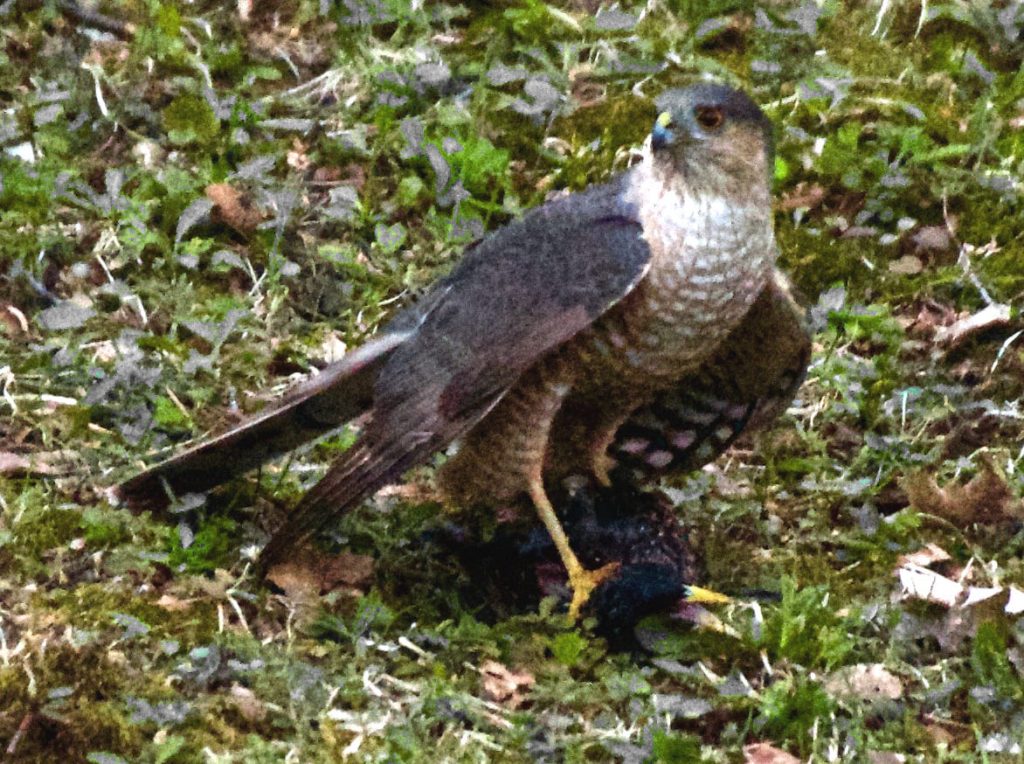 2. The Red-Tailed Hawk
One of the commonly seen hawks in Minnesota with a wingspan of 114 to 133 cm, weighing between 0.9 to 1.5 kg, and a lengthy life expectancy of a decade and a half, the Red-Tailed Hawk is the second-largest type of hawk found in the USA. As their name suggests, are known for their red tail and feathered white belly. They can be seen throughout the year in Wisconsin, but are most commonly spotted in the southern regions, where they prefer to reside on trees and poles in open grounds, due to their solitary nature. They mostly feed on small mammals such as mice, rabbits and squirrels.
Also Read: 10 Scavenger Birds In The World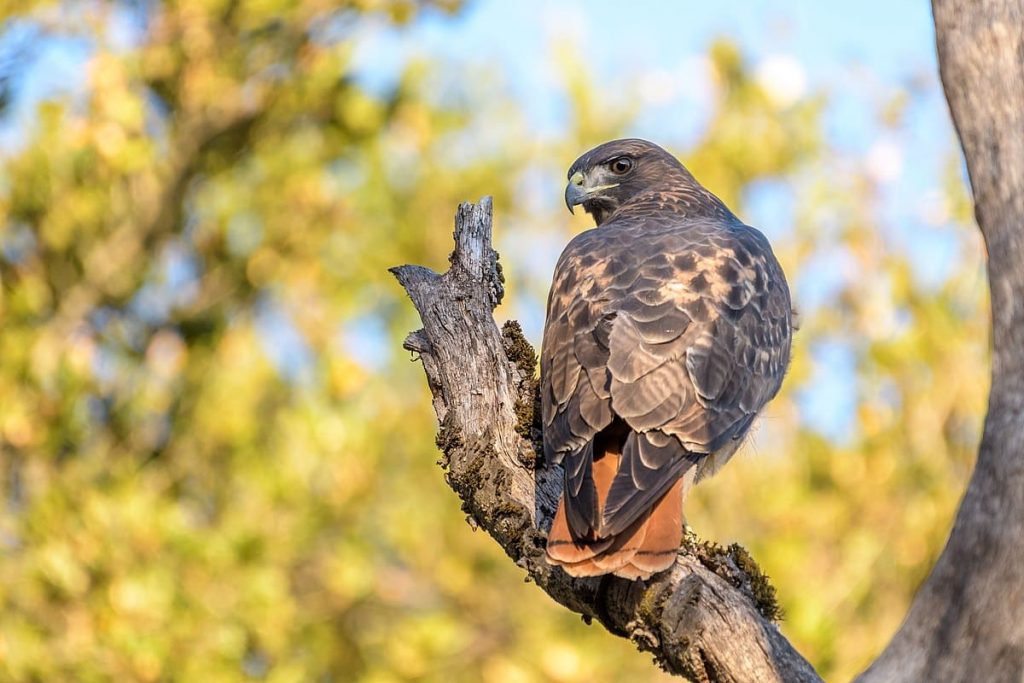 3. Cooper's Hawk
Cooper's Hawks are very similar to Sharp-shinned Hawks in appearance. However, these hawks are of medium size, similar to crows. These hawks are known for their agile abilities as a hunter. They have a wingspan ranging from 60 to 90 cm and are known for their silent and calculating temperament. They have steel blue feathers on their back and wings and have warm red feathers covering their bellies. They can be seen in the state throughout the year, mostly in wooded habitats. Their diet consists of small mice, squirrels and birds.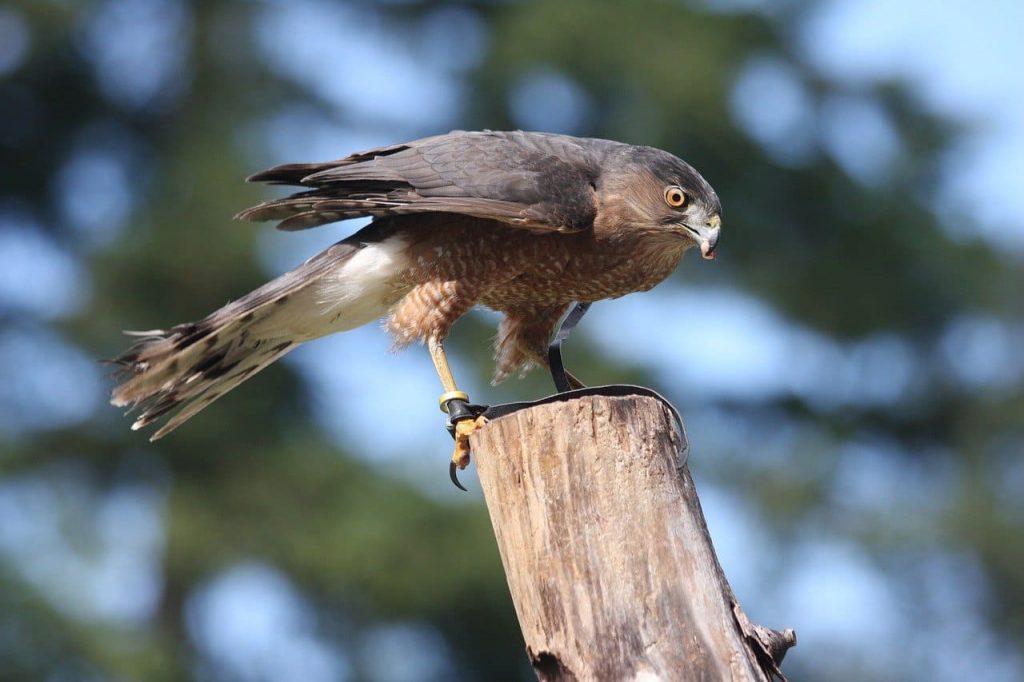 4. The Northern Goshawk
The Northern Goshawks are goose-sized hawks with an average wingspan of 89 to 127 cm and weight ranging from 0.6 to 1.3 kgs. These hawks have slate-grey wings and a light grey underbelly. They usually have dark-coloured crowns and piercing deep red eyes. These birds prefer to live in isolation, inside the woods and are known to attack those who come too close to their nests. They feed on mammals, reptiles and insects.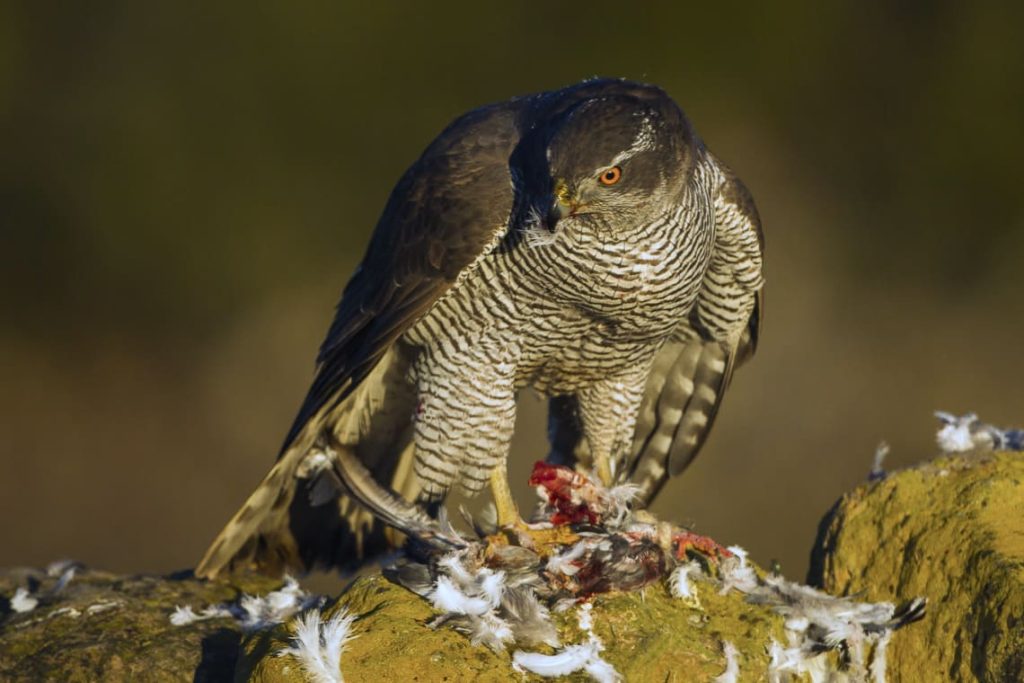 Image Source; Wikimedia
5. The Red-Shouldered Hawk
The Red-Shouldered Hawks are a common sight to see across the USA, however, the systematic destruction of their habitat (wooded areas) in Wisconsin has led to 'endangered' status being attached to the hawk, in the state. They have a wingspan of 94 to 110 cm and an average life span of two years. In Wisconsin, they can be found in woodlands, bordering wetlands. They feed on small mammals, reptiles and frogs. In terms of appearance, Red-Shouldered Hawks are large in size and are known for the white and brown check pattern on their wings, and their redbreast.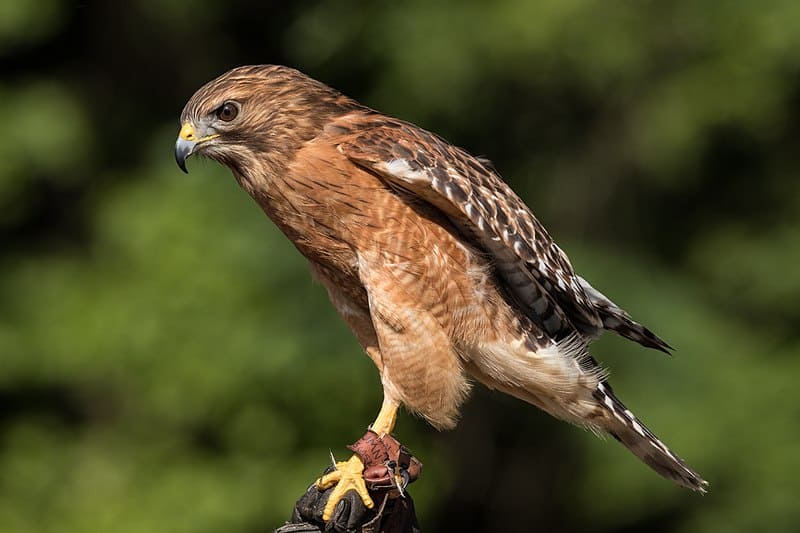 6. The Broad-Winged Hawk
The Broad-Winged Hawk is a small to medium-sized, stocky breed of Hawks. Though they are common in the state, they are not commonly seen because to choose to dwell in places away from human civilisation. They have distinguishing reddish-brown feathers and, monochromatic bars on their tails. As their name suggests, this breed has broad wings and a wingspan ranging from 80 to 100 cm. They usually feed on small mammals and insects. Broad-Winged Hawks reside in the northern part of Wisconsin, in forests and woodlands, during the summers. In the winters, these birds are known for their epic migration to Central and South America. According to an estimate, Broad-winged Hawks fly over 12,875 km to and fro during this great journey.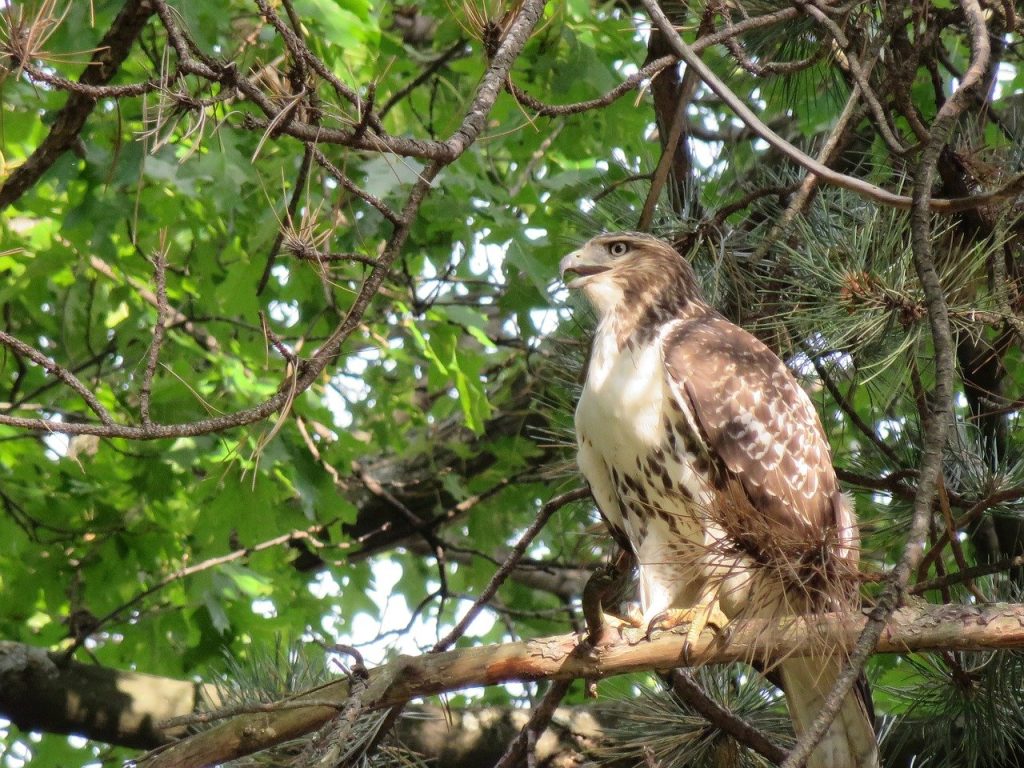 7. Swainson's Hawk
Swainson's Hawks are one of the larger breeds of hawks. They are known for their massive wingspan of 126 cm, and their short tails. These hawks are known to have differences in physical characteristics as per the region they reside in. In Wisconsin, they are generally dark coloured on their wings and back, and their underbellies have white feathers. Not much is known about Swainson's Hawks, regarding their residential habits. It is believed that the only reason they are seen in Wisconsin before winter, in the eastern and south-eastern regions of the state, is because it is on the course to their migratory destination.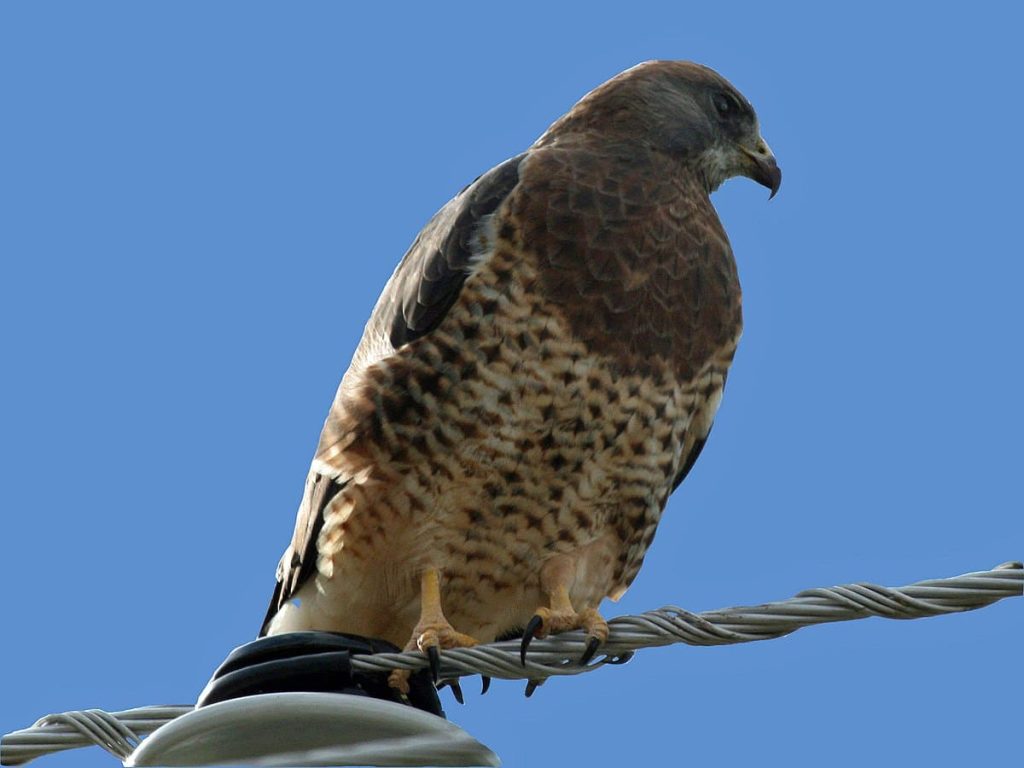 Image Source: Wikimedia
8. The Rough-Legged Hawk
Rough-Legged Hawks are the only hawk species in the USA to be covered in feathers completely, from head to toe. They are big in size with a wingspan ranging from 132 to 138 cm and generally weigh anywhere from 0.7kg to 1.4 kg. These hawks characteristically have pale coloured crowns, dark feathered under-bellies, and dark feathers on the tip of their tail. They are migratory in nature and can be spotted along the edge of swampy woodlands and forests in central Wisconsin, during the winter months. They usually feed on small rodents and have a unique style of hunting for prey, where they can hover in place or while facing the wind mid-hunt.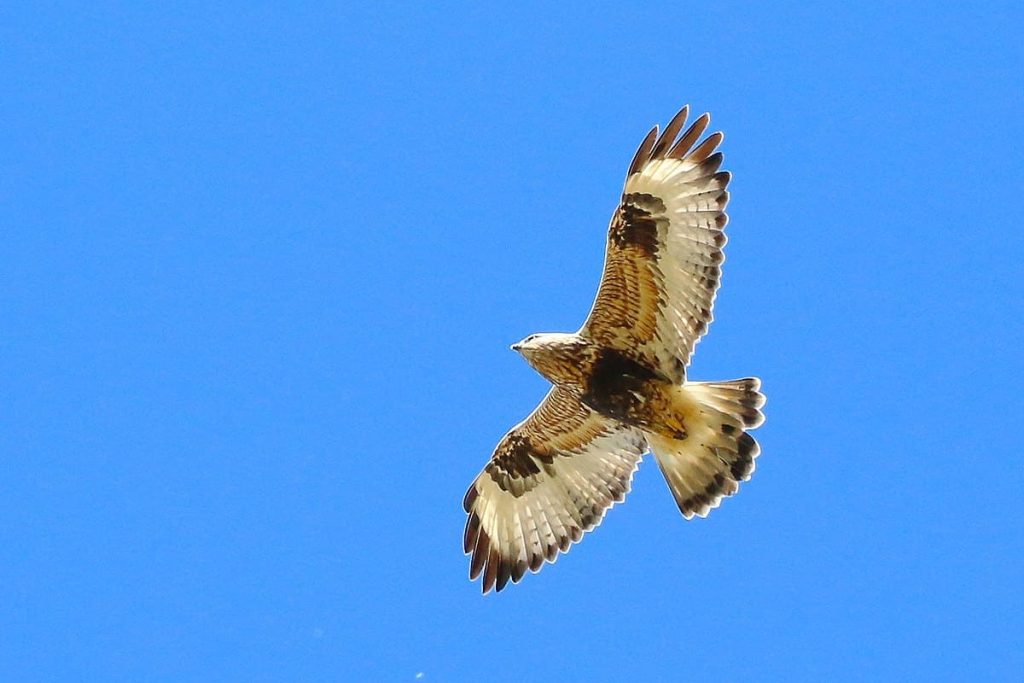 Image Source: Wikimedia
These are the 10 hawks in Wisconsin. Kindly share and do post your comments.