The Upper-Midwestern state of Minnesota experiences all four seasons quite distinctly. Summers are hot and humid, while below-freezing temperatures are seen in the winter. With 11,842 lakes, forests, open green areas, and state parks, coupled with continental climatic conditions, Minnesota attracts a large number of birds, including hawks. These are regal-looking, highly intelligent birds of prey who generally prefer to perch on tall trees in open fields to nest or feed. Hawks are recognized by their pointed beaks and sharp claws, with females overshadowing their male counterparts, in terms of size. The following are ten types of Hawks that one can spot in the Land of 10000 lakes,
Hawks In Minnesota
1. The Red-Shouldered Hawk
Red-Shouldered Hawks are large birds measuring upto 61 cm in length and 0.7kg in weight. They have a wingspan of upto 127 cm. As their name suggests, these hawks have red shoulders. They also sport brown and white checks on their wings and a light reddish-brown underbelly. Red-Shouldered Hawks reside in Minnesota throughout the year, they are difficult to spot as they prefer to live far removed from humans in wooded areas, along the edge of forests and lakes. They are known to feed on insects, reptiles, small mammals, crayfish, and amphibians. It is also one of the commonly seen hawks in Wisconsin.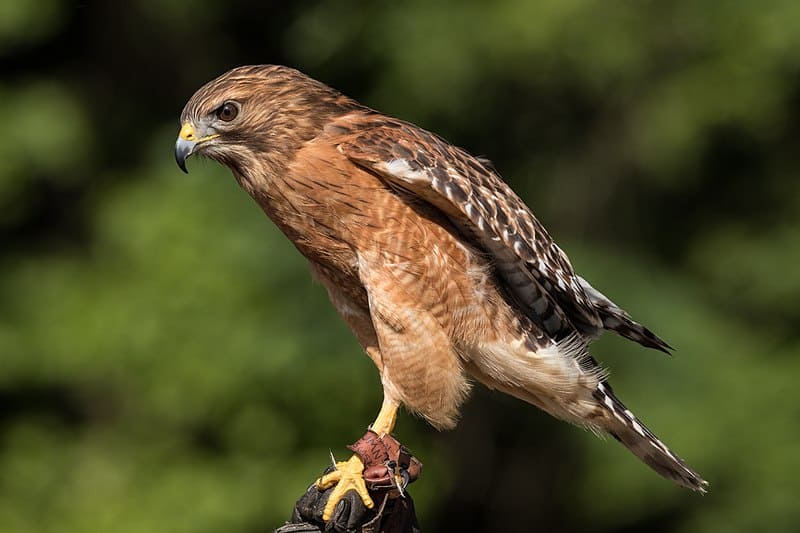 2. The Broad-Winged Hawk
The Broad Winged Hawks found in Minnesota are medium-sized hawks, weighing upto half a kg, upto 44cm in length, with a wingspan of upto 100 cm. Physically distinguished by their reddish-brown bodies, cream-tinted underbellies, and tails featuring black and white bars, these hawks are known for their great flying skills, in part due to their broad wings. They prefer to move in flocks, and live along the edges of lakes or in forest canopies where there is no human disturbance. Broad Winged Hawks have a diet that consists of small mammals, amphibians, and insects.
Also Read: 10 Scavenger Birds In The World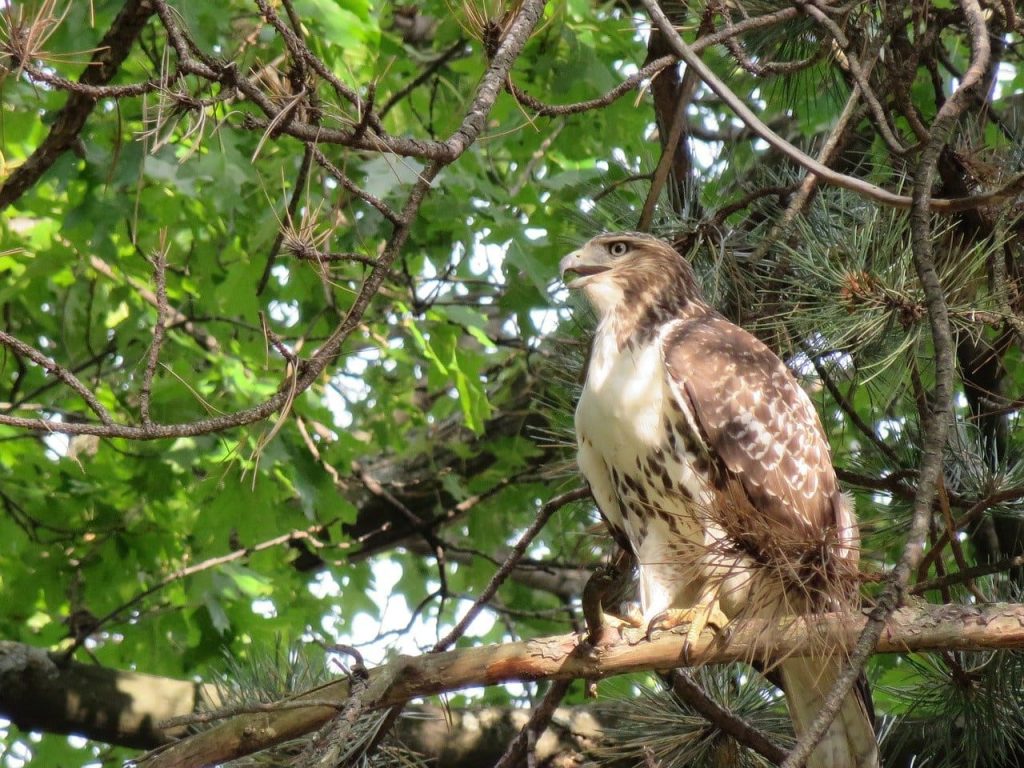 3. Cooper's Hawk
Cooper's Hawks are medium-sized hawks, weighing upto 700 grams with a length of upto 45 cm and a wingspan of about 99cm, with steel-blue wings and patterned brown-red underbellies. These hawks live in Minnesota for the better part of the year and can be found in trees along forest edges or in any other kind of wooded habitat. They are known to prey on smaller mammals such as mice, squirrels, and bats, as well as smaller birds.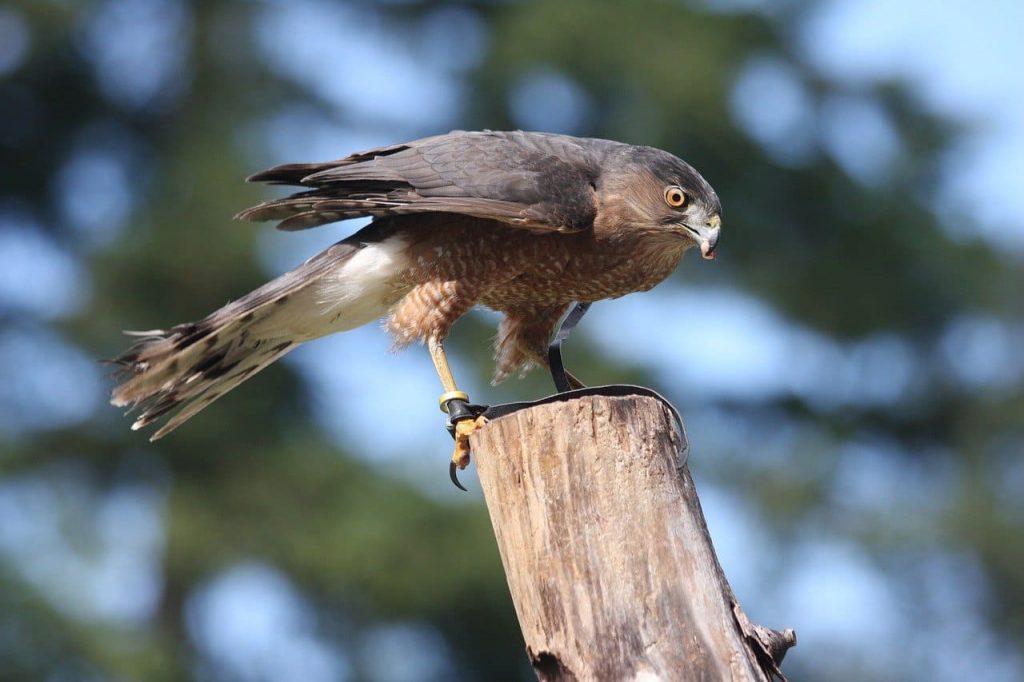 4. The Ferruginous Hawk
Ferruginous Hawks are seen occasionally along the edge of forests, in open scrub and grasslands, generally between the months of May to October. They are creatures of isolation and prefer to live atleast 20 meters above ground, in tall trees.
These hawks have a wingspan of approximately 122 to 152 cm and they weigh anywhere between 1 to 2 kgs. These hawks are easily distinguishable due to the rusty tones on their back and legs and their white underbellies. These features, along with their size, make them appear eerily similar to eagles. Like eagles, Ferruginous Hawks are known to feed on small rabbits, rats, mice, squirrels, reptiles, and smaller birds.
Also Read: 12 Largest Eagles in the World By Wingspan & Length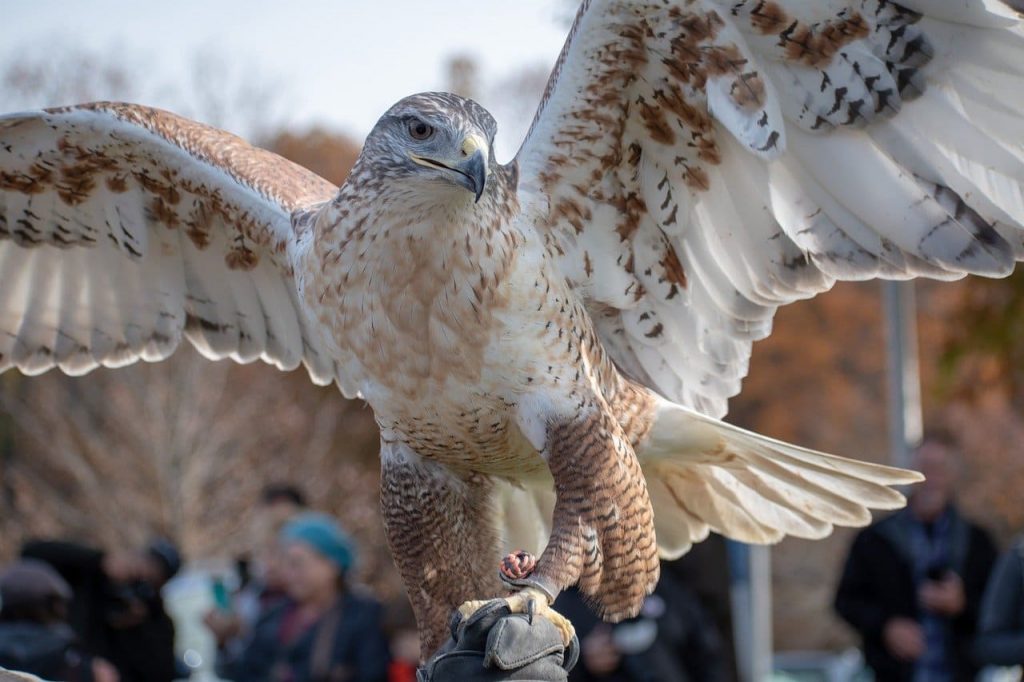 5. The Northern Goshawk
Northern Goshawks are known for their striking red predatory eyes and dark feathered heads. Known to have grey tones in most of their plumage, these hawks have slate-grey wings. These are large gooselike hawks upto 61 cm in length, with weight and wingspan of upto 1.3 kg and 115 cm, respectively. Not only do Northern Goshawks look dangerous, but they also exhibit territorial tendencies and, are notorious for attacking those they consider a threat to their nests. They reside in Minnesota throughout the year, especially in forests, and feed on snakes, rodents, and smaller birds.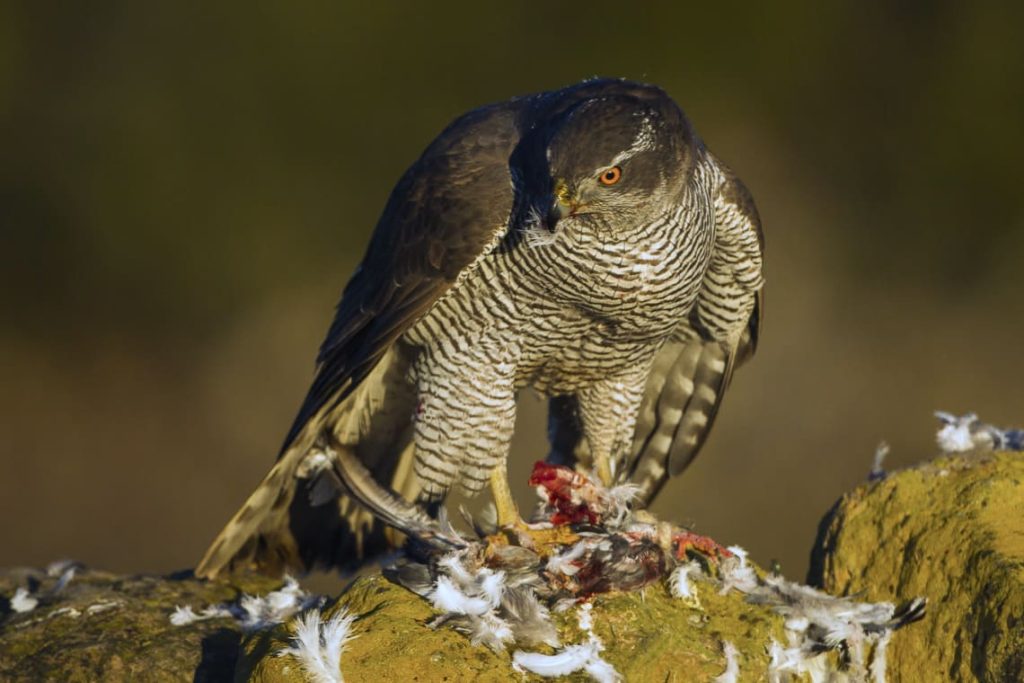 6. The Northern Harrier
Northern Harriers can be spotted in the southwest part of Minnesota perennially. They weigh upto 750 gm and have a wingspan ranging from 97 cm to 122 cm. These birds look from a V-shape when in flight, and their facial features are quite similar to those of owls. The preferred habitats of these hawks comprise wetlands and open fields where an abundance of insects, amphibians, and rodents can be found.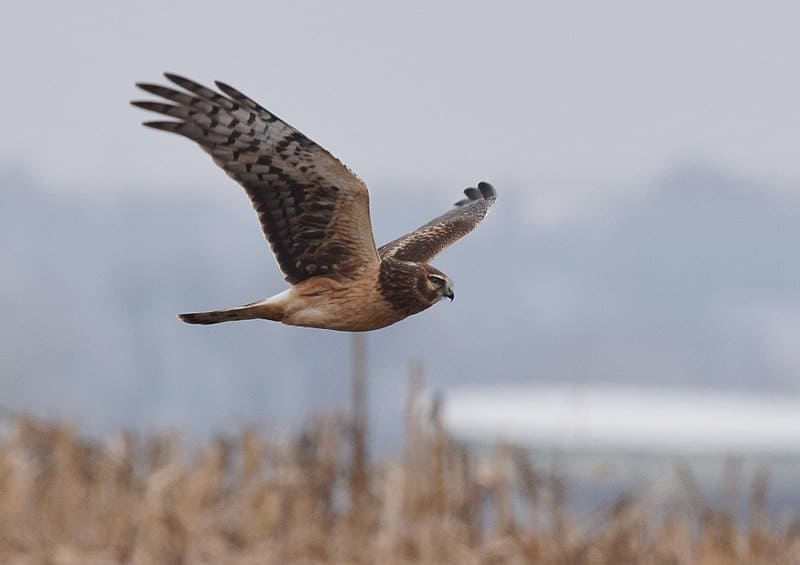 7. The Red-Tailed Hawk
Red-Tailed Hawks reside in Minnesota in large numbers, so much so that they are considered the most common hawks in the state as well as in the country. They weigh from 0.7kg to 1.5 kg, with wingspans from 100 cm to 150 cm. They can be spotted quite easily in residential areas throughout the year. These hawks have red tails and warm-toned underbellies. Red-Tailed Hawks are known to feed on small mammals, birds, and reptiles.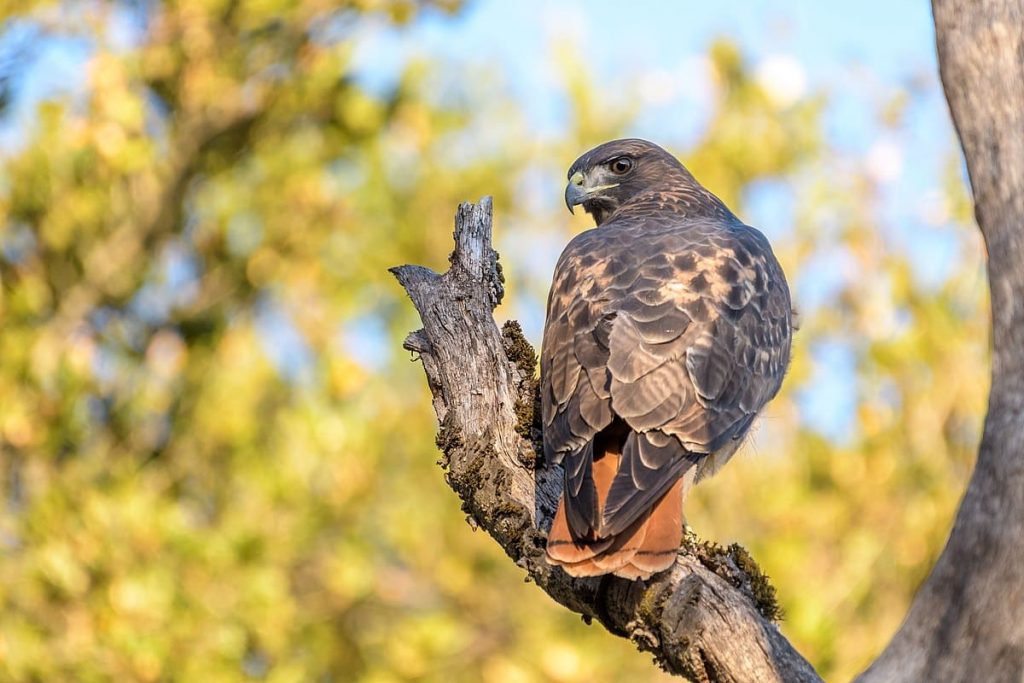 Image Source: Wikimedia
8. The Rough-Legged Hawk
Rough-Legged Hawks are characteristically covered in feathers all over their bodies, and this characteristic lends them their name. They have dark underbellies, and dark wing and feather tips. Their impressive wingspan of upto 138 cm gives them the unique ability to hover in place or while facing the wind in the process of catching prey. These birds breed in the Arctic and are seen in Minnesota from September to June. They are known to feed on small rodents.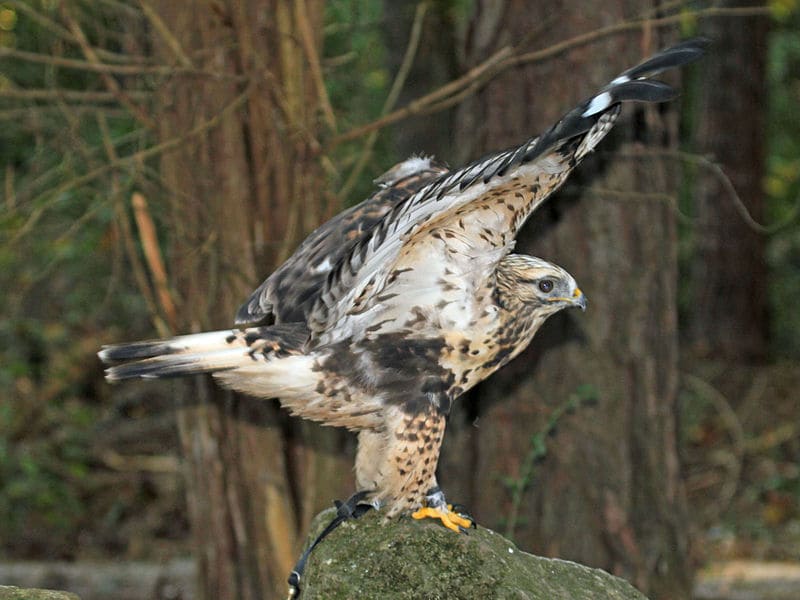 9. Swainson's Hawk
Swainson's Hawks are among the larger breeds of hawks, weighing from 0.9 kg to 1.4 kg. These hawks are known to form close social relationships with their kind. They migrate in densely populated flocks, known as 'kettles'. Swainson's Hawks are recognized by their warm-toned chest feathers, lengthy wings, and short tails. They can be spotted easily in the months of April to October, when they are in the state, mid migration. Not much is known of their dietary habits, but they do feed on small mammals and insects.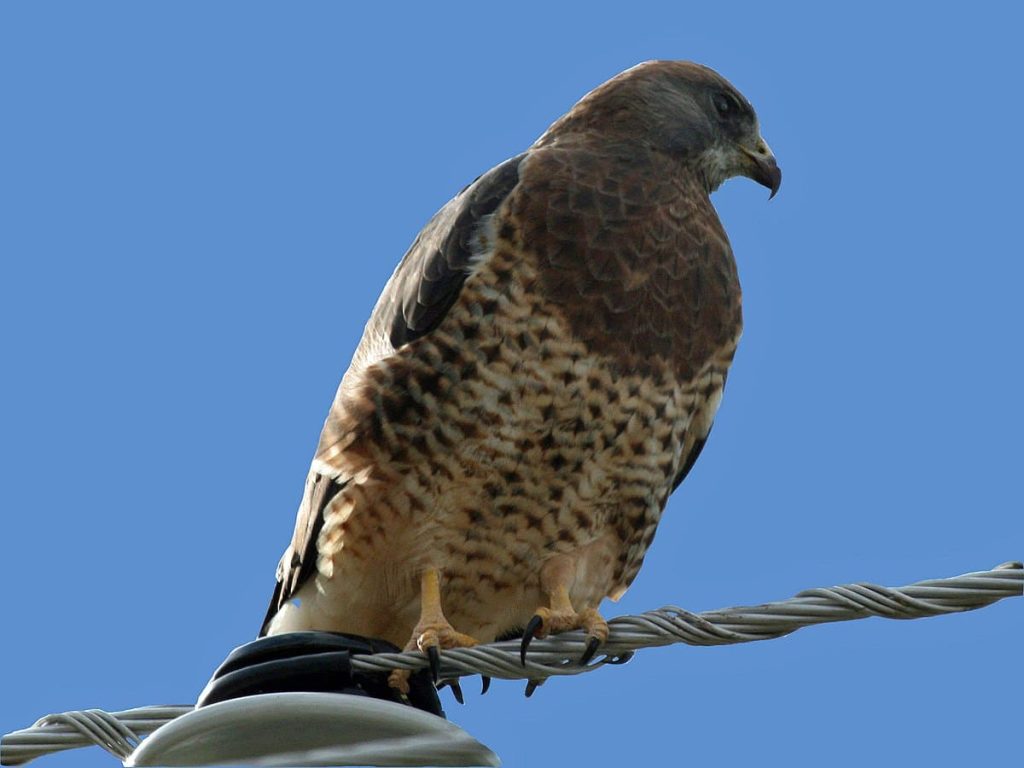 10. The Sharp-Shinned Hawk
One of the commonly seen hawks in Wisconsin, Sharp-Shinned Hawks are small hawks that weigh between 80gm to 200 gm and have a wingspan of upto 56 cm. They dwell in Minnesota throughout the year, however, some only stay in Minnesota in the winter preferring to migrate later. These Hawks are easily distinguishable by their blue-grey plumage, with reddish-orange horizontal lines across their chest upto their stomachs. They prefer to nest in densely forested areas offering a clear view of their surroundings. Sharp-Shinned Hawks are known to feed on smaller birds.
These are the 10 types of Hawks in Minnesota. Kindly share and do post your comments.