Animals come in all different shapes and sizes. But for many a particular color may hold some visual appeal. The colors of different species have evolved for several reasons like camouflage, attracting a mate, or scaring other animals. Here is a list of 10 red animals in the world.
Red animals In The World
1. Ladybugs
Also called ladybirds, these are common insects that can be found all over the world. Technically they are beetles, scientifically called Coccinellidae. They are generally not considered pests, rather they are farmer's guests, as they feed on small herbivore insects that are not welcome in agricultural fields, gardens, and orchards. They have a hard exoskeleton that is red in color with big black spots. They look beautiful and are harmless to humans. It is also listed as the best animal pattern in the world.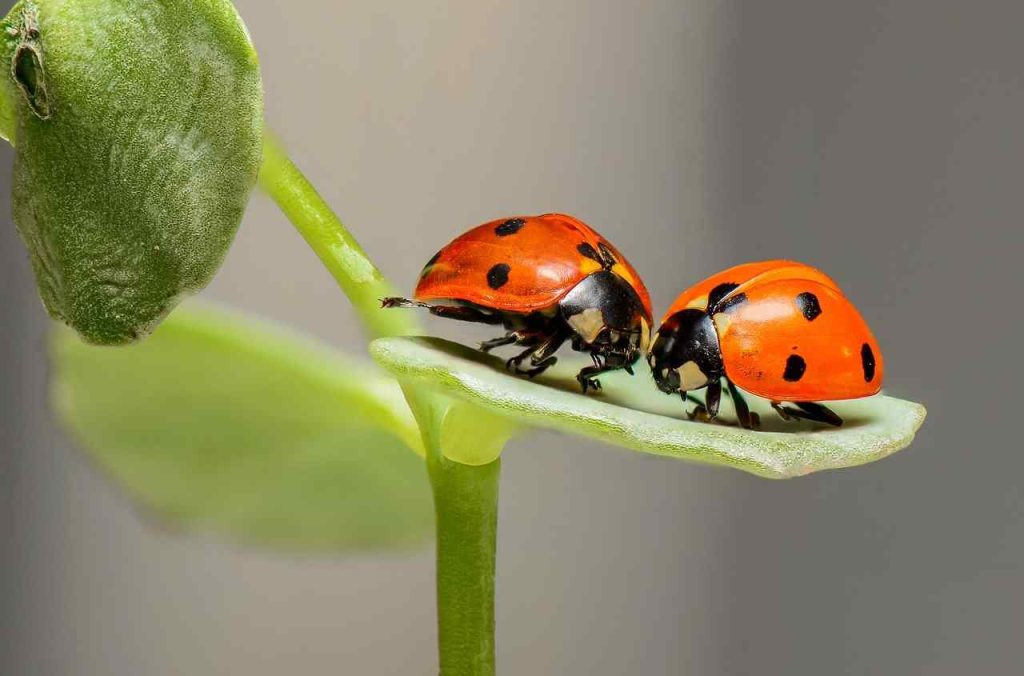 2. Red Panda
Red Panda is a cute little fluffiest animal that lives in Eastern Himalayan Regions. They have reddish fur over their body, face and tail and underside and arms being covered in black fur. It is an endangered species. Thankfully all the countries where it is found have declared them a protected species and are making conservation efforts. They are mostly herbivores and feed on fruits and bamboo which are readily available in the area. As they mostly stay on trees, they also sometimes eat small bird eggs.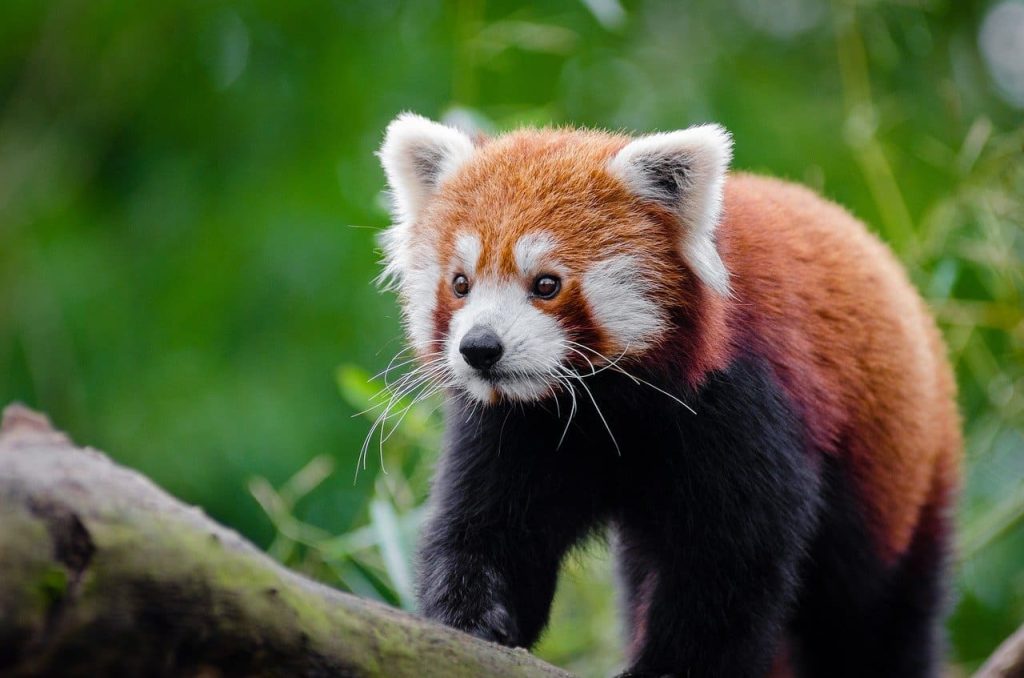 3. Red Sea Stars
They come in various shades of red and some are a very dark hue of red. These are found in the Indo-Pacific region spread across the Red Sea to the Western Pacific. These starfish are good aquarium dwellers and they feed on algae which makes them healthy for the aquarium ecosystem. Another starfish, the African red knob sea star which is found in the same habitat has a white or sandy coloured body that is covered with brilliant red prickle like outgrowths.
Image Source: Wikimedia
4. Red Humboldt Squid
These are a variety of Humboldt squid also called jumbo flying squid. They are found in the Pacific Ocean. They are the most popular squids in the fishing industry and are commercially fished and sold in many countries in the Americas. They are very aggressive and actively hunt for prey in the open ocean. They are also titled the most dangerous squads. They have a sharp beak and prickly tentacles that make them seem even more frightening. These squids are also known to attack divers and deep-sea vehicles.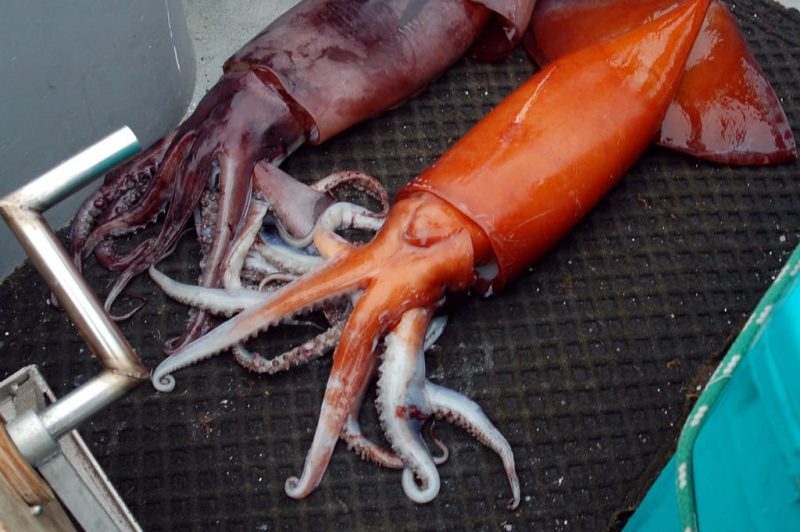 Image Source: kqedquest
5. Siamese Fighting Fish
One of the red animals with their body the colour of danger and fins with extravagant frills these are popular fishes in the aquarium sector because of their beauty. They are called fighting fish because members of this species are often found fighting each other in waters. They are known to be highly aggressive and protect their territory from other fishes by attacking their fins.
Although they come in other varieties also with different colours like yellow, white and blue the red one is extremely popular among those who like fishes as pets. But being territorial they don't settle in small bowls and require large aquariums. They are commonly called bettas and as the name reveals are native to waters of Siam, that is, Thailand and surrounding regions in Southeast Asia.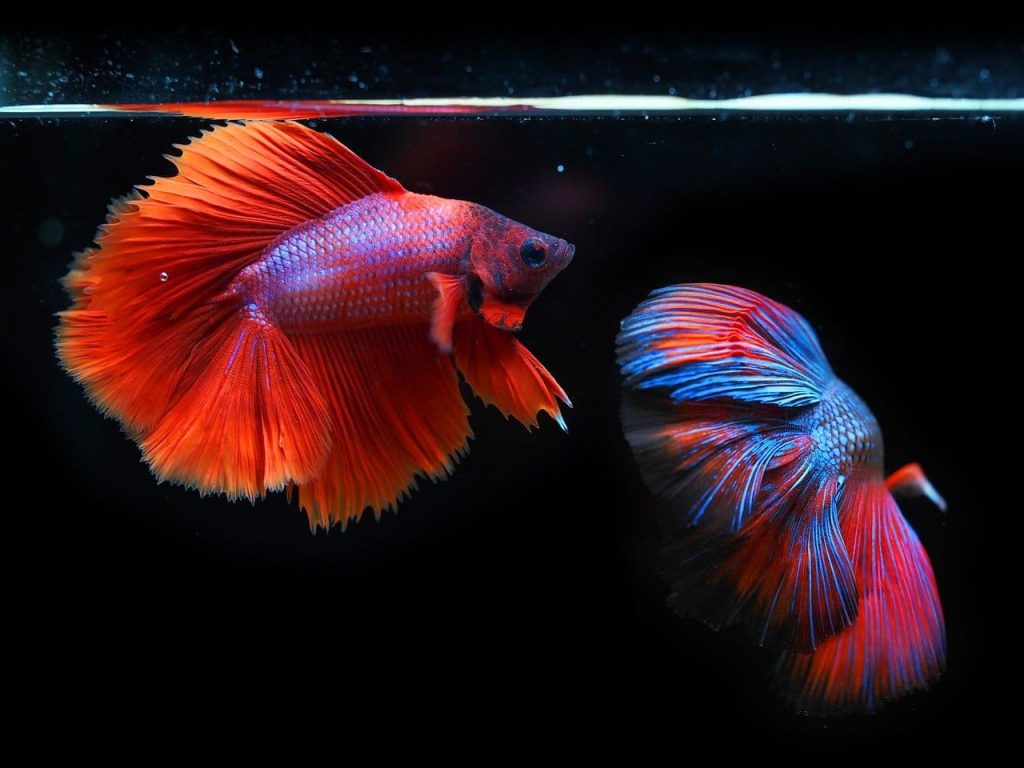 6. Red-Spotted Newts
These newts are native to the continent of North America. Red-spotted newts are found in most of the Eastern regions of North America. They feed on insects and small molluscs and fish. Red-spotted newts inhabit slow-moving or still water bodies as most salamanders are aquatic. They also make good pets are quite popular as aquarium pets. Their skin is rough and produces a toxin. Although they can kill animals comparable to their size, it's not very toxic for humans. It is one of the most amazing red animals in the world.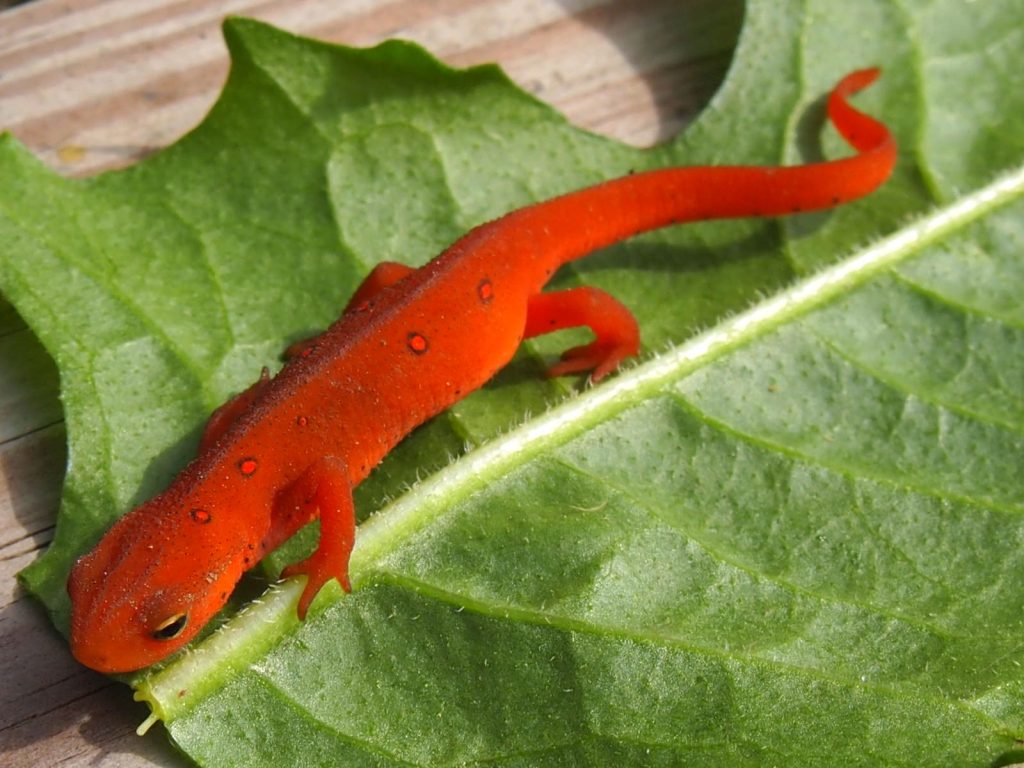 Image Source: J. Maughn
7. Red Poison Dart Frogs
These are poisonous frogs from the forests of the Amazon. They are always bright in colour with distinct spots to act as a signal for any animal that may be thinking of going on preying adventure with this little guy. They are quite small, growing to a size of less than an inch. The colour and skin patterns vary from frog to frog and depend on its toxicity too. Their toxic poison is derived from their diet animals. Frogs that feed on ants and mites etc have highly potent poison as compared to others who eat a more diverse variety of prey. The poison from these frogs was harvested and used to make poison darts by Native Americans and hence the name.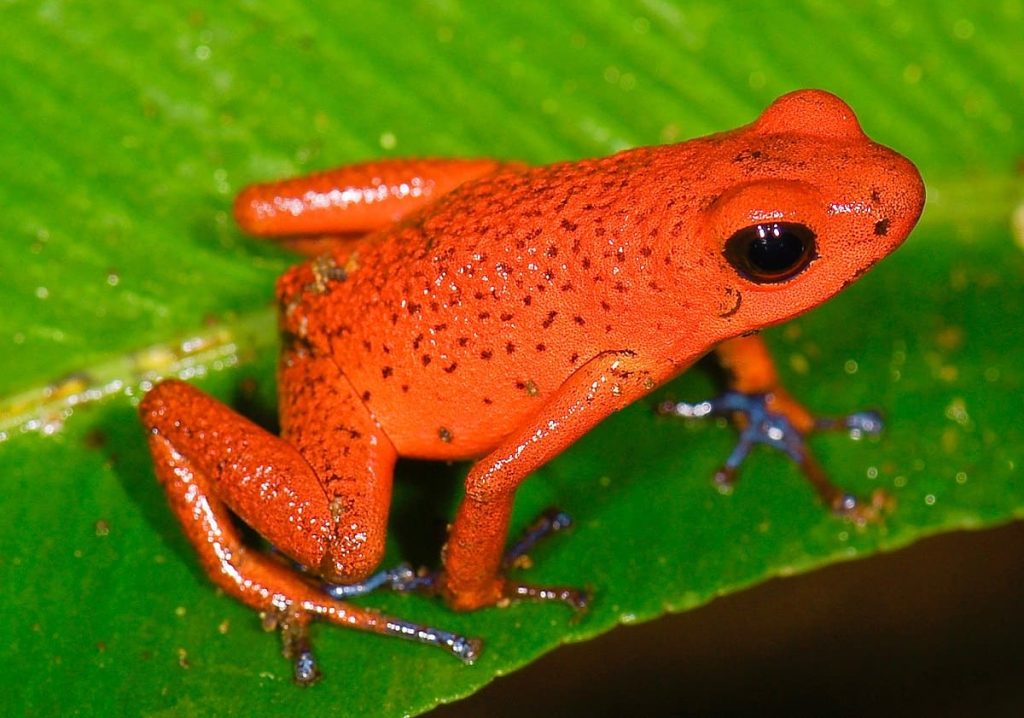 Image Source: Wikimedia
8. Red Snakes
There are many snakes around the world that are red in color. The coral snakes have a distinct red color with black bands along their length. Some others have red and black circular bands separated by a narrow yellow stripe. They occur all over the world. One species, the coral kukri snake, is found in the Himalayan states of India and Nepal, which is pretty far from any coral.
As colorful they are, coral snakes are known to have a strong venom and as such, instead of being lured by its charming skin, its best to keep your distance if you find one. Kingsnakes are also red in color, but they are not venomous. They are native to the Americas and are the top choice for those who like snakes as pets. They are curious and easy to maintain and do not require any expensive specialized diet.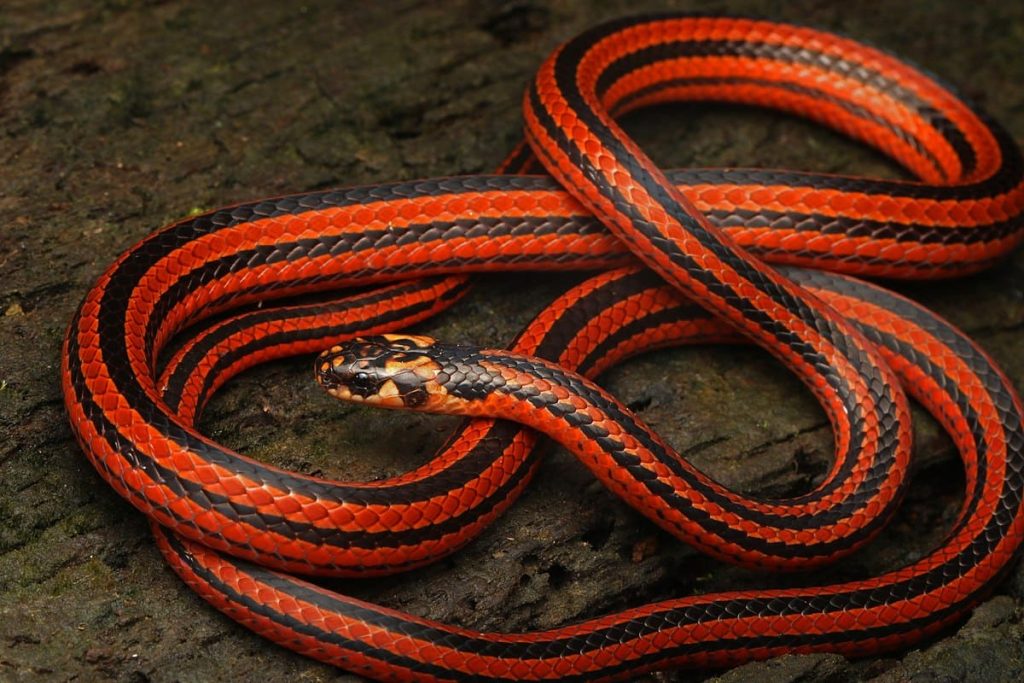 Image Source: Wikimedia
9. Scarlet Ibis
Much like most colorful animals in the world, this bird is also native to South America. They have brilliant red plumage on their body and are popular as long neck animals along with legs are light red in color. Their curved beaks and colour are what make these birds stand apart. They live in grasslands, wetlands and swamps but build nests high on trees for protection.
Their diet consists of insects found on the ground in the environments of their habitat. These birds like crustaceans and mollusks too as part of their diet as it helps give the red hue to their body. These birds are social creatures and live in flocks. Extremely extrovert, one can say, because sometimes their flocks may also include other birds like storks and ducks, and herons.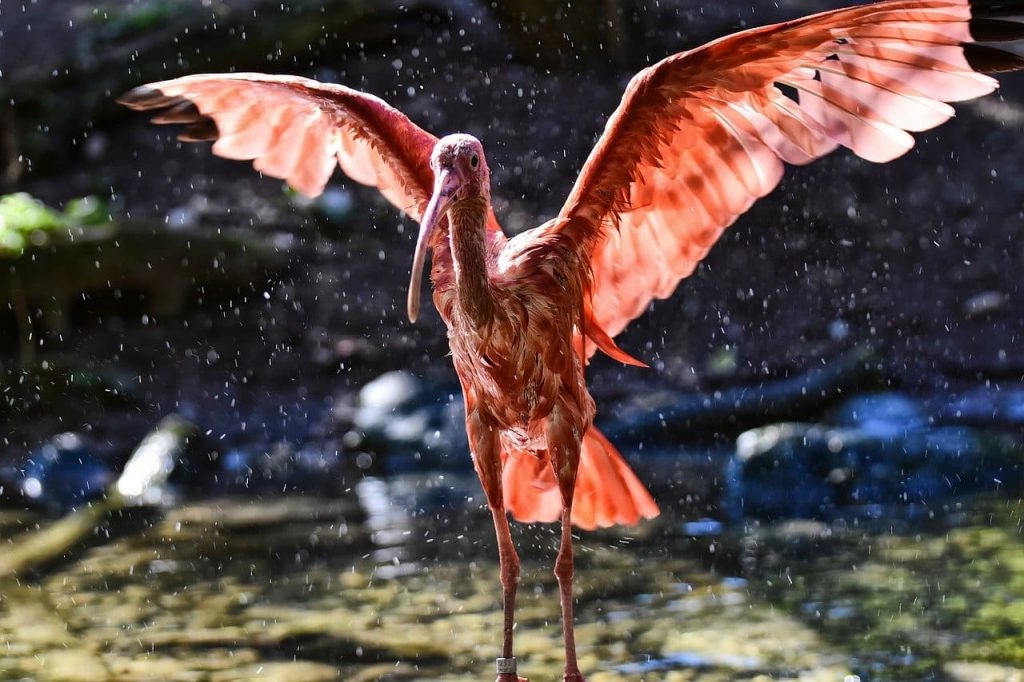 10. Scarlet Macaw
These are multicolored popular types of parrots with the red color being the prominent one. Hence the name, 'scarlet'. They are macaws, native to the evergreen forests of South America. These birds are loved as pets because of their affectionate nature and of course, their exotic colors. The plumage over its head is scarlet while the tail can be blue and its middle may have a strip of yellow, giving it the visual appeal for which they are famous. These macaws live in flocks in the wild and so if you keep it as a pet for long enough, it will consider you a part of its flock. They are quite big and fluffy for parrots and show high levels of intelligence and vocal abilities too. It is also listed as one of the most graceful animals in the world.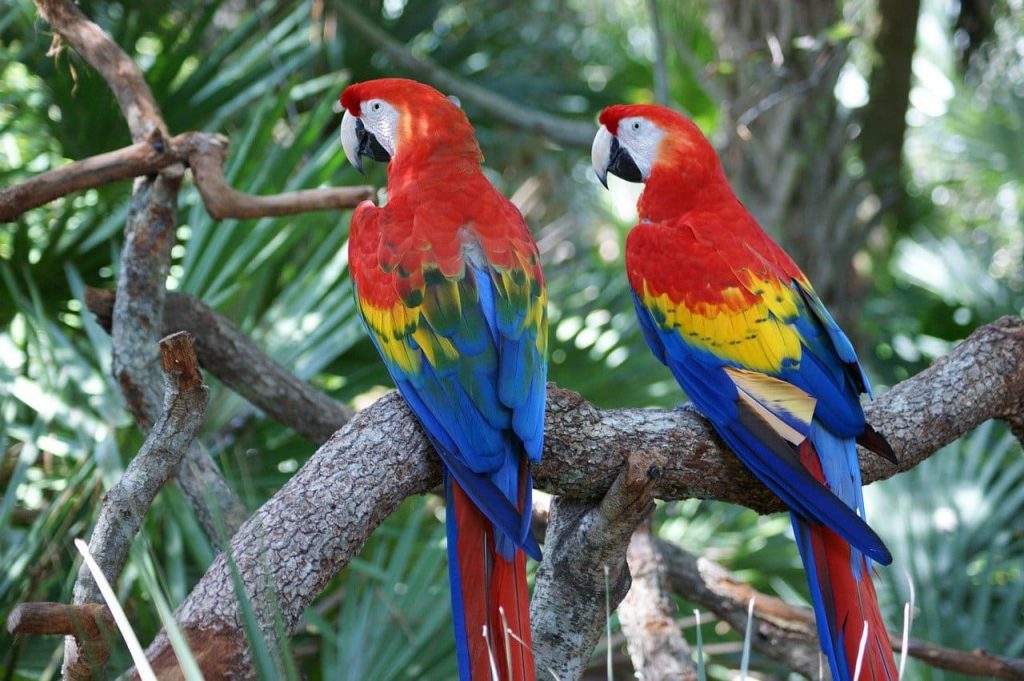 These are the top 10 red animals in the world.