Palm trees are the pride of any coast. The palm trees are known to grow in tropical climates on the coasts and add to any beach's beauty. But do you know that Palm trees are not a single monotonous species? Palm trees come in a lot of varieties. Some are entirely different from others. Read on to find out about 10 types of palm trees from around the world,
Types Of Palm Trees
1. European fan palm
This palm is found all along the Mediterranean coast of Europe. The plant is very distinguishable from other palm species, mainly because of two features. First is its height. These are also called the Mediterranean dwarf palms because of their short heights. But they are not shrubs and have a thick bark-covered trunk. Other characteristics many trunks grow closely together in a cluster. The leaves do not grow too long and are stiff enough to keep pointing in the direction of their growth.
Also Read: Top 10 Tallest Trees in the World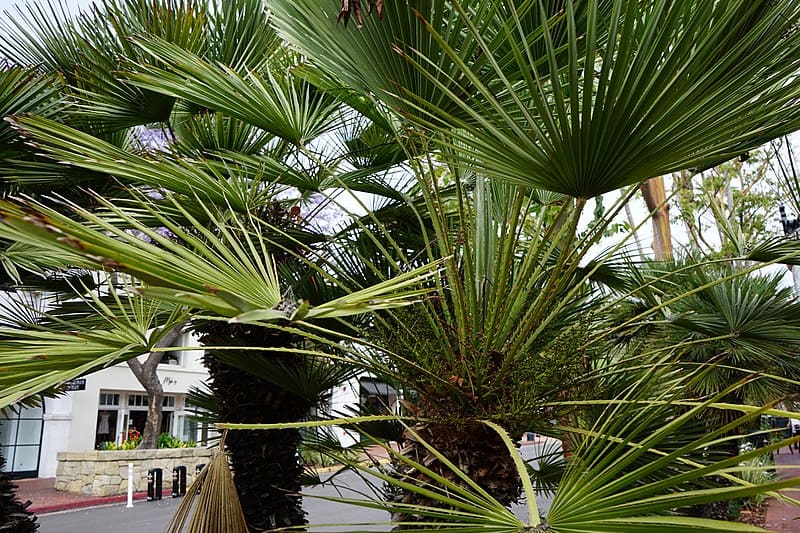 Image source: Wikimedia
2. Windmill palm
Also called the Chusan Palm, this palm tree is found in Asian countries of China, Japan, India, and Myanmar natively. It is known for being sturdy and enduring. Growing at high altitudes, it has evolved to become capable of surviving winters, summers, and moisture. It has been cultivated in China and Japan since ancient times. In modern times it has spread around the world primarily by cultivators. It is now grown in the USA along the coasts and in southern states. It is a fan palm, meaning that its leaves are like a hand fan.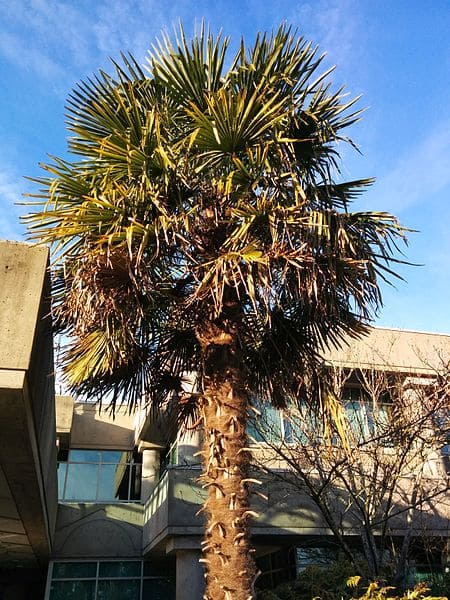 Image Source: Wikimedia
3. Mazari palm
This palm is native to Asian countries like Iran, Pakistan, and coastal Arab states. These palms have multiple stems from a singular base. As it grows in high altitude regions it can survive cold winters with temperatures dropping as low as – 20 degrees Celsius. Nowadays it is also grown as an ornamental plant in Europe and America. Scientifically known as Nannorrhops ritchiana. The main distinguishing feature is the short height of the tree. They do not have a trunk and look more like shrubs. Its leaves have colors ranging from green to grey and even blue sometimes.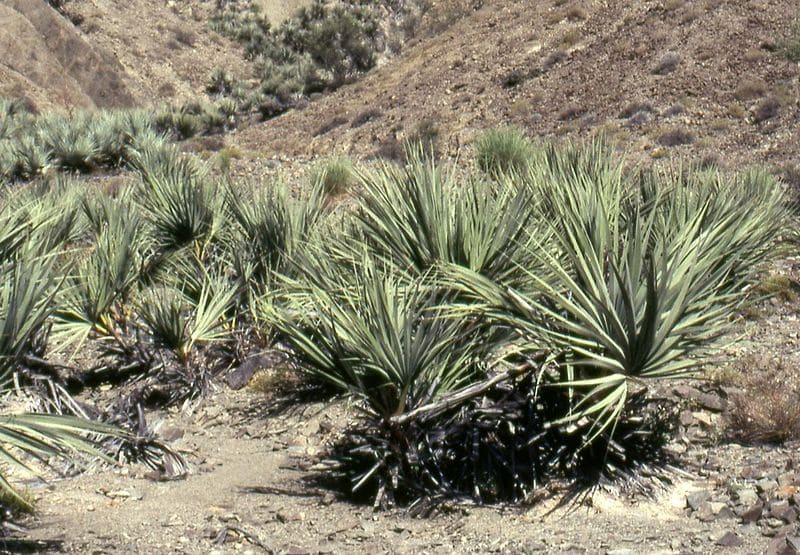 Image Source: Wikimedia
4. Lipstick palm
The name describes the bright red color of the trunk. The reddish part of the trunk above the dark greyish part makes it seem like a lipstick and hence the name. Scientifically it is called Cyrtostachys renda. This tree can be found natively in Southeast Asian countries like Malaysia, Thailand, and the Islands of Borneo and Sumatra. It is now a top choice for palm trees in suitable climate zones around the world. It is one of the most amazing types of palm trees in the world.
Also Read: 10 Different Types Of Willow Trees In The World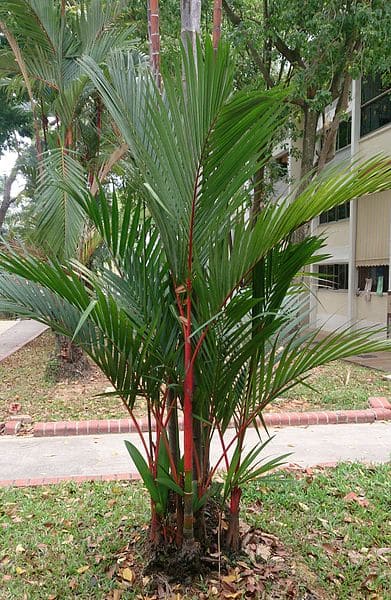 Image Source: Wikimedia
5. California palm
This palm is also commonly called the desert fan palm. These palms are found in California in the US and Baja in California in Mexico. Scientifically known as Washingtonia filifera, they sometimes grow up to be as tall as 23 meters. A distinguishing feature is that when leaves die, they stay attached to the trunk instead of falling off. This produces a solid beige-colored frock structure at the top. This becomes a home for many birds and is like a micro-ecosystem in itself. The fruits were eaten by many native American people and other parts were used in making sandals, baskets, and for various other purposes.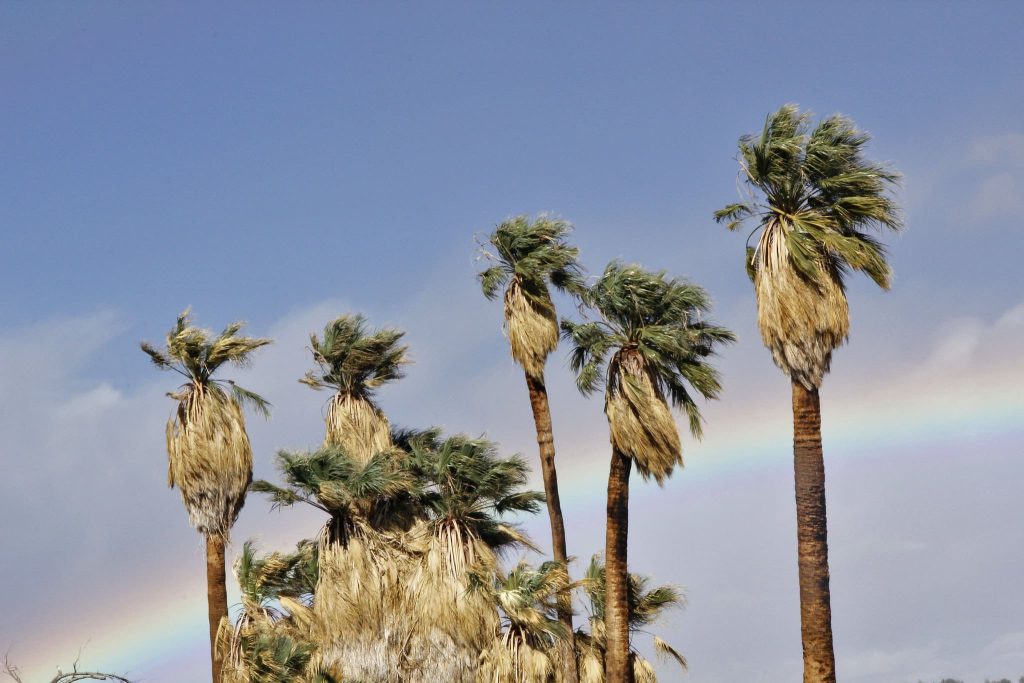 Image Source: Joshua Tree National Park
6. Chinese fan palm
This tree has its origins in the islands of Eastern Asia, namely the Ryukyu Islands, Hainan, Taiwan, and some regions of southern China. Nowadays it is also being grown in the Andaman Islands, Indonesia, and even in Puerto Rico and Florida. The tree reaches a medium height of about 12 meters. The design of the leaves closely resembles the hand fan used in East Asian cultures and hence the name. It has often grown as a decoration in gardens or parks, however, it is increasingly being described as an invasive species in America and the Caribbean.
Also Read: 10 Oldest Trees In The World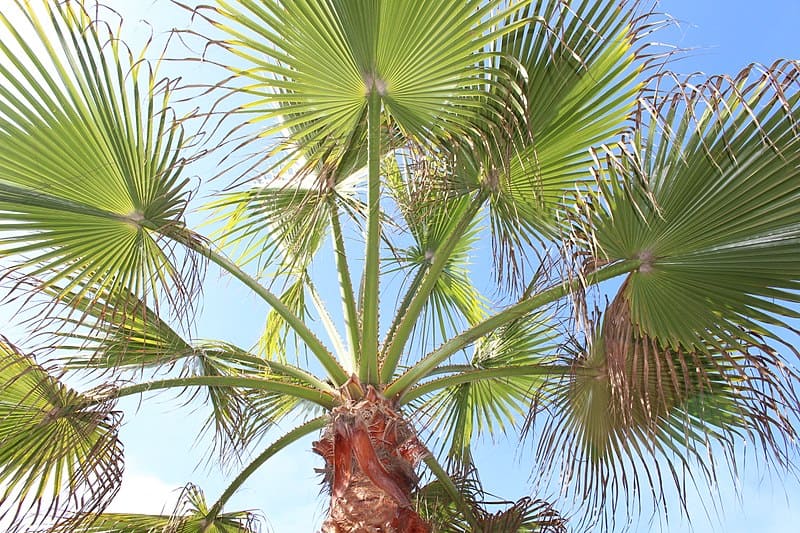 Image source: Wikimedia
7. Sylvester's palm
This palm is natively found in India, Sri Lanka, Nepal, Bhutan, Bangladesh, and Myanmar (Burma). The sap of the tree is consumed by making jaggery with it in some regions or fresh sometimes. Its fruit is used in winemaking. Technically the species is called Phoenix Sylvestris but commonly it is also called the Indian date or sugar date palm. The trees can grow as tall as 14 m although some even stay as low as 4 meters. The fruits are yellow in color which become distinctly visible in the background of green leaves.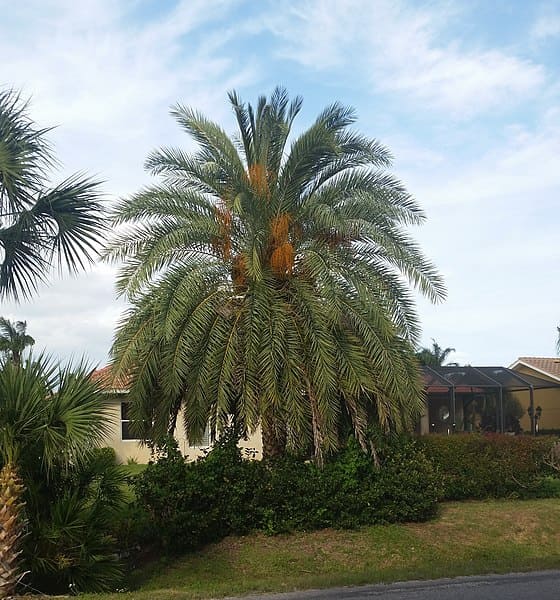 Image Source: Wikimedia
8. Canary palm
This palm is from the Canary Islands located in the Atlantic Ocean west of Africa. They grow little by little and the ones that have reached their full height would be at least 70 years old. Sometimes when the base is thick enough and they are pruned they appear like pineapples. Although the plant is generally hardy, it can die if temperatures drop below -8 degrees Celsius. Some fungal diseases have also spread among the species in cultivation.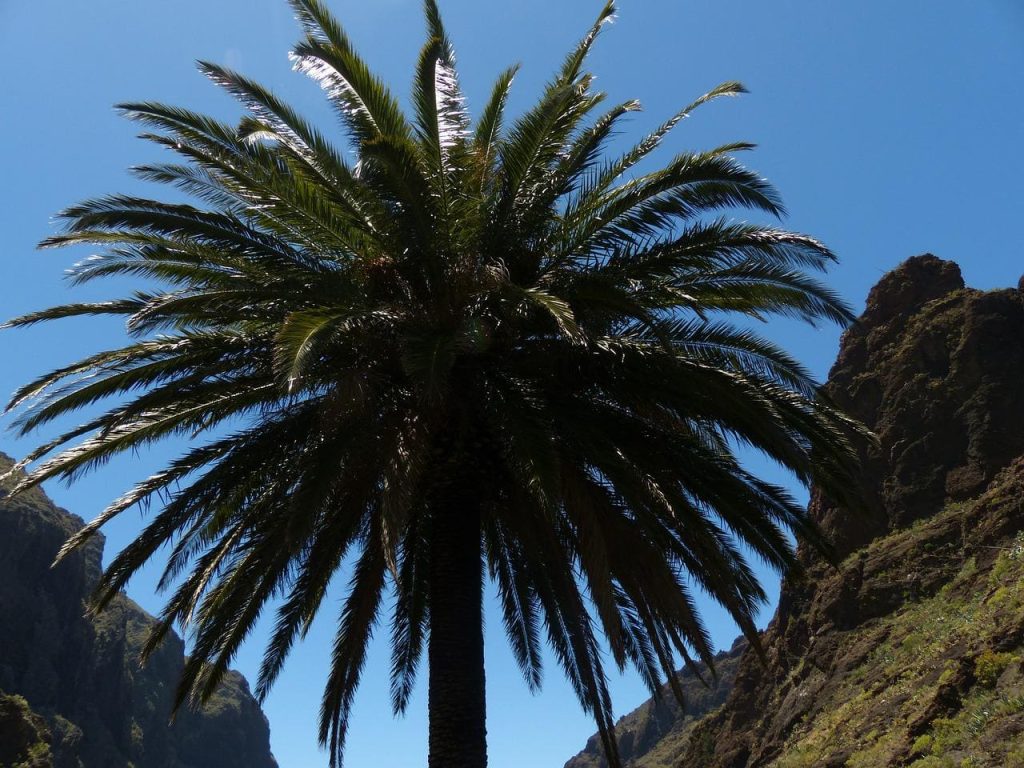 9. Bottle Palm
This plant is native to Mauritius. Although these palms are reducing in number in their pristine environment in Mauritius because of specimens in gardens all over the globe, the threat of extinction is not there. The species is listed in the critically endangered category of IUCN. The stem of the tree is inflated like a balloon at the base and greenish in color which turns to brown as it tapers upwards. The bottle-like feature is more prominent in young trees and at maturity.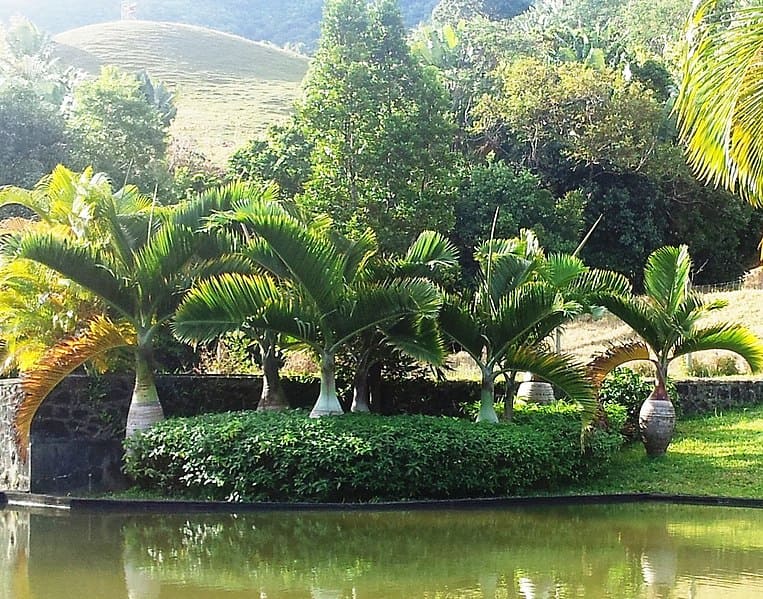 Image source: Wikimedia
10. Sonoran Palmetto palm
This tree is native to the hills of Northwest Mexico. The tree is listed in the vulnerable category because of habitat loss. The technical name of the tree is Sabal uresana. The trunk of the tree has spikes that spread out. The dead leaves also don't fall off. Rather they hang dead at the crown and form a yellowish cover. The leaves are split between twins with a central rib. The leaves are also a shiny silvery color that makes this tree stand apart in any environment. The tree is slow-growing and does not reach the tall heights that one might associate with palms generally.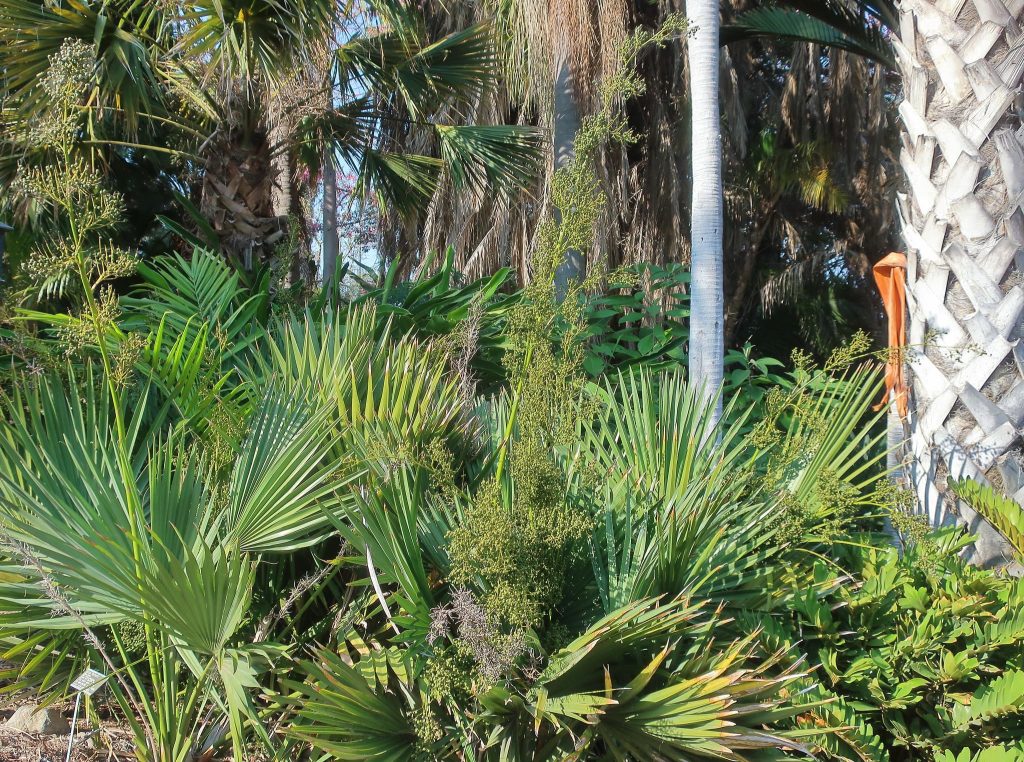 Image Source: cultivar413
These are the 10 types of palm trees in the world. Kindly share and do post your comments.