Octopuses are octopod species meaning they have eight legs or tentacles. They are slimy sea creatures and one of the smartest animals with suction cups on their tentacles and release a dark liquid when threatened. They are also eaten as a seafood delicacy in many parts of the world. But octopuses are not just one species, they are an entire family with many amazing features and abilities. Octopuses can be found all over the world's oceans, but some species are found in some specific regions only. Let's take a look at some of the interesting types of octopus in the world.
Types of Octopus
1. Blue-Ringed Octopus
They are called blue-ringed octopuses, well, because of the bright blue rings present on their bodies. They are found in the reefs around the Indian and Pacific oceans. They are quite short, adults going only as big as 6cm (2.5 inches) in size. But don't let the tiny size and cute rings fool you.
These are dangerous creatures with venom potent enough for human beings. Unlike other octopuses who release ink and try to flee when under threat, this little guy comes right after you. It's one bite from the beak is sufficient to paralyze the entire human body. But you can't really blame them because they flash their rings brilliant blue when provoked signalling the attacker not to mess.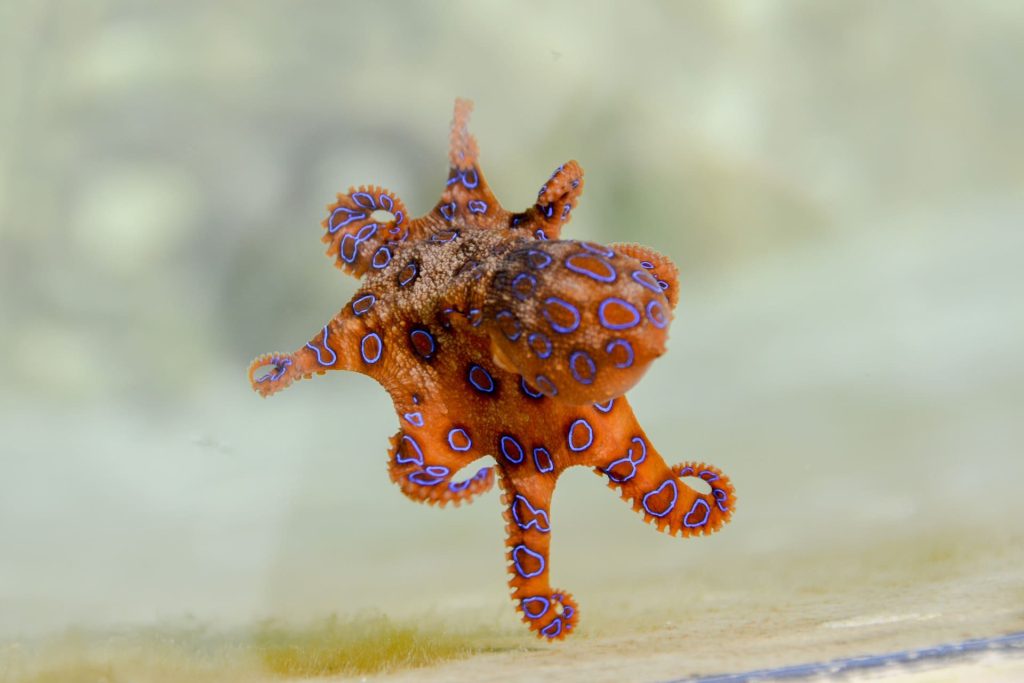 2. Flapjack Octopus
We can find this one lurking near the ocean floor in the vast regions of the Pacific Ocean. Their bodies are orange in colour and their short arms, more like fingers, are associated with thin webbing. The flapjack octopus has motion almost the same as that of a jellyfish, with the webbed arms moving in pulses to help it swim. The name flapjack is given because when they sense a threat, they deflate to reduce themselves in size and appear less interesting to any predator. They are not very big and weigh only about 30g. But don't mistake them for all cute and fluffy, they have a hard beak that they use to attack prey by surprise and eat them.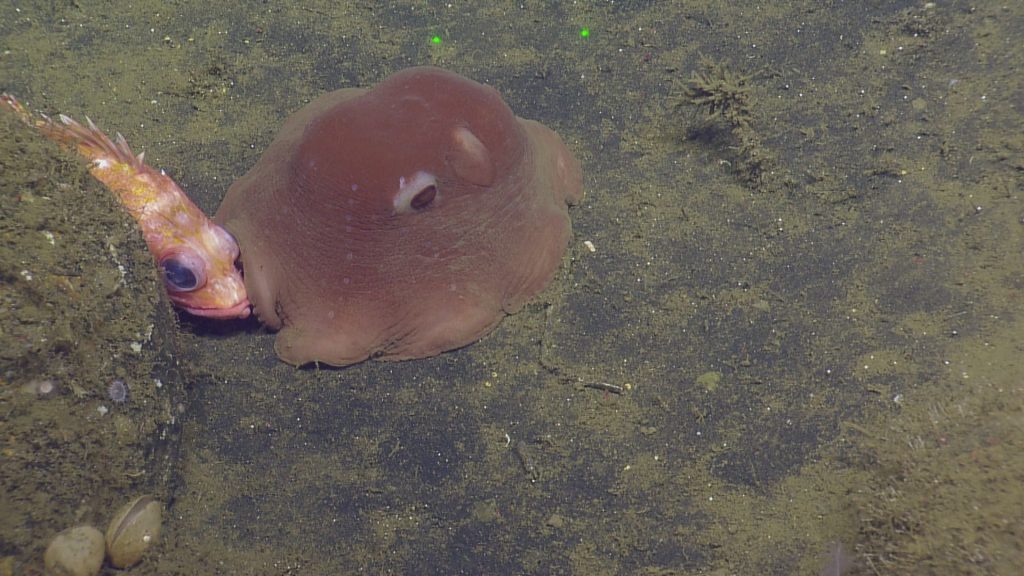 Image Source: National Marine Sanctuaries
3. Mimic Octopus
This is probably the most interesting of all octopuses and one of the amazing sea creatures in the world. They mimic a wide variety of animals, mostly the animal that their predators fear to scare them away. They are often called masters of disguise of this ability. Not only do they change their skin colour to adapt to other animals, but they also change their body shape, texture and movements. These spy skills were probably the reason why this octopus was only discovered in 1998. They mostly like to live near river mouths on silt floors and murky waters.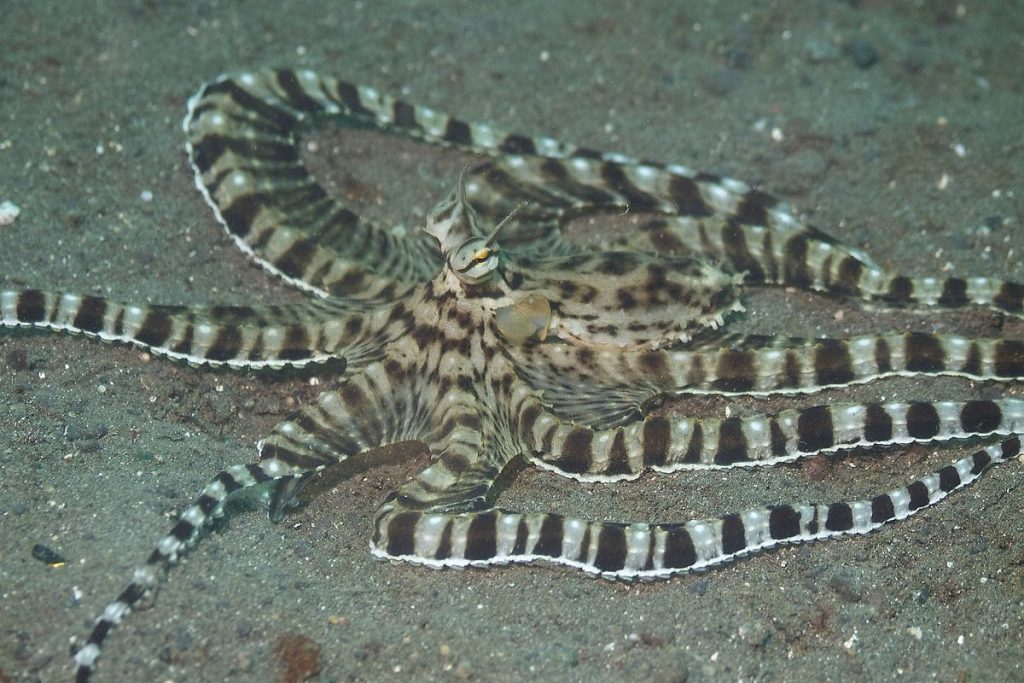 Image Source: Wikimedia
4. Pacific Giant Octopus
This is the largest among all of the octopus family. They like to live near the ocean surface, although they can also go to the immense depths of the Pacific if they want. They are on average 6 m (20 feet) in length and 75 kg in weight. The largest specimen found, to date, was enormous 270 kg in weight. They are generally found in the northern Pacific Ocean and are frequently encountered while fishing around Japan. They are so big that they also attack and eat small sharks! They are nocturnal, meaning in the daytime they rest on rocks on the floor and hunt in the night.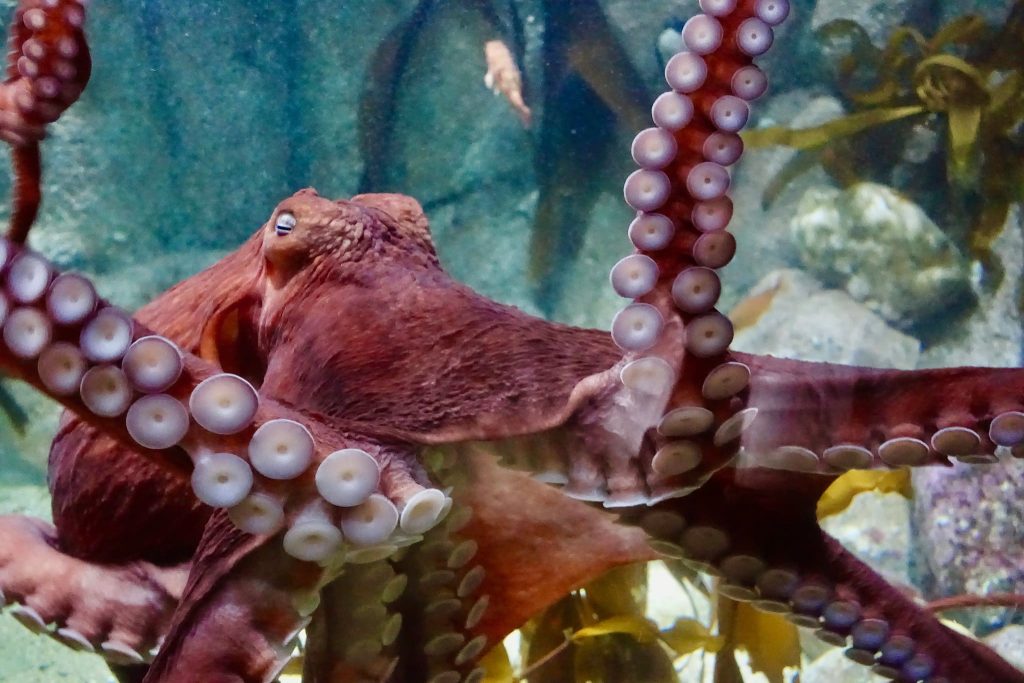 Image Source: Steve Jurvetson
5. East Pacific Red Octopus
These octopuses are not very big and weigh only around 150 g. It lives mostly in shallow waters. It is distinctly identifiable by its bright red ruby colour which also gives it its technical name, Octopus rubescens. It is generally found in the western Pacific Ocean. It can also alter its skin colour to blend naturally with its surroundings. Although have pretty big eyes that are well developed, they still use touch and smell to find prey.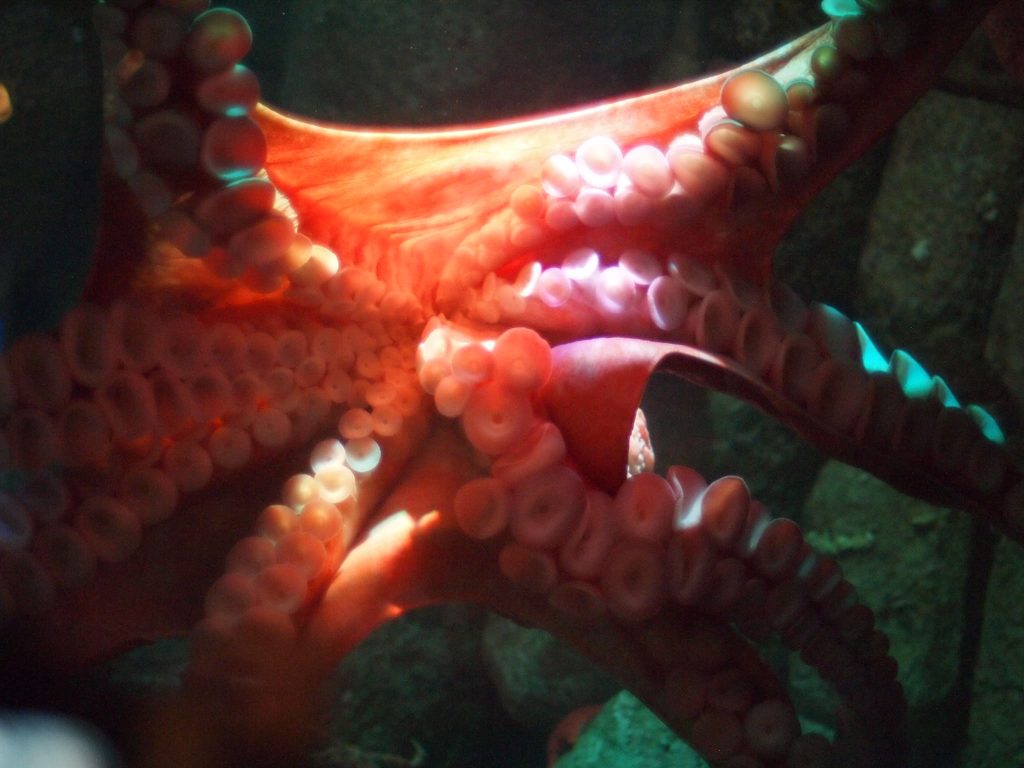 Image Source: Bill Abbott
6. Coconut Octopus
This amazing creature lives where one might easily find coconuts, specifically in the equatorial region of the western Pacific. What makes this octopus unique is its behaviour. It sometimes demonstrates bipedal motion which means you can find him walking on the seabed like a human. Lurking around as if on a lifelong tropical vacation. It also shows a remarkable ability to utilize tools.
They gather coconut shells lying on the ocean floor to make defensive fortresses. They also use clam shells and rock to protect themselves. Their body has the general types of octopus colour, light brown, but its tentacles are dark blue and white and so are its edges which stand in contrast with the rest of its body.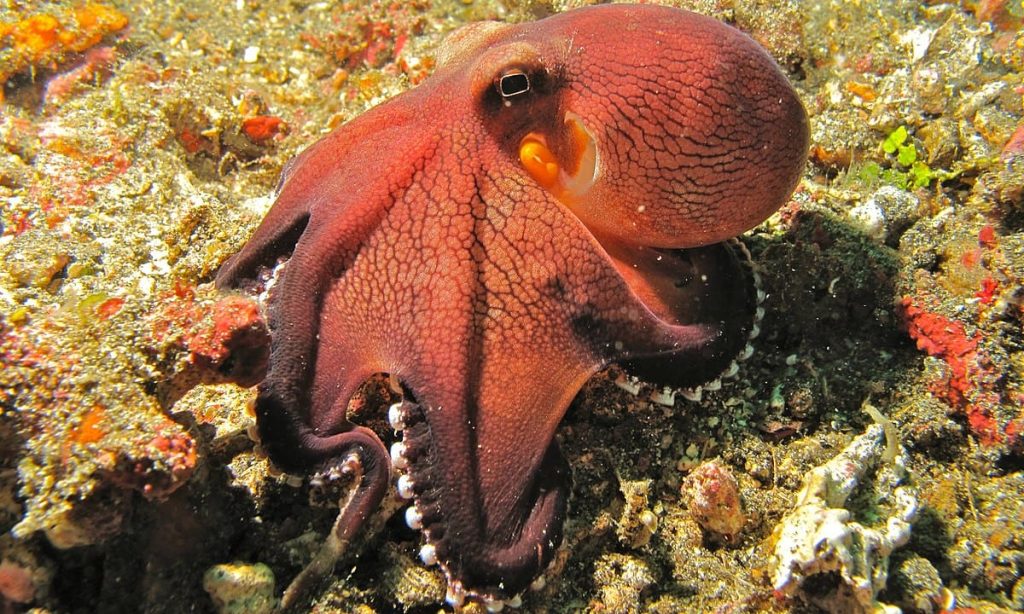 Image Source: Wikimedia
7. Argonaut Octopus
Weird and un-octopus is what sums up the description of this animal. Female argonauts have a special thin case that they keep their eggs in which makes them look more like a clam than an octopus. They also don't live near the ocean floor as most octopuses do. Rather, they swim freely in the water. The egg case that the females possess is paper-thin and is an evolutionary innovation. They use it to trap air so that when they store eggs in it, the buoyancy cancels the additional weight and doesn't interfere with their carefree ocean roaming.
Image Source: Wikimedia
8. Blanket Octopus
Unlike humans, the females of this species are bigger than their male counterparts. How big you ask? About 10,000 times bigger! Yes, the females grow as big as 2 m in length while the males barely touch 3.8 centimetres. The unique feature is the elegant 'blanket' which is found in female octopuses which they use to appear bigger and more daunting to predators.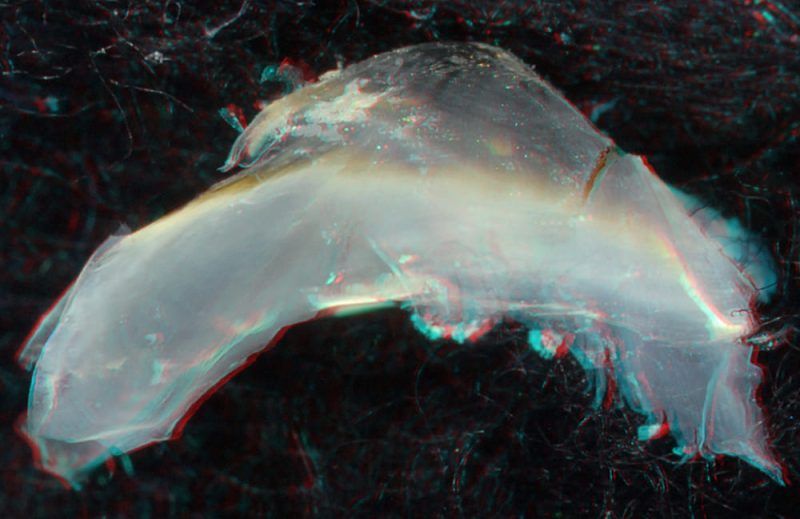 Image Source: Wikimedia
9. Corrina
These unique types of octopus are a class in themselves. Literally. Cirrina or Cirrata is a suborder of octopuses with the feature that their arms are all joined with a thin sac. Bright orange in colour when they swim, they definitely look like they're flaunting an expensive gown. It is one of the most interesting types of octopus in the world.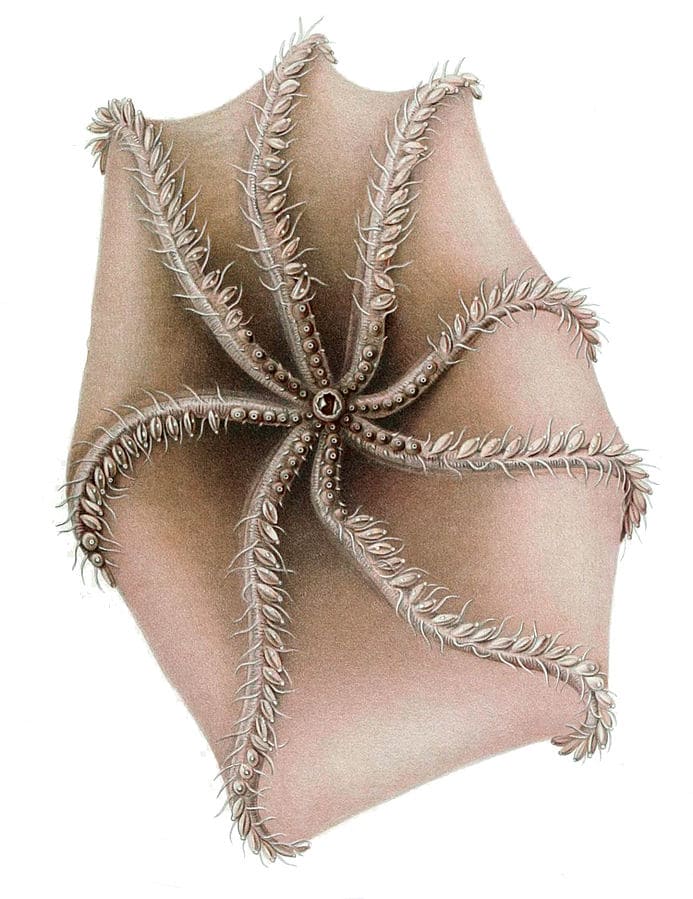 Image Source: Wikimedia
10. Seven-Arm Octopus
Wait a minute, if it has seven arms, how is it an 'octopus? Well, it actually has eight arms, no one of the arms is modified for other purposes. It stays within its sac and is used for reproduction purposes. It is quite a large octopus, ranking second among all the known species.
It is mainly found in the Atlantic Ocean, as is evident from its scientific name, Halphron Atlanticus. However, one of them was caught near New Zealand in the South Pacific Ocean. It was the largest known octopus of this species, weighing a massive 61 kg! and to make it even more interesting, it was an incomplete one.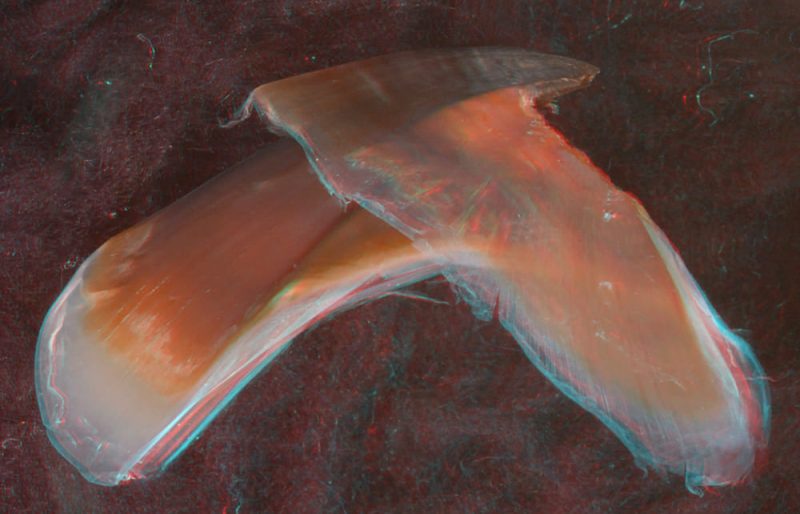 Image Source: Wikimedia
These are the 10 types of octopus in the world. Kindly share and do post your comments.