Nestled at the heart of the Mediterranean, Greece is a mystical land that abounds with history, culture, myths, and breathtakingly beautiful landscapes steeped in various shades of blues and greens.
From the azure waters of the Aegean seas contrasting against the whitewashed facades of the buildings of Santorini to the moss-covered ancient ruins of Athens, Greece's timeless allure and sensory delights beckon travelers from all corners of the world.
Describing Greece's beauty using mere words does not do it justice—not even in the slightest. Ultimately, it is still better to experience it personally in all its splendor and glory. And if you are eager to experience this Mediterranean magic for yourself, hurry up and book a vacation package to Greece on Exoticca now.
While waiting for your departure date, join us and embark on a virtual tour through Greece's picture-perfect tourist attractions that should definitely be included in your travel itinerary.
The Aegean Seas and The Crowning Jewels of the Cyclades Islands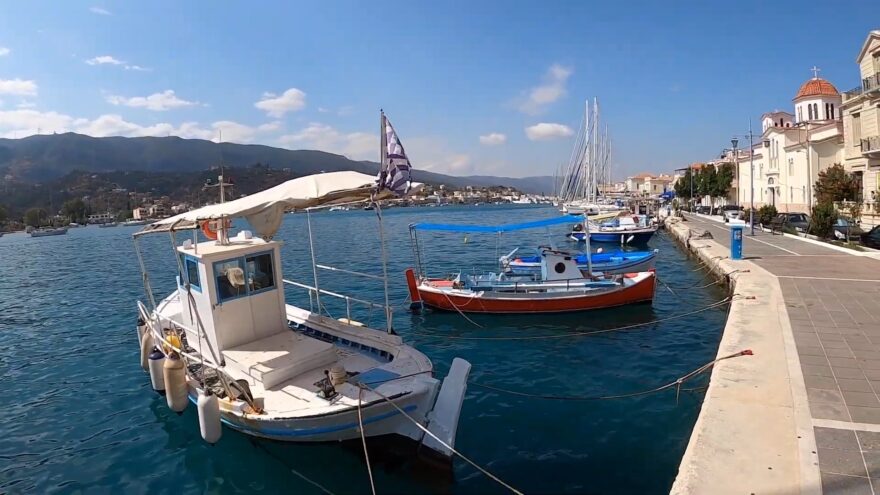 There is no better place to start your journey than the azure waters of the Aegean Sea. Home to some of Greece's most captivating islands, the Cyclades archipelago boasts tourist favorites such as the famed Santorini. When you visit Greece, don't miss the chance to see Santorini's gorgeous blue-domed churches and white-washed buildings.
In the daytime, explore the charming villages of Oia and Fira, whose labyrinthine streets will lead you to a variety of boutique shops, art galleries, and cafés with mesmerizing views. Then, come late afternoon, dine by the cliff-side restaurants so you can watch Greece's mesmerizing sunsets.
As the sun dips below the horizon, the once-blue skies turn into a canvas of fiery oranges, pinks, and purples, casting a magical glow over the caldera below. This is undoubtedly a captivating sight that will be etched into your memory for years on end.
If you go further to the East, you will arrive at Mykonos, a quaint town that enchants vacationers with its vibrant nightlife scene and endless summer party vibes. There is never a dull moment on this island as it blares thumping music that inevitably invites anyone who hears it to dance under the stars until the wee hours of the morning.
The other lesser-known yet equally enchanting destinations in the Cyclades include Naxos, Paros, and Milos, which offer their own brand of magic. Naxos is endowed with stretches and stretches of emerald valleys, ancient ruins, and a serene ambiance.
Meanwhile, Paros enchants tourists with its sunkissed beaches and charming fishing villages. Finally, Milos is a treasure trove of otherworldly natural wonders like Sarakiniko Beach, where lunar landscapes meet the Aegean's gentle embrace.
Athens: Where Ancient Wonders Meet Modern Charms
No journey to Greece would ever be complete without a trip to the ancient city of Athens, the cradle of democracy. Steeped in history and rich in culture, this ancient city continues to mesmerize visitors from all around the world. This is also where ancient ruins coexist harmoniously with modern life.
One of the best places to visit in Athens is the Acropolis, which proudly watches over the city. As you ascend the marble steps, you can't help but feel the adrenaline rush as the majestic Parthenon comes into view, with its Doric columns towering proudly into the sky as a testament to the city's glorious past.
Not to mention, the Parthenon's magnificent columns and intricate carvings are indeed a sight to behold as they showcase the skill and artistry of the ancient Greeks.
After drinking in the panoramic sight of Athens up in the Acropolis, you can also wander through Plaka, a quaint neighborhood at the foot of the Acropolis. Here, you will be greeted with sights of bougainvillea vines studded with flowers draping all over the town's whitewashed neoclassical buildings.
This town is full of labyrinthine alleys that reveal hidden gems at every turn—from quaint taverns serving traditional Greek cuisine to cozy cafés where locals gather for lively conversations. The irresistible aroma of grilled souvlaki and fresh tzatziki also fills the air, which is why, in Plaka, you will be able to truly savor the flavors of Greece in its entirety.
Athens is also endowed with mesmerizing views from Mount Lycabettus, especially during sunset, where you can appreciate a breathtaking panorama of the sprawling cityscape bathed in the golden glow of the crimson setting sun. The tranquil oasis of the National Gardens also provides a peaceful retreat from the chaos of the neighboring cities, with its lush greenery, vibrant flowers, and meandering pathways.
Meteora: The Sanctuary in the Sky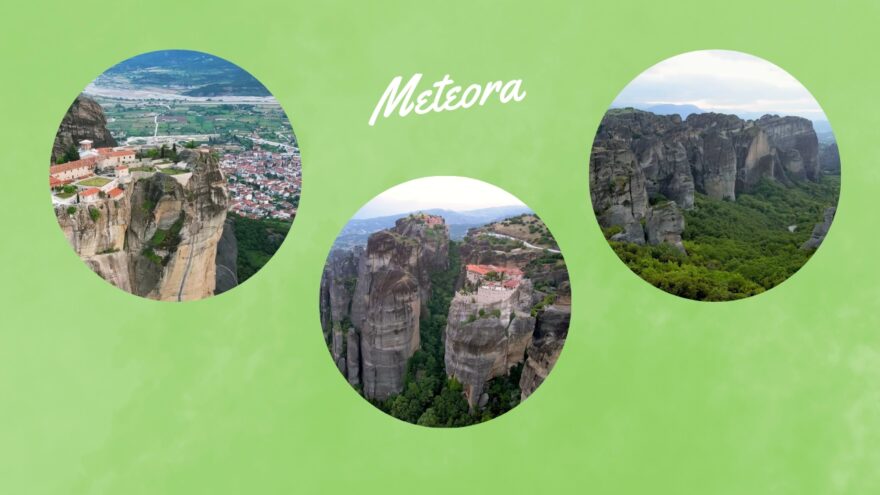 Leaving Athens behind, let's head over to the north—to Meteora—a place where you can be in tune with your spirituality amidst the surrounding awe-inspiring nature. Meteora—an ancient monastery—can be found atop massive sandstone pillars, seemingly defying gravity.
As you ascend the stone steps to these sanctuaries in the sky, you can't help but feel as if you're ascending to the steps of heaven itself. Hermits and monks sought refuge in these isolated peaks, later on establishing monasteries where they continue to practice their devotion and get in touch with their spirituality.
Once you reach the monasteries, you will be greeted with walls and walls of frescoes narrating stories of faith and devotion. Then there's also the panoramic views of the Thessaly plains that may incite a sense of tranquility within you that may provoke you to some soul searching and introspection.
As such, it is safe to say that Meteora's magic lies in its ability to connect you with your inner divine energy through the sense of tranquility brought upon by the surrounding nature's beauty.
Nowadays, Meteora has six active monasteries that tourists can visit, including the monasteries of Great Meteoron, Varlaam, and Roussanou. The monks in these said monasteries actually allow travelers to explore their sacred halls and marvel at the stunning frescoes and religious artifacts there.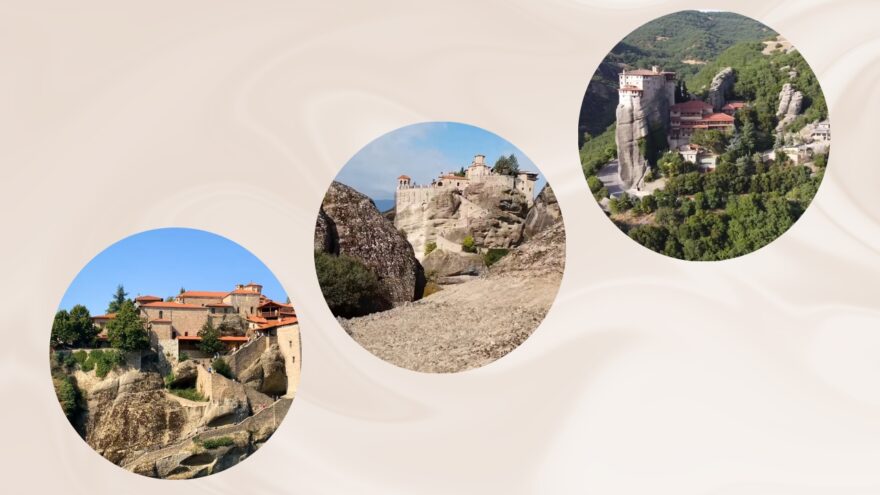 You can even spend a night in the sanctuary, provided that you have a prior arrangement with them and that you adhere to their rules. This is a must-try experience because waking up on a misty morning surrounded by a sea of clouds and centuries-old monastic traditions is truly an unforgettable, ethereal feeling.
And if arranging accommodation at one of the monasteries is not possible, don't be so disheartened because the charming town of Kalambaka offers a wide variety of accommodations, ranging from cozy guesthouses to luxury hotels.
Here, you can take a scenic stroll along its narrow, winding streets, all while discovering local tavernas serving traditional Greek cuisine. Adventure enthusiasts can also go rock climbing and hiking. Suffice to say, is impossible to get bored in Meteora.
Greece: Where Beauty and Magic Collide
Greece, with its timeless beauty and storied past, is truly the passport to Mediterranean magic. A seemingly enchanted place that transcends time, Greece is a place where history, culture, and natural beauty collide. So, once you experience life in Greece, it will forever take hold of your heart.